What are customer service reports?
Customer service reports provide an overview of all customer service requests and related activities. They provide insights into how a customer support team is performing, what can be improved, and which departments are excelling.
Customer service reports can include but are not limited to:
Complete analytics overview
Performance reports
Agent rankings
Tag reports
SLA compliance reports
SLA log reports
Agent availability
Agent reports
Channel reports
Department reports
Time reports
Why are customer service reports essential for improving customer service?
Reviewing reports regularly is a must when you're working with online customer service software. Doing so can help you improve your business practices, products, and the services you provide while ensuring your customer's needs and expectations are met.
Consider the following scenario. You think that your customer support team is doing an amazing job at handling tickets because your average ticket resolution time is under 8 minutes. However, when you look closer and examine agent reviews, you notice that your agents are reviewed negatively over and over again. This could indicate that they're in a rush to answer every ticket, and sacrificing the quality of service for speed. 
Because scenarios like this are very common, checking your customer service reports is a must–and should be done regularly.
What customer service reports does LiveAgent offer?
LiveAgent offers 11 customer service reporting features. Check them out in detail below.
Analytics overview
The analytics overview gives you a complete overview of your customer service efforts. It lets you see usage statistics, performance reports, and customer satisfaction ratings. 
In essence, it gives you a preview of each report (tag report, channel report, agent ranking) that's available in LiveAgent.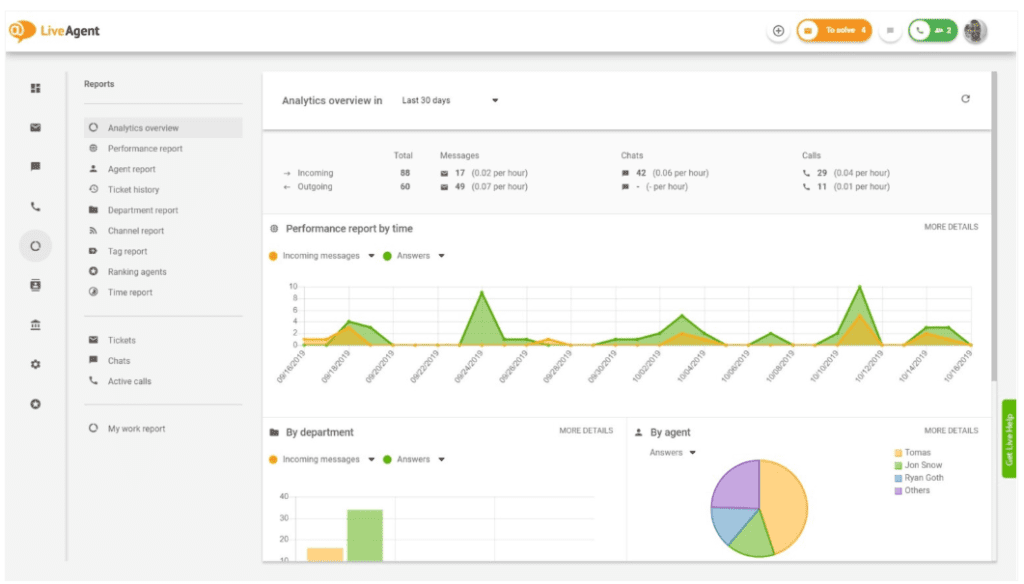 Performance reports
Performance reports can give you a good idea of how your agents are spending their time. The reports showcase how many tickets each agent answered across different channels, and how long they took to answer them. 
Apart from indicating agent productivity, performance reports can also show agent ratings. They allow you to see and compare agent performance in terms of helpfulness, knowledgeability, and speed.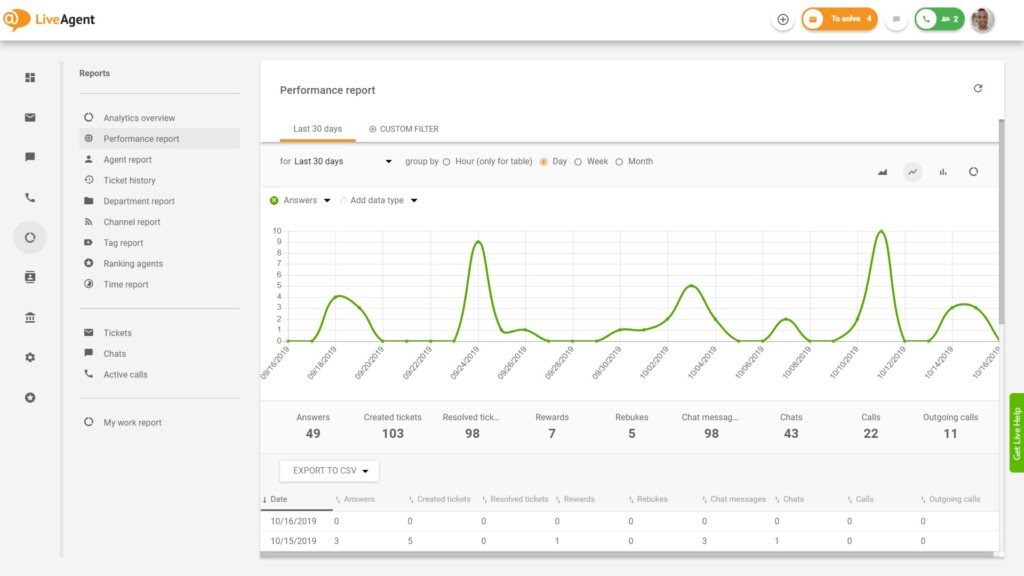 Agent rankings
The agent ranking overview is a complete report of all positive and negative agent reviews. The report is complete with comments from customers, the date the review was received, and even gives you the option to navigate to the ticket that the agent was solving when they received the review.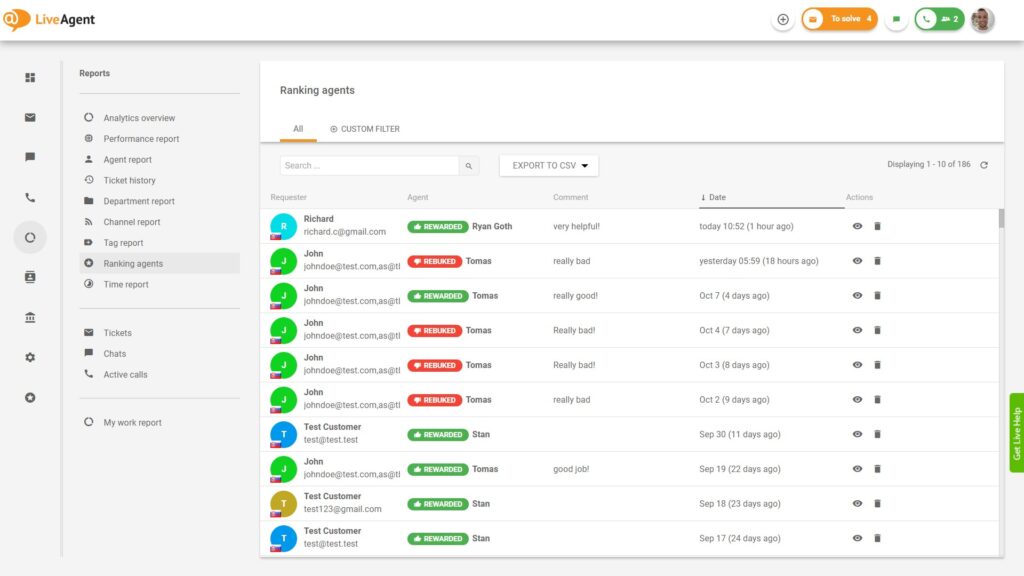 Tag reports
Tag reports give you insight into which tags are most prevalent inside your customer service tickets. Having access to an organized report like this can showcase what kind of issues your team is dealing with most often, and thus can provide actionable insights and help you improve your product/service.

SLA compliance reports
View all fulfilled and missed SLAs from a specific time range to bridge the gap between the service you're expected to provide, and the service you're currently delivering. SLA compliance reports allow you to sort all SLAs by date, department, and agent so you can see who's excelling at fulfilling SLAs and who needs to improve.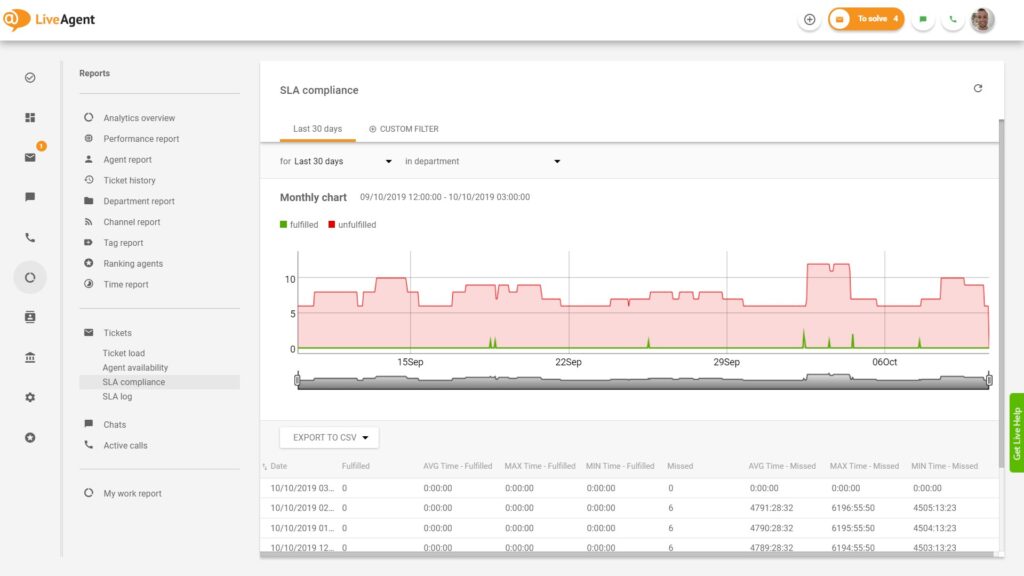 SLA log reports
SLA log reports provide a more detailed view of all missed and fulfilled SLAs from a specific time period. SLA logs show the ticket requester (customer), ticket ID, SLA start time, the department the ticket was assigned to, the agent the ticket was assigned to, the due date, the close date, and any remaining/overdue SLA time.
All logs can be exported into a CSV file.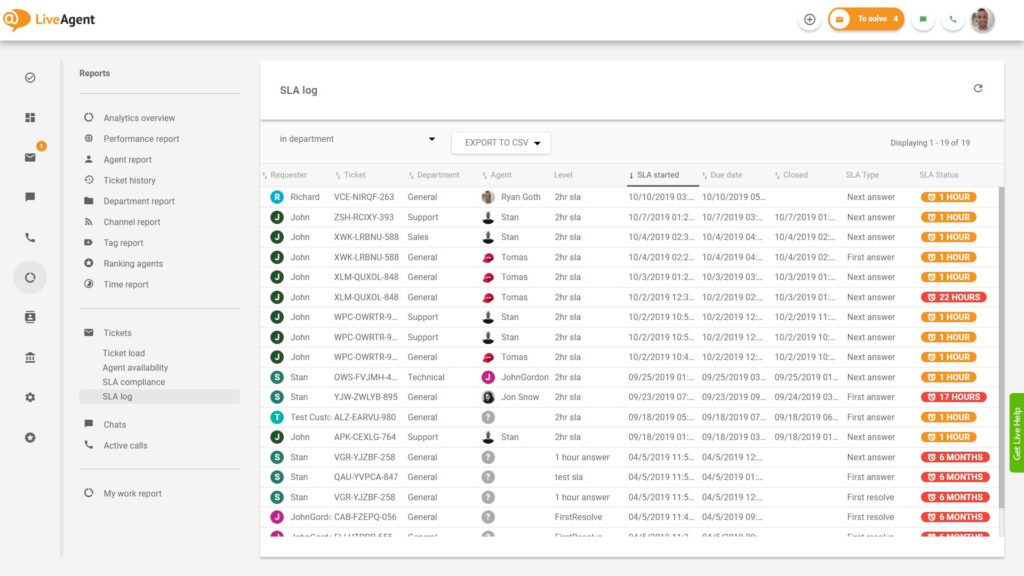 Agent availability
The agent availability report lets you monitor the availability of your support agents. See when each agent was online answering tickets, chats, and calls, and for how long. For ease of sharing, all agent availability logs can be exported into a CSV file.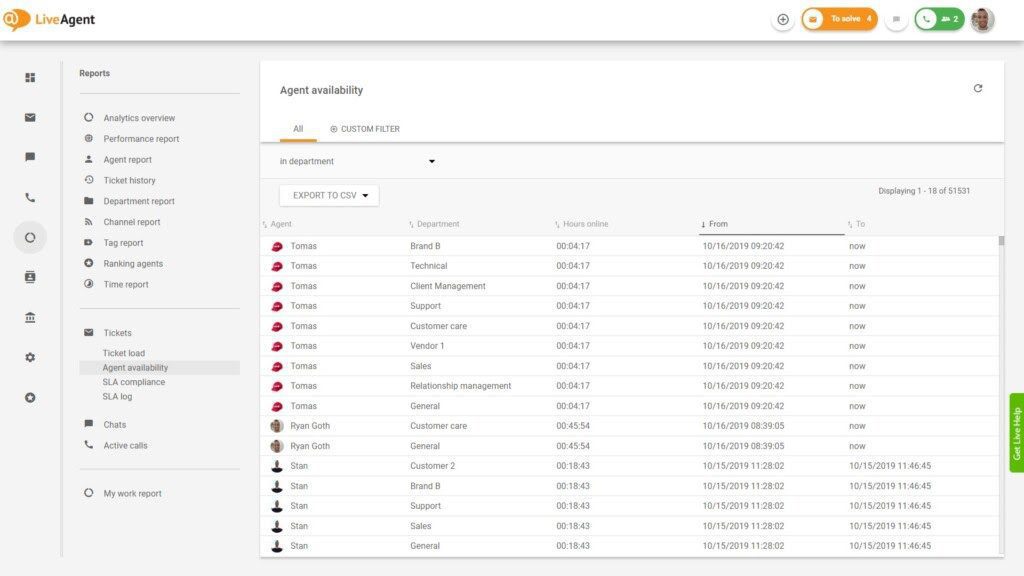 Agent reports
The agent report gives you a holistic view of all agent activities, worktime, sales, reviews, and other metrics such as the average chat time or average chat pickup time. Segment agent reports by date, department, channel, and agent to get an accurate depiction of how your teams are performing.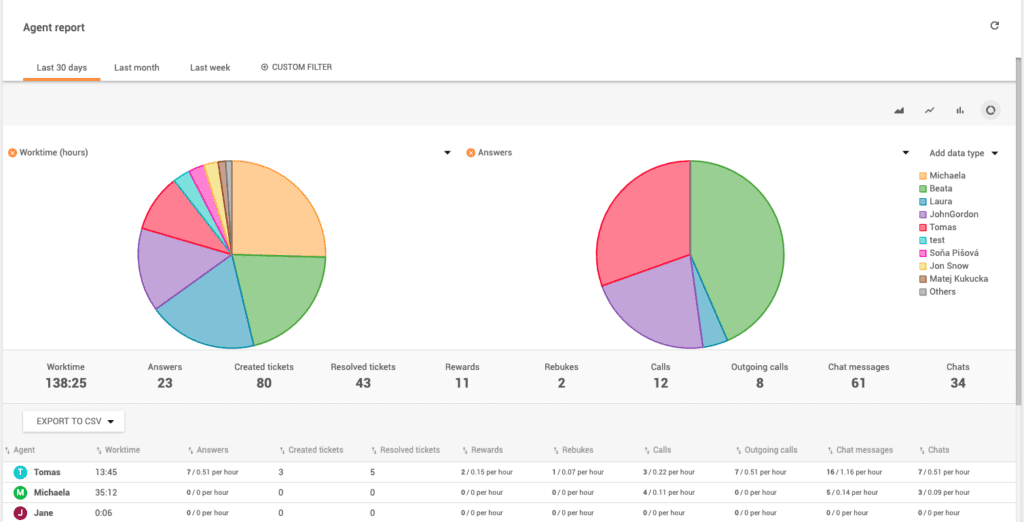 Channel reports
Channel reports give you a pretty good idea of which support channels are used by your customers the most. Channel reports provide detailed information about all incoming emails, calls, live chats, contact form submissions, feedback forms, Facebook messages, Tweets — you name it.
Channel reports, like most reports in LiveAgent, can be viewed in an area chart, line chart, bar graph, and pie chart.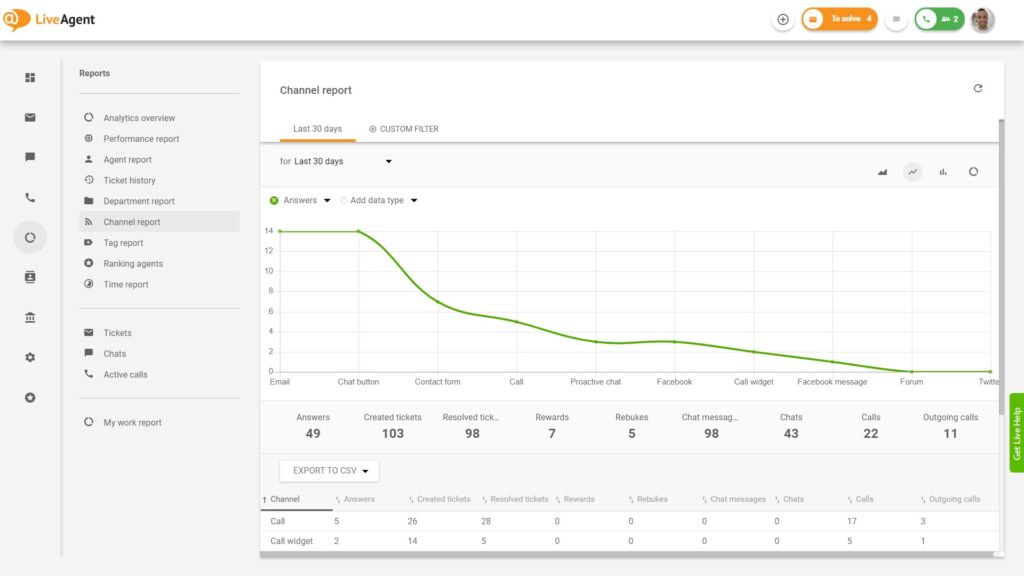 Department reports
Department reports give you an overview of how many support tickets each department has received and resolved across different communication channels. The report can also provide insight into how each department is doing in terms of customer feedback and reviews.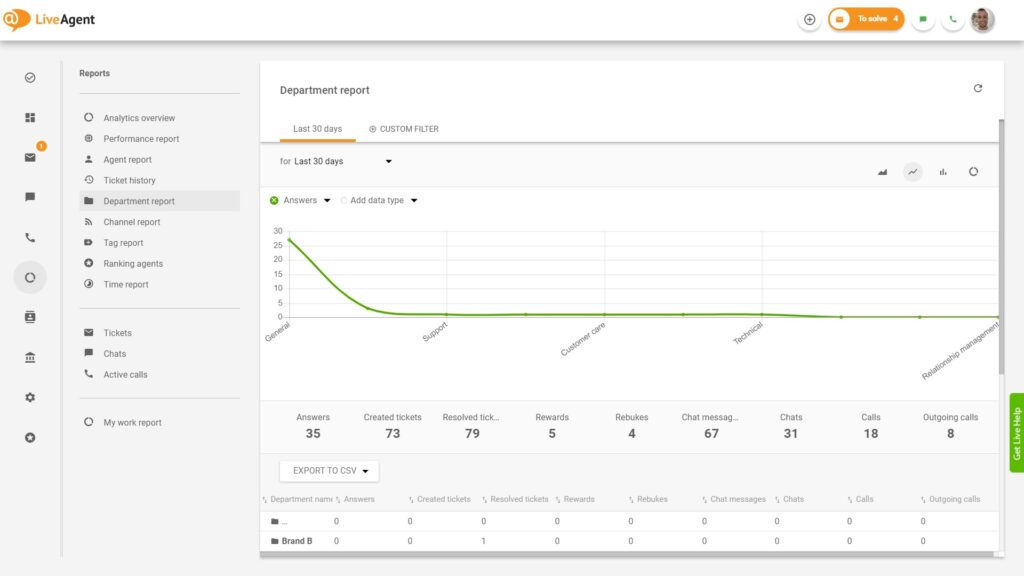 Time reports
Time reports give you a detailed overview of the total number of hours and minutes spent on the resolution of each ticket. Inside the report, users can view the ticket ID and even navigate to the ticket itself, the agent assigned to the ticket, the requesting customer, the date, the amount of time the agent spent resolving the ticket, billed time, and any additional notes.
The report gives you the option to use filters and search for tickets from specific customers, or agents.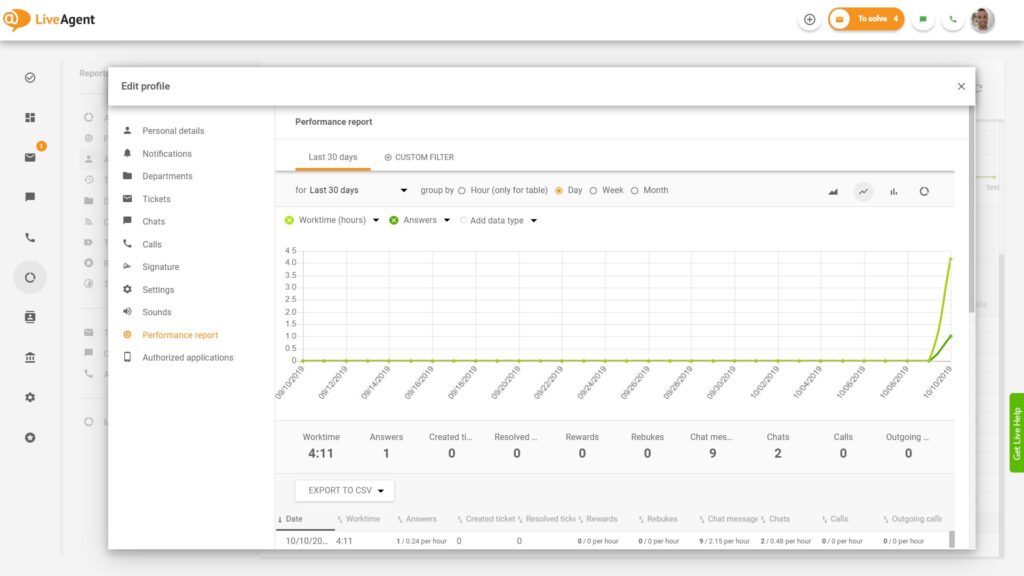 Additional features that can help you monitor your customer service
LiveAgent offers over 180 advanced help desk features that can help you monitor the service your customers are receiving. We've outlined some of those features below.
Email notifications
Even though LiveAgent does a good job of notifying you whenever a new ticket arrives, some people prefer to be notified in their email. Set up email notifications so you can be notified every time:
A ticket is assigned to an agent
A customer replies to a ticket
When a new ticket is created in a department you're a part of
Slack notifications
Are email notifications not enough? Set up Slack notifications. Every time a new ticket is opened, solved, or responded to, you'll be notified on Slack. Slack can also notify you if any LiveAgent automation rules have been changed while you were away from your dashboard.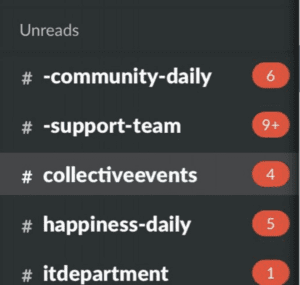 Export tickets
As previously mentioned, LiveAgent reports can be exported into CSV files. In addition to that, LiveAgent gives you the option of exporting individual tickets. Ticket exports contain the ticket status, customer name, email, ticket ID, department name and ID, agent name and ID, tags, subject, email preview, date of creation, conversation ID's, and more.
Online ticket history
On the go with no way to log into LiveAgent, but need to check the progress of a specific ticket? Ask your agents to send you an online ticket history URL. Without the authentication enabled, you can read the online ticket history by simply clicking on the link that was sent to you.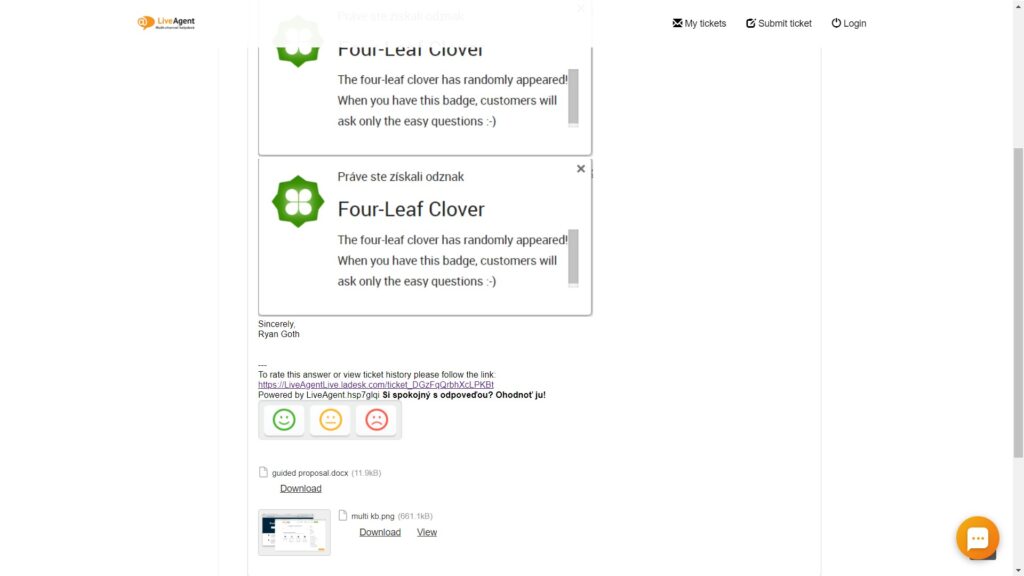 The online ticket history URL is a customer success officer favorite. It's the perfect tool to monitor important tickets from VIP clients while vacationing in the tropics. 
Unlimited call recordings
LiveAgent provides storage space for unlimited call recordings. If you need to monitor the quality of your agent's responses, you can do so by listening to a playback of each call.
Chats overview
Want to check out how your agents are handling tickets in real-time? Use the chats overview to spectate as your agents help out customers on live chat.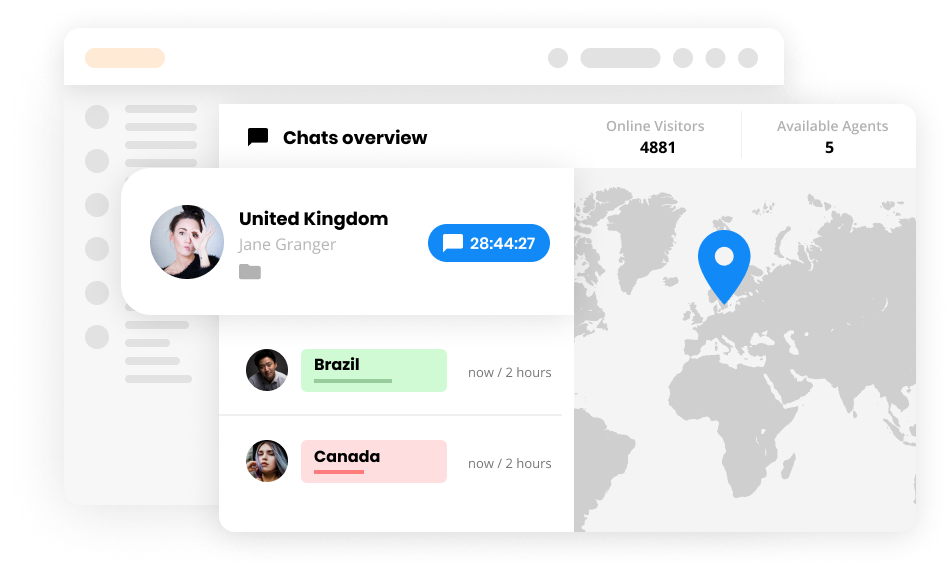 Twitter
LiveAgent can double up as a social listening tool. Our Twitter integration allows you to track and monitor specific keywords. For example, if you choose to track the word LiveAgent, every time someone uses it in a Tweet (regardless of being mentioned/tagged with a @ or #), the Tweet will be automatically converted into a ticket and fetched into your dashboard. 
This gives you a chance to monitor what your customers are saying about your business indirectly. Having these types of insights will give you a chance to improve your product and your service.
Benchmarks and leaderboards
Benchmarks and leaderboards give you an idea of how your customer support agents are performing in comparison to one another. It allows you to view how long your agents have been online, how many messages they've responded to, and who got the most positive reviews in a day.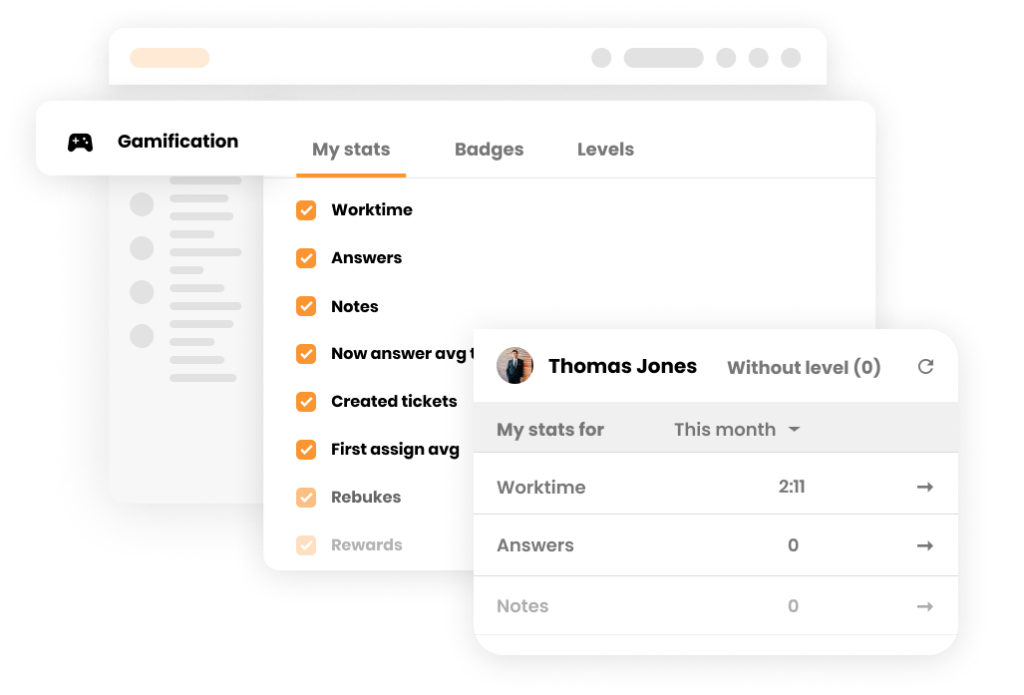 The data can be viewed for:
Today
Yesterday
This week (Mon-Sun)
Last week (Mon-Sun)
Last 7 days
Last 30 days
Last 90 days
This month
Last month
This year
Last year
Anytime
Feedback & Suggestions
Feedback and suggestions allow you to collect new ideas and feedback for future development. Allow your customers to discuss their ideas in your community forum, and find out what they find truly important.
Third-party integrations (Nicereply)
LiveAgent integrates with over 40 third-party applications, including customer satisfaction software. A great example of this software is Nicereply, which lets you collect customer feedback through NPS, CES, and CSAT surveys.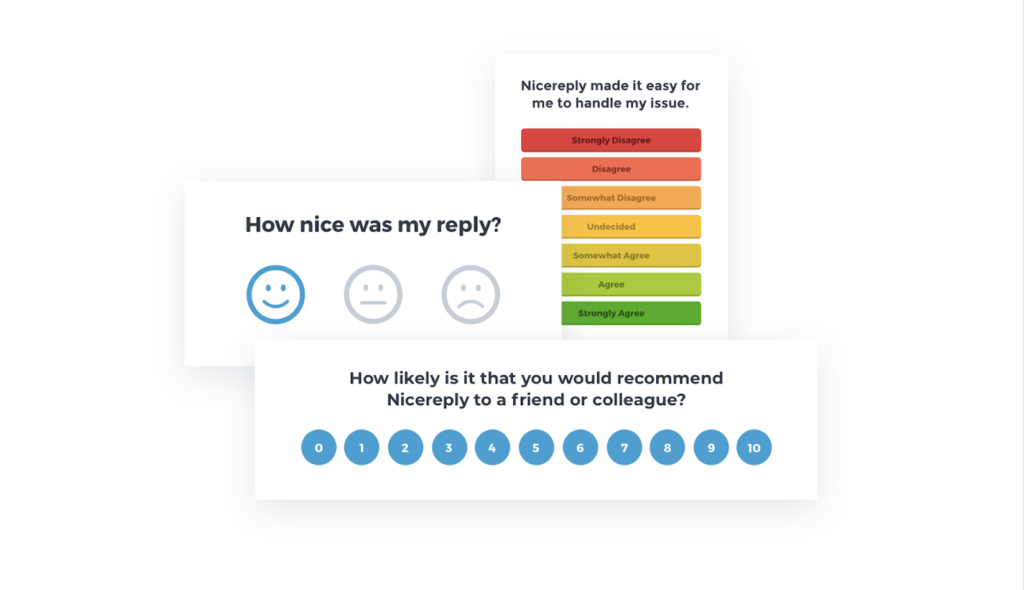 Integrate them with LiveAgent's live chat and place survey links in your email to ensure your customers always rate your agent's responses.
How can you benefit from reviewing customer service reports and analytics?
Improve service 
The main benefit of reviewing customer service reports and analytics on a weekly or monthly basis is that you can see what's being done well, and what needs improvement. As an example, you may notice that you receive more live chats than phone calls, and therefore need to re-allocate your resources (agents) better to match the incoming ticket volumes for each communication channel.
In addition to that, reviewing these reports can also provide insight into which agents need additional training. If you notice that certain agents keep getting negative feedback from customers, while other agents keep excelling, this could be an indication that they didn't receive enough training, or they aren't using best practices when speaking to customers.
Improve customer satisfaction
Reviewing customer service reports can help you bridge the gap between what's expected and what's being provided. Once you identify these gaps and improve, your customers are bound to notice. As service improves, so does customer satisfaction, and with it come many perks.
Existing customers purchase more frequently, spend more money, and are more likely to recommend your business to others — both online and in-person through word of mouth.
More sales 
The better the service, the happier your existing customers are. The happier they are, the more likely they are to recommend your business to others, which means more customers, and more purchases. In essence, it's an endless cycle. As such, you should strive to improve continuously, which you can do by reviewing all usage statistics right within your LiveAgent dashboard.
Knowledge is power, and when it comes to customer service, a necessity.
Get a detailed overview of everything happening inside your help desk, and improve your service today. Try your free 14-day trial, no credit card required.