Analytics uses raw data and math to discover, interpret, and communicate significant data patterns. When used correctly, data analytics can help answer business questions, predict outcomes, and create actionable insights.
Why is data analytics a must-have feature for all businesses?
An analytics overview is an invaluable part of your software for customer service management. It can help you pinpoint the exact areas of your business that need improvement. Finding "laggards" and areas that could be optimized is always great because it presents an opportunity to:
Improve your agent's performance
Provide additional training to those that need it
Improve customer satisfaction, experience, and sales
Reallocate resources 
Reinforce support channels 
Find more cost-effective ways to solve problems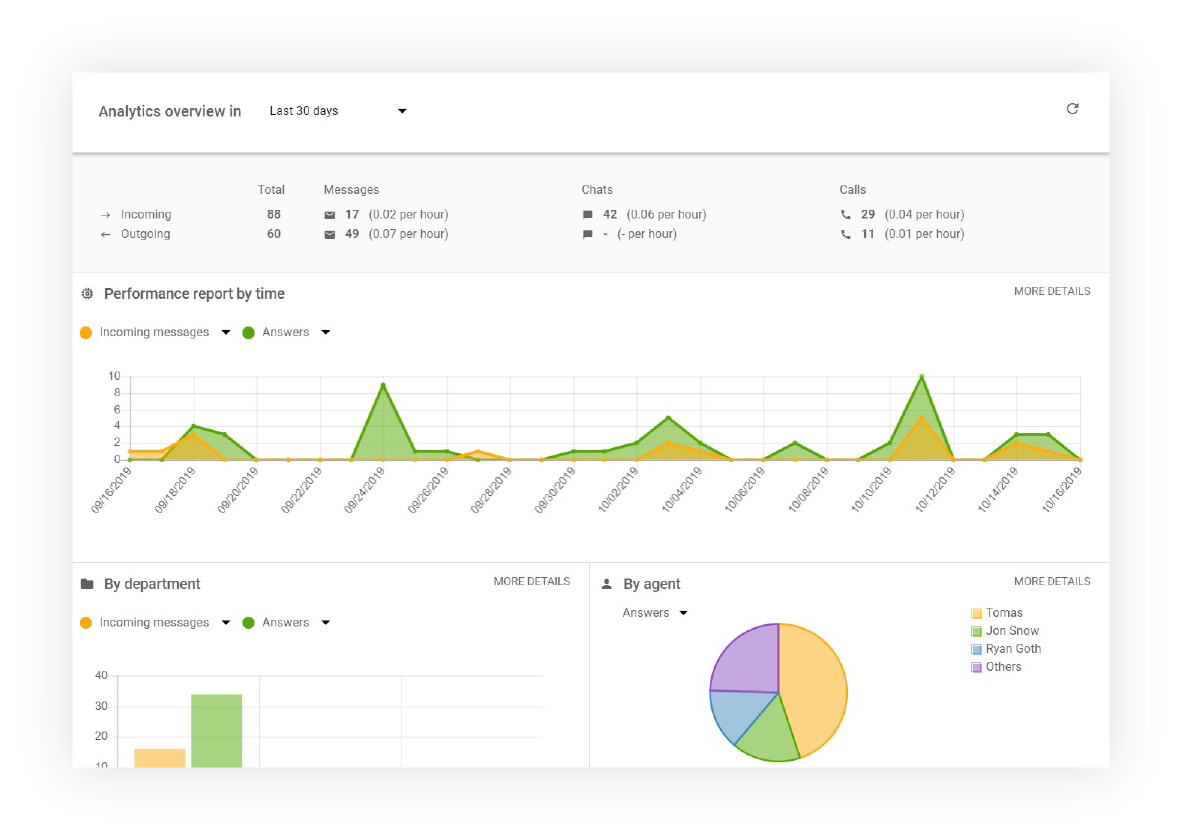 In addition to that, an analytics overview can also showcase areas of your business that are thriving. This is important because:
You won't have to overhaul your whole business/support strategy
You'll be able to reward overachievers
Underperformers will be able to learn from overachievers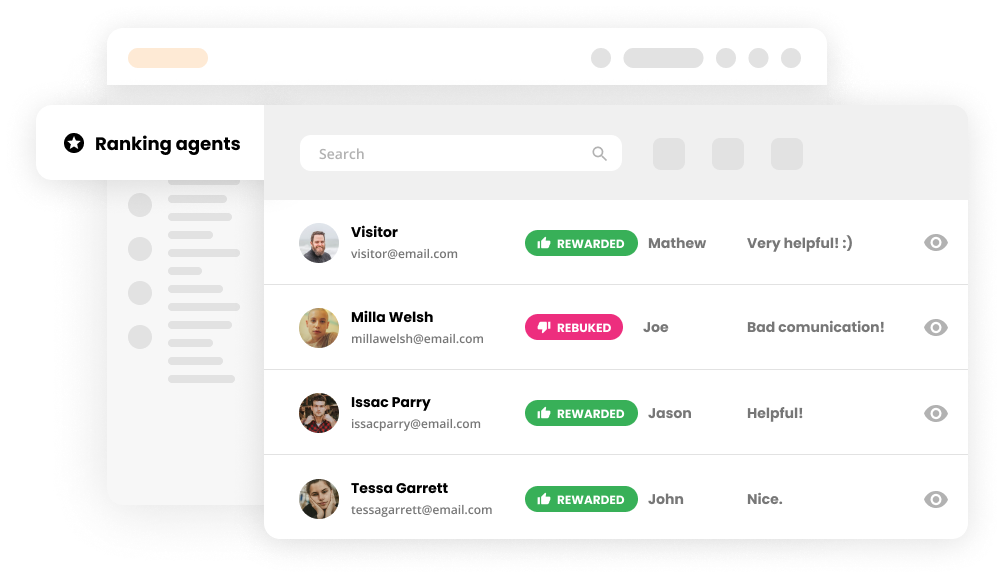 What does the LiveAgent analytics overview feature do?
Accessible and convenient data is an invaluable part of the best help desk software solutions in today's market. The analytics overview gives you a holistic overview of your customer support. You'll be able to see who is interacting with your company and monitor the service they're receiving. You'll also be able to review usage statistics by channel, evaluate performance reports, and learn from customer satisfaction ratings. In addition to that, our analytics overview is packed with endless reporting capabilities.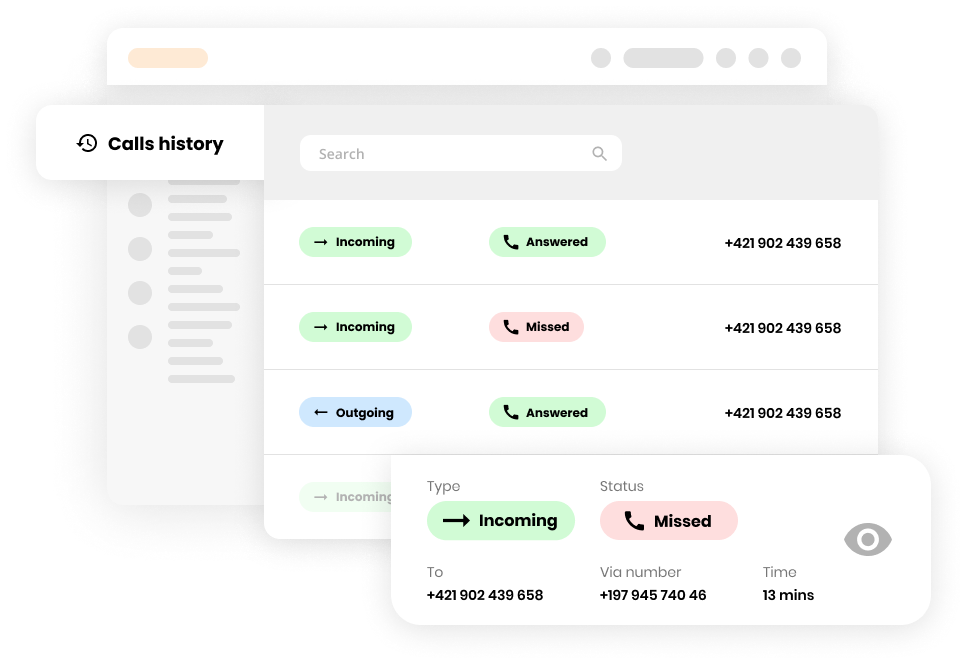 What can you see in the analytics overview dashboard?
The analytics dashboard gives you a quick overview of all incoming and outgoing messages, chats, and calls.

Incoming messages are defined as:
All emails that are fetched into LiveAgent
All offline tickets created via contact forms or offline chat buttons
Tickets created from Twitter, Instagram, Viber, and Facebook (Twitter mentions by other people only) 
All other communication received in existing tickets
Outgoing messages are defined as:
Tickets replies
All emails, Tweets, Instagram and Viber messages, as well as Facebook posts posted via the application
New emails sent from the application
Stand out from your competitors with a strong customer service culture​
Handle all customer inquiries from one interface. Start improving your customer service with a free 30-day trial today!
Chats are defined as:
Chats initiated by customers and agents
Chats answered by agents
Calls are defined as:
Calls initiated by a customer (either via call widgets or phone numbers)
All calls that initiated from the application even when the customer doesn't answer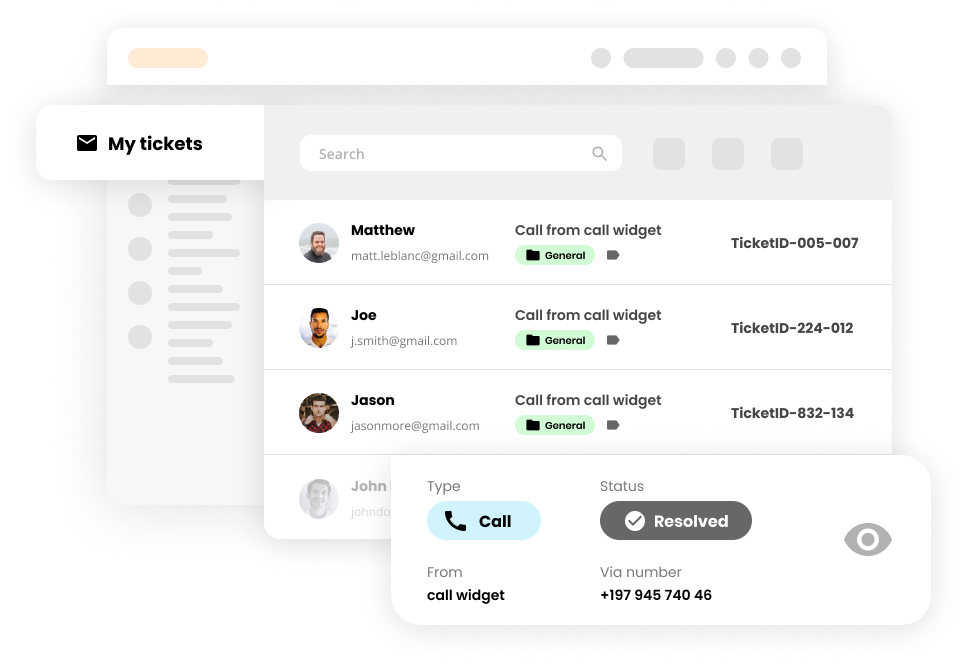 Filtering results
 You can filter your analytics overview by:
Time
Department
Agent
Tag
Channel
Each performance report can be modified to showcase additional data including:
Ticketing metrics
Answers
Notes
New answer average time (in hours)
New answer average time SLA (in hours)
First assign average time (in hours)
First assign average time SLA (in hours)
First resolve average time (in hours)
First resolve average time SLA (in hours)
Open answer average time (in hours)
Open answer average time SLA (in hours)
Live chat metrics
Created tickets
Resolved tickets
Chat messages
Chats
Missed chats
Chat pick up
Chat pick up average time (minutes)
Chat average time (minutes)
Not rated 
Not  rated in %
Call center metrics
Positive ratings
Positive ratings in %
Negative ratings
Negative ratings in %
Calls
Outgoing calls
Missed calls
Call minutes
Outgoing call minutes
Call pick up average time (minutes)
Customer satisfaction metrics
Call average time (minutes)
Outgoing call average time (minutes)
Internal calls
Internal call minutes
Internal call average time (minutes)
Incoming messages 
Incoming chats
Finished chats
Unanswered chats
Incoming calls
Finished calls
Unanswered calls
Voicemails
Each report can be filtered by different time periods including:
Today
Yesterday
Last 7 days
Last 30 days
Last 90 days
This week (Mon-Sun)
Last week (Mon-Sun)
Last working week (Mon-Fri)
This month
Last month
This year
Last year
Custom date 
Choosing how data is presented
LiveAgent can present all the above-mentioned data in multiple formats, including area charts, line graphs, bar graphs, and pie charts. Moreover, all data can be exported into CSV files, making it easier to share with others.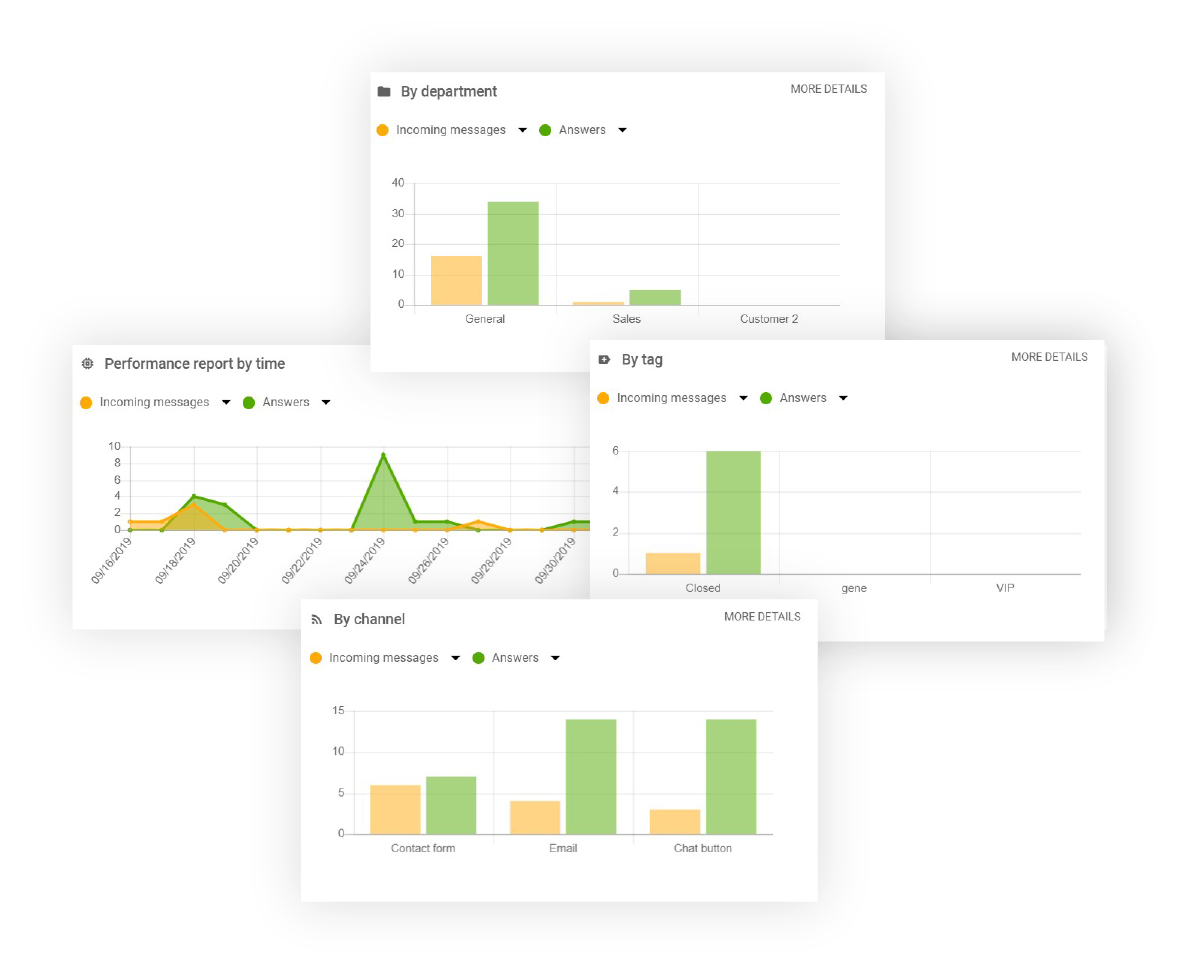 How to find your analytics dashboard in LiveAgent
The analytics dashboard is visible to administrators only, so make sure you're an admin of your LiveAgent account (agents can see their personal statistics upon logging into LiveAgent.)
If you do have the administrator role, you can find the analytics overview by clicking on Reports (circle icon) that's in the left-hand menu (right between Calls and Customers).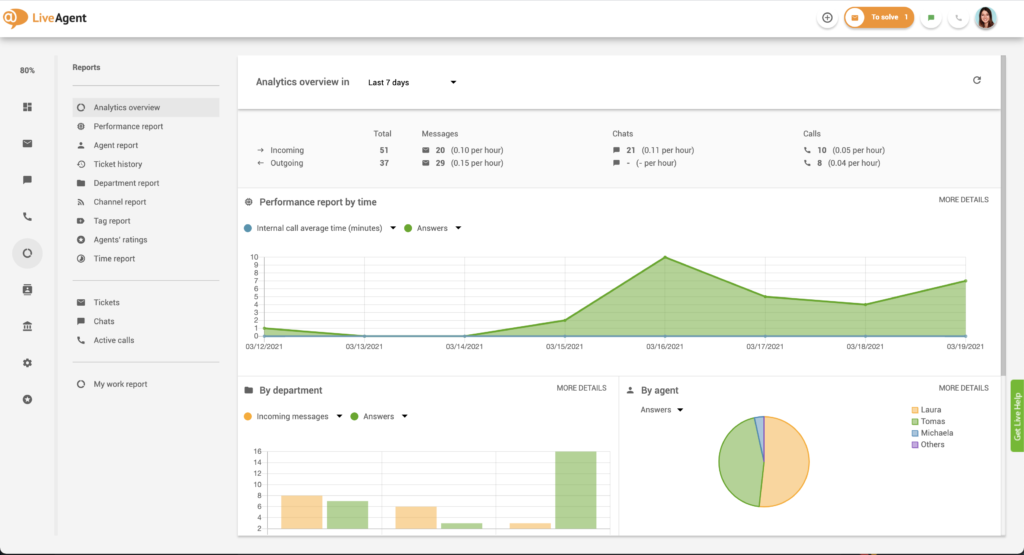 Knowledge base resources
To learn more about the different types of reports available in our analytics dashboard please check out our knowledge base articles:
Monitor your agent's performance
Find out who's excelling and who needs extra training based on agent performance reports. Check them out today for free. No credit card required.
Ready to discover more about your business?
Take a deep dive into your support efforts. Start improving your performance, sales, and customer satisfaction today with our free 30-day trial. No credit card required.
Ready to unlock the power of data to improve your customer support?
Make data-driven decisions, identify trends, and optimize your support operations. Harness the potential of analytics with LiveAgent's Analytics Overview feature today!