Partner
Partner website
Partner Privacy Policy
What is Prestashop?
Prestashop is an open-source and free eCommerce website solution. It's packed with tools and rich in features, so people can make websites their own in various ways. Prestashop is available in 65 languages and it's hosting more than 250 000 online stores worldwide. Since it's free, you can easily download it and start building your own eCommerce website. It also offers basic guides that explain how to build on your own.
How can you use it?
Besides being able to integrate LiveAgent's super-fast live chat widget on your eCommerce site and provide quick help to your customers, you can keep track of your orders. These are displayed in your dashboard, so you get your order information in one place.
Benefits
Provide quick help to your customers 
Live chat widget allows for instant communication
Keep track of all your orders
Saves time
Everything is organized in one solution
How to integrate a live chat button
If you want to place LiveAgent's live chat button on your Prestashop, please follow the step-by-step integration guide below.
How to add live chat to Prestashop store | www.liveagent.com | Live Agent00:37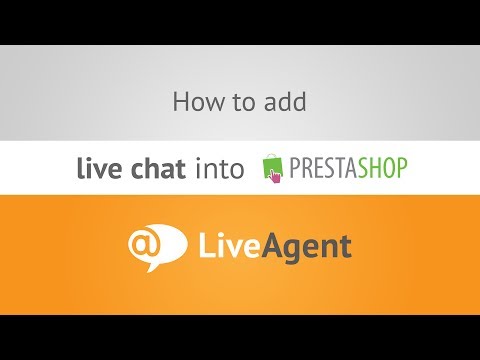 Live Agent
Upload the package to your extension directory and you're good to go. Download LiveAgent Prestashop Module.
The first step is to create and customize a new chat button in your LiveAgent panel. Copy it's HTML code (Ctrl+C) to clipboard.
Go to the Prestashop folder located on your server.
Open the themes folder > default theme folder > open footer.tpl with notepad > Paste the chat button code (Ctrl + V) right above the </html> line > Save changes > Close the document.
Go to your store webpage, refresh it and your chat button is ready.
Frequently Asked Questions
What is Prestashop?

Prestashop is a platform where you can easily create your e-commerce by using pre-designed templates.  

How can you integrate Prestashop with LiveAgent?

If you would like to integrate Prestashop with LiveAgent, here is a quick video to help you step-by-step.