What is Interactive Voice Response?
IVR or Interactive Voice Response is a technology that allows callers to navigate a phone system before talking to a customer support representative. The function of an IVR system is to route callers to appropriate departments within call centers. To operate an IVR, callers must use DTMF tones (dial pad key inputs) or voice commands.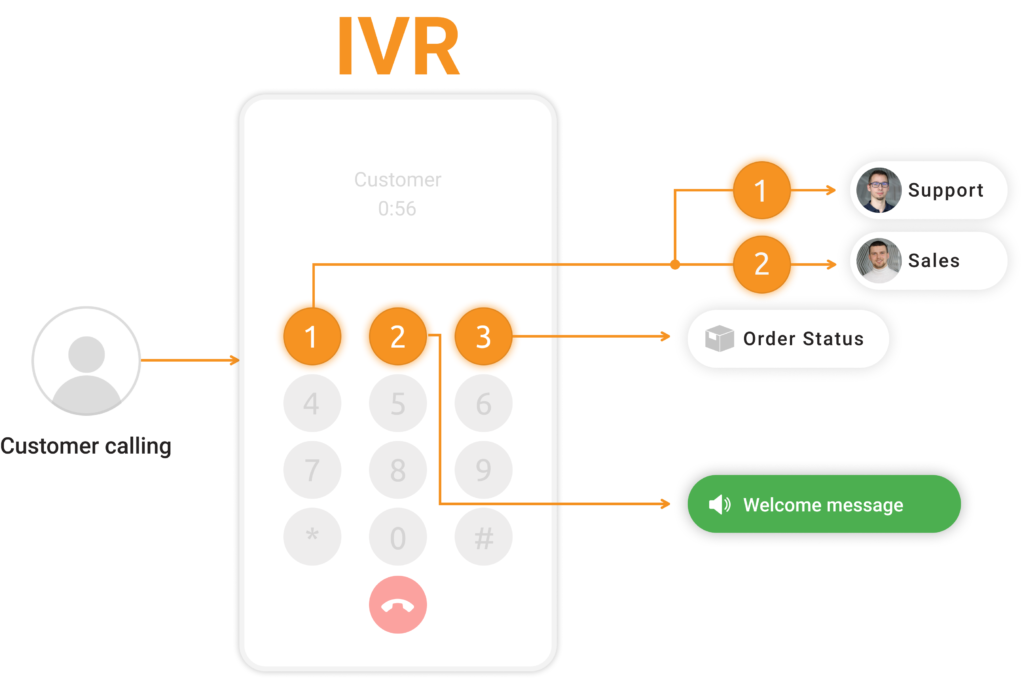 What functions should an IVR be able to perform?
IVR software should be able to perform the following functions:
Record custom IVR messages
IVR software should allow you to record custom messages, personalized greetings, and prompts. The system should allow you to record complex IVR trees, also known as menus, regardless of their length.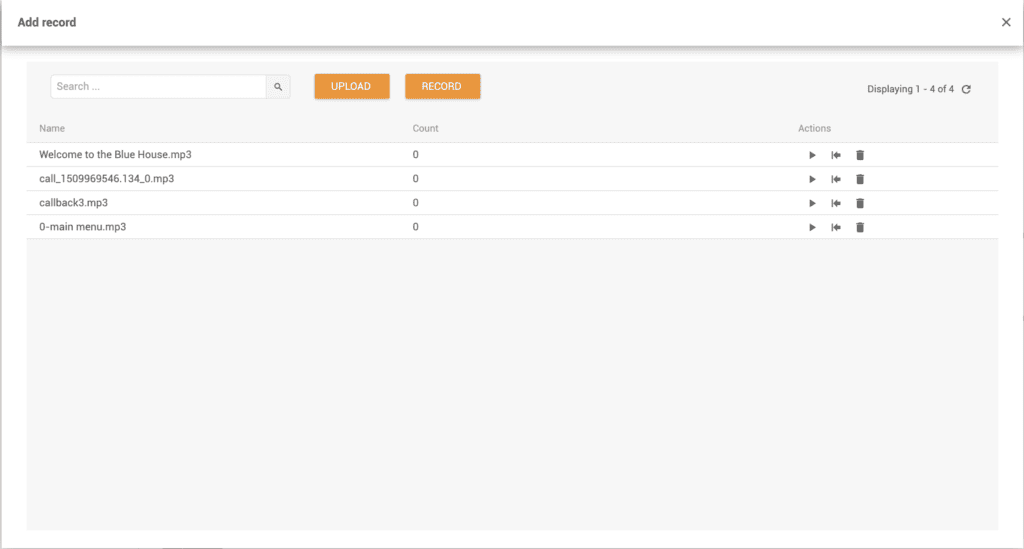 Use pre-recorded IVR messages
Your IVR system should allow you to upload generic pre-recorded messages in multiple formats (mp3, WAV, au). This feature is a must-have. Why?
For two reasons. Firstly, not everyone is comfortable recording their voice. Second, not everyone can speak slowly, clearly, and without an accent. Thus, being able to upload pre-recorded messages is very useful.
Collect information about callers
Collecting information about callers is the most important function an IVR can have. The system needs to be able to recognize voice commands and the dial pad inputs that callers make. If the system isn't able to do this, callers won't be routed to appropriate agents and departments.
Route the caller to the appropriate department or agent
IVR software needs to be able to recognize which customer support agents have had the longest downtime since their last call or be able to recognize which agent has spoken to the caller previously. This will ensure that callers are routed to the agents that are most knowledgeable about their issue, and thus most equipped to help them.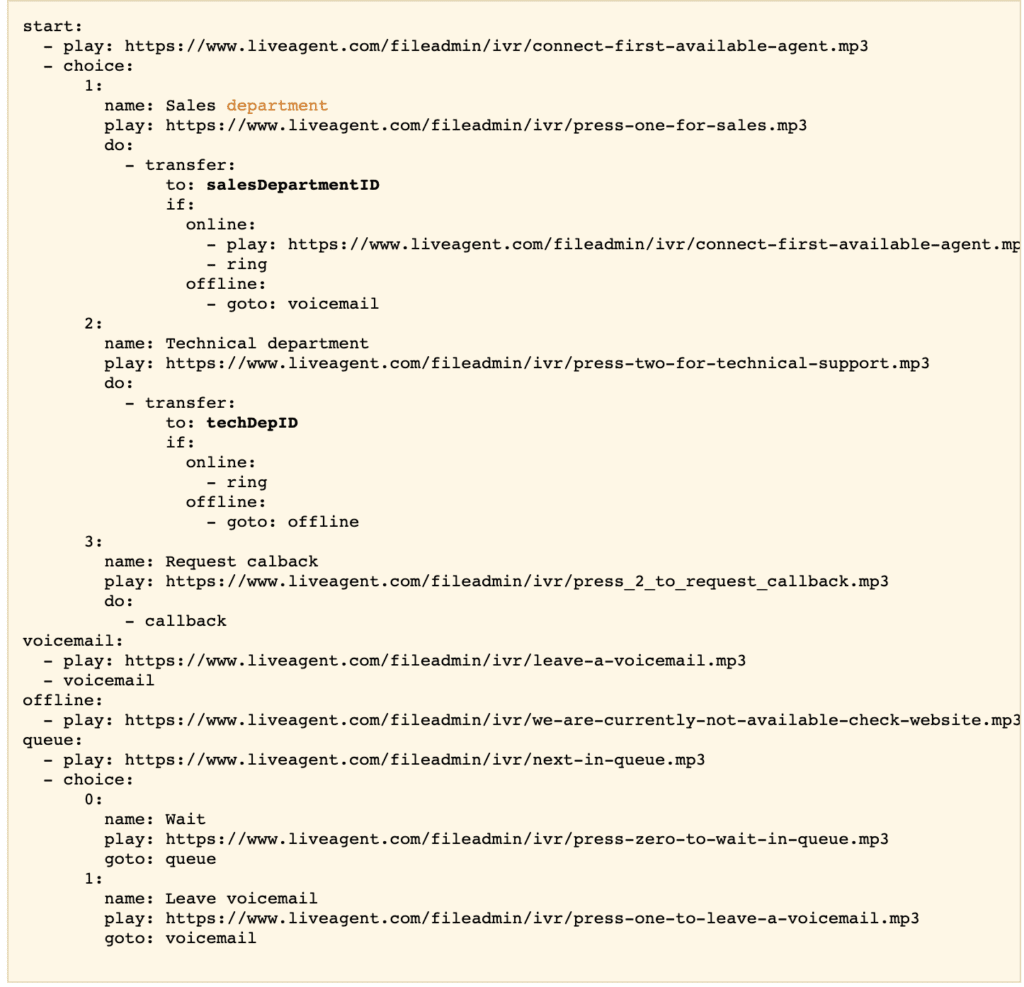 Prioritize calls
IVR systems need to be able to recognize high-value callers. Once the system recognizes the caller, it needs to be able to put them at the front of the queue or route them to their designated customer success manager.
Who uses IVR?
Businesses, organizations, and government agencies
IVR software is primarily used by large businesses, organizations, and government agencies that have multiple customer support departments within their call center.
Some examples of IVR users are telco companies, banks, internet, and TV providers, airlines, large corporations, and ministries.
Customers
Customers who contact businesses that use IVR systems are IVR users as well. They interact with IVR technology before they're connected to a customer support representative.
Why is phone support without IVR ineffective?
Having an IVR system in place helps businesses improve their phone support. Without it, customer support wouldn't be as effective and customers wouldn't be as satisfied. Here's why:
High probability of being routed to the wrong department or agent
Without an IVR system in place, customers have to be routed to the appropriate agent or department manually. This means that a customer service representative, or a receptionist, has to physically press a button on their phone or computer to route the customer's call. 
However, whenever a human operator has to route calls, there's a higher chance of error. This is simply because of the human factor. For example, the support rep could simply press the wrong button because they got distracted.
No prioritization options
Without call IVR systems, all callers have to wait in a queue, regardless of their status. This could mean that you don't adhere to SLA standards, which could affect your relationships with your most valued customers. 
If you don't prioritize your most valued customers, you're likely to lose their business and tarnish your reputation. As an example, if SLA standards aren't met, the customer won't be inclined to recommend your business to others because they know you don't adhere to agreed-upon service standards.
Great customer service doesn't mean that the customer is always right, it means that the customer is always honored.

Chris LoCurto – Leadership and business coach
No callback options
Without IVR, callers won't have the opportunity to request a callback option. Instead, they'll have to wait on hold which can result in customer frustration. If you provide your customers with a callback option, it shows that you value their time and business.
Long hold queues
IVR, combined with call queue software, eliminates long hold queues and waiting times. Because callers are able to decide which department they want to be routed to, queues are shorter for initial contact and each department. Therefore, it ensures a more efficient and organized handling of incoming calls, which further improves the overall customer experience.
What problems does IVR solve?
Low first contact resolution rates
IVR helps improve first contact resolution rates because it routes callers to the agents that are most equipped to help them. Without it, callers have to explain their problem to an agent that routes them to another agent. This can happen multiple times before the customer is routed to someone that will actually help them resolve their problem.
Inefficient customer service
IVR improves customer service efficiency because agents don't have to waste each other's time by transferring callers left and right. 
Low customer satisfaction
Customers can get easily frustrated if they keep being juggled around by customer service agents. We've all been there — trying to resolve a simple problem, yet no agent can seem to help.
By constantly re-routing callers to different agents, customer satisfaction decreases.
Low customer satisfaction
Customers can get easily frustrated if they keep being juggled around by customer service agents. We've all been there — trying to resolve a simple problem, yet no agent can seem to help.
Lack of professionalism
IVR can help businesses look more professional and established than they actually are. How? When a customer calls your business and is greeted with an IVR message, they'll assume your business is much larger than it actually is. 
Because IVR systems make it appear like your business has multiple departments and employees, it can be perceived as more trustworthy in the eyes of consumers. 
Benefits of using IVR
One of the biggest benefits of IVR is improving service quality, and in turn, improving customer satisfaction.
Improves service quality
By using an IVR system, you'll be able to improve your service by:
Decreasing hold times
Adhering to service level agreements (SLAs)
Routing callers to appropriate departments and agents
Providing callers with callback options
Voice user interface (VUI)
Using acoustic echo cancellation to improve the call experience
Giving your agents additional time before a call during which they can review the CRM information about the caller, their purchases, and previous interactions
Adding custom messages about new offers, changes of service, etc into your IVR menu
Improves customer satisfaction
IVR software improves customer experience and customer satisfaction. By using this software, customer service representatives can provide speedy, knowledgeable, and personalized service. Agents are more likely to provide options for problem resolution on the first contact, which is exactly what customers want and expect.
66% of customers say that valuing their time is the most important thing a company can do to provide them with good customer service.
How can IVR help you?
IVR software can be used to improve marketing, sales, and customer service efforts. 
Use case #1: IVR for marketing
Marketers can use IVR for generating leads and qualifying them for future marketing campaigns. 
Generating leads
Instead of sending out email surveys, marketers can utilize IVR to collect answers from their customers. One way to do it is to give customers an IVR connected number to call, in which they simply answer questions by using their voice, or by pressing the dial keys.
Another way to do it is to insert a survey directly into your already existing IVR menu. For example, when a customer calls your support department, prior to being connected they can be asked if they want to participate in a survey that can give them a chance to win a gift card or a discount.
Qualifying leads
Marketers can use IVR systems to ask customers questions and qualify them as leads. For example, if a caller answers questions about their willingness to try a product, they can be automatically routed to the sales department after they've completed the survey.
Use case #2: IVR for sales
IVR can help you automate calls related to recurring orders. With outbound IVR surveys, customers can answer questions about which products they need to reorder, when, and the amount. The surveys can also ask customers to confirm their address and contact details to ensure all CRM information is up to date.
Automating outbound calls for recurring orders is not only a time-saver but also decreases operational costs, as it doesn't require any human resources.
Use case #3: IVR for support
Apart from the use cases mentioned above, IVR software can be used to measure and improve customer support through IVR surveys. At the end of each call, customers can indicate how they'd rate the service they've received.
Receiving immediate feedback like this also gives you the chance to make things right if your team didn't perform up to par. For example, if the customer rated their service experience as poor, they could be asked if they'd like to be re-routed to an agent to speak about their experience in more detail.
If the customer agrees, they could be re-routed to a custom success manager that prevents churn and tries to make the experience right — either by apologizing, or offering incentives such as discounts or gifts.
How to choose an IVR system
Choosing an IVR system can be a challenge, just like with any software or tool. The software needs to be intuitive, user-friendly, affordable, and have all the essential features an IVR system needs to perform.
Step #1: Write down your requirements
The first step is to write down your requirements. Ask yourself questions like this to determine what features you want your IVR software to have, and what functions you want it to perform.
Do I want the software for outbound calls also or only inbound calls?
Do I want to offer callback options?
Do I want a sole IVR software, or a call center software that also has IVR capabilities?
Do I want to be able to upload and record custom messages?
How complex do I want my IVR trees to be?
Do I want my software to recognize both speech and DTMF tones?
By thinking about these questions, you'll start to have a pretty good idea of what you want out of your solution. Once you know your requirements, you can start researching potential software solutions.
Step #2: Research potential software
The next step is to research IVR software on the Internet. Take your time to look at software review portals, YouTube videos, and professional Facebook groups. Don't be afraid to ask for advice on Quora, LinkedIn, or Product Hunt.
Look at review portal comparisons and user testimonials
If you want to compare different kinds of software based on user-friendliness, price, features, and ease of use, your best bet is to look at the following review portals:
Each review portal provides both written and video user testimonials. Check them out to get an idea of how existing customers are satisfied with the software and the service each vendor provides.
Watch YouTube videos
YouTube videos are a great way to see how each software works in real-time. Look at tutorials posted by official accounts associated with each software as well as reviews by independent YouTubers. This will give you an idea of what the UI looks like and if the software is easy to use.
Ask your peers on professional Facebook groups, LinkedIn, Quora, or Product Hunt
Asking others for their opinion about which IVR software is best is also a great way to find new suggestions. Other professional marketers, customer service representatives, and sales reps that have tried different software can help you eliminate the systems that seem promising but don't deliver.
Step #3: Request a free trial
After you've narrowed down your list of software, try them out by requesting a free trial.
Record messages and test them in real-time
Once your free trial is up and running, test as many functions and integrations as possible to ensure the software works properly and is up to your standards. Try recording and uploading different IVR messages as well as calling your IVR connected phone numbers.
If you have any questions about how the software works, don't hesitate to reach out to customer support. When you do, make note of how they respond to you. It's important to know that the support received alongside the software is up to par. Why?
If the software you choose has a service outage or is buggy, you should be certain that the vendor will do everything in their power to bring the system back up online. If you can count on them, you won't have to worry about losing valuable leads, dropping calls, and frustrating your customers.
Request trial extension as needed
If the free trial period isn't long enough for you to test out all features and make up your mind about the software, request a free trial extension. Most software providers will be happy to extend your trial in hopes of converting you into a paying customer.
Step #4: Book a demo
Write down a list of questions
The next step is to book a demo. Before the demo, write down a list of questions that you want answered. They can be about the functionality of the software, pricing options, feature add-ons, and existing customers in the same industry as you.
Ask questions and take notes
Once the demo is in session, ask your prepared questions. Take notes and pay close attention to the use cases presented by the sales rep. If they don't align with your business goals, ask the rep how their software can help you with your current pain points.
If you're satisfied with the responses, the presentation, and the service, you can purchase the subscription to the software. If you're not satisfied, book a demo with another software provider until you find one you're satisfied with.
Step #5: Integrate the software with your phone numbers and existing systems
The next step is to integrate your software with the systems you already have in place (call center, helpdesk) and connect your existing phone numbers. Once you've done that, you can start recording and uploading your custom messages and building IVR trees.
Test everything before your system goes live, to ensure there aren't any mistakes that can lead to customer frustration or churn. Make sure your trees have an endpoint, and that your messages are easy to understand.
Step #6: Start using your software
The last step is to start using your software. As you get comfortable using it, feel free to get creative and branch out. Use the software for outbound calling, marketing surveys, and more.
Terms related to Interactive Voice Response
Agent Attended Transfer Average Handle Time Call Center App Contact Center Software Customer Database Customer Satisfaction Survey Customer Customer Experience Customer Service Tools Customer Support Customer Interaction Customer Representative First Response Time Hold Time IT Service Desk Resolution Time Tel Link protocol Voice Voice of Customer
Try LiveAgent Today
LiveAgent is the most reviewed and #1 rated call center software for small and medium sized businesses. Try our IVR functionality today.
Watch a video about IVR
Interactive Voice Response (IVR) systems use touch-tone menus to allow customers to interact with a machine and access account information. This automated customer service technology eliminates the need for traditional receptionists. LiveAgent is a help desk software which offers customers an intuitive and streamlined customer service experience. It allows customers to self-serve and find relevant info in one place, freeing up live agents to handle more complex inquiries. LiveAgent provides live chat, email and social media integration for customers to quickly reach live agents when needed.
What is an IVR system & How it Works | Interactive Voice Response Systems Explained | GetVoIP - Expert Tutorials, Reviews, Top Providers03:17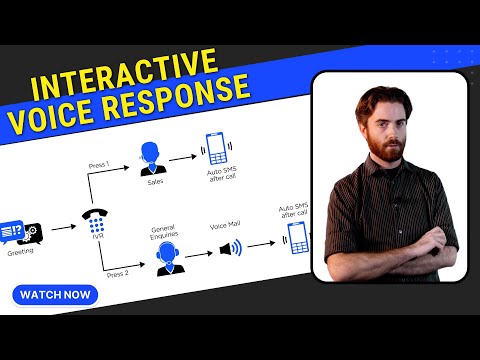 GetVoIP - Expert Tutorials, Reviews, Top Providers
Topics
IVR systems
Automated responder phone system
Advancements in IVR technology
Video summary
In this video, Nate Sorrentino from Get VoIP talks about IVR systems (Interactive Voice Response) and how they work. IVR is an automated responder phone system that can route calls before customers speak to a human representative. IVR systems can collect information on the customer before transferring the call, reducing the workload on tech support representatives and solving simple problems autonomously. Nate also talks about the advancements in IVR technology with natural language processing capabilities.
Frequently Asked Questions
What does IVR mean?

Interactive Voice Response (IVR) is an automated telephone system technology. This allows callers to access information via a pre-recorded message voice response system without having to speak to an agent. It also allows you to use the menu by dialing via the keyboard or by speech.  

What is IVR used for?

IVR systems can be used for many purposes. First, they allow you to record personalized greetings that take your service to the next level. They also allow you to collect information about callers, thanks to which you know more precisely the needs of customers. IVR is also used to automate customer service. It also makes it easy to prioritize a connection based on value. It is also useful for its impact on the company's image.  

What are the benefits of IVR?

The benefits of using the IVR system include increasing the chance of solving the problem with the first connection thanks to redirection to the appropriate agent. Another plus is the increase in the efficiency of customer service, because agents are dedicated to specific areas that solve problems. It also allows you to increase the efficiency of agents and the entire company. It also reduces overall operating costs and also affects the professional image of the company. And most importantly - it affects customer satisfaction.  

How to set up IVR system?

To set up an IVR software you need to create IVR trees. However, every software is different so the setup is different for each solution. Generally, you need to select the phone number that will use the IVR. Next, use a script to create scenarios. For example, if a caller presses 1, route them to sales. Create as many scenarios as you want. Upload or record your audio messages and add their file names into your script. Here's how your script can look like: - choice: 1: name: Sales department play: [voice recording 1] do: - transfer: to: salesDepartmentID

How to use IVR?

To operate an IVR, callers must use DTMF tones (dial pad key inputs) or voice commands.

What is IVR format?

IVR recordings can be uploaded in mp3, WAV, and au formats.

Why do most organizations force customers to experience a menu-based IVR system?

Most organizations use IVR menus because it leaves little room for error when transferring calls. It also decreases the amount of time customers have to wait on hold, and improves service because it gives agents more time to review details about the customer such as their previous interactions, purchases, and contact details.

What prompts are asked for IVR?

Generally IVR prompts ask callers to press a number on their dial pad to reach a certain department within an organization. As an example, an IVR system may prompt a caller to press 1 for sales, 2 for billing, 3 for tech support, etc.

What is IVR troubleshooting?

IVR troubleshooting allows callers to troubleshoot problems with software or hardware by answering questions through the IVR. The IVR might ask questions like"Is the green light on? Press 1 for yes, 2 for no." Based on the caller's inputs, the IVR can direct them to a solution or route their call to a tech support agent that is most equipped to help them.

What to include in my IVR prompts?

Make sure that your IVR prompts start with a greeting. Next, proceed to a menu selection, and end the IVR prompts with a message that confirms that the caller is being connected to a customer support agent.
Expert note
IVR is an automated phone system that routes callers to appropriate departments within call centers. It improves customer experience, first contact resolution rates, and reduces wait times.

Andrej Saxon
Sales manager