What is a help desk agent?
Help desk agents are customer support representatives. They provide technical assistance and answer any questions that potential and existing customers may have about your business, products, or services.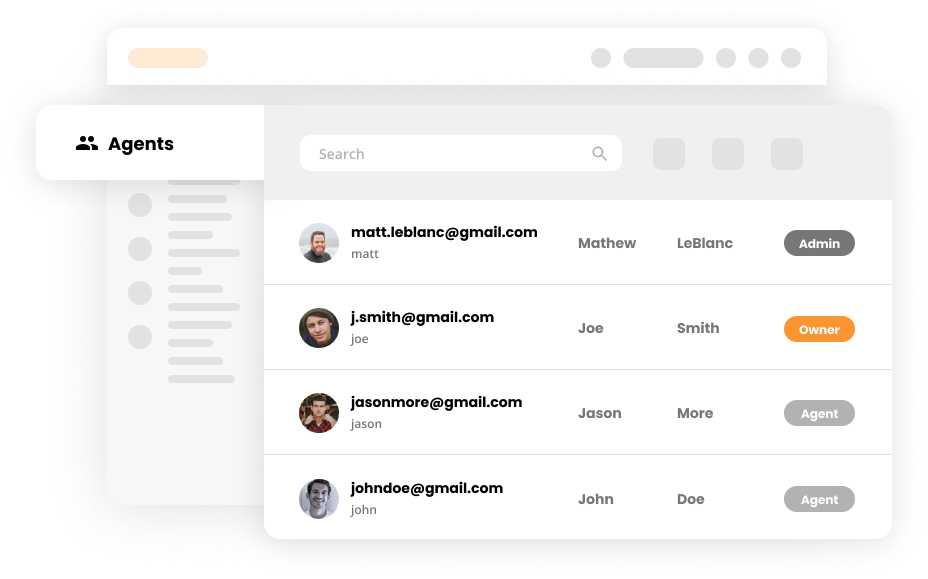 What does a help desk agent do?
Help desk agents can have different roles based on their industry and the business they represent. However, the common denominator is that help desk agents offer assistance via email, live chat, the phone, and often on social media and in person. They usually resolve issues related to:
Billing
Refunds
Bugs
Troubleshooting
Functionality
Availability
Some help desk agents also prepare knowledge base articles and technical guides that explain how to set up, troubleshoot, and use the products/services their company is selling.
How to add agents to your help desk
To invite agents to your help desk, you need to be the owner or administrator of your LiveAgent account. Please note that agents cannot add/invite other agents into the ticketing software.
Log in to LiveAgent.
Click on Configuration.
Click on Agents.
Click on the orange Create Agent button.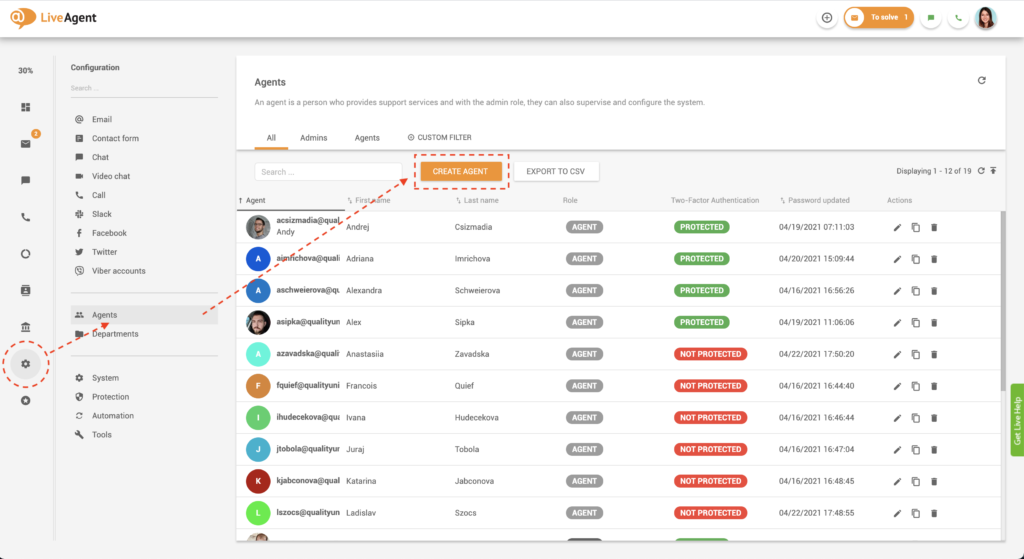 Write their name in the Name panel.
Write their email address in the Email section.
Select the Role you want to give them.
Select their Gender.
Click on the orange Create button.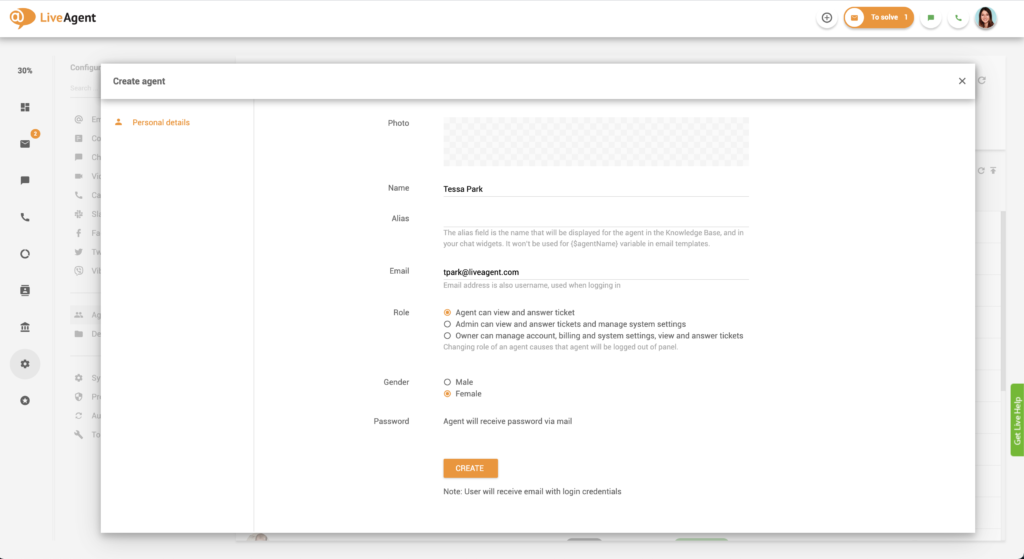 Once you click the Create button, the agent will receive an email invitation to your help desk that will contain their automatically generated login credentials.
How many agents can I invite into my LiveAgent help desk?
LiveAgent help desk software enables you to invite an unlimited number of help desk users into your account. However, please note that adding new agents to your help desk will increase your monthly subscription price unless you're using a free LiveAgent account.
Start supporting your customers with LiveAgent
Invite an unlimited number of agents into your help desk and start providing excellent customer service. Start today with a free 30-day trial. No credit card required.
How can I delete an agent?
Log in to LiveAgent.
Click on Configuration.
Click on Agents.
Find the trash/bin button on the right-hand side of the agent's name. Click the button.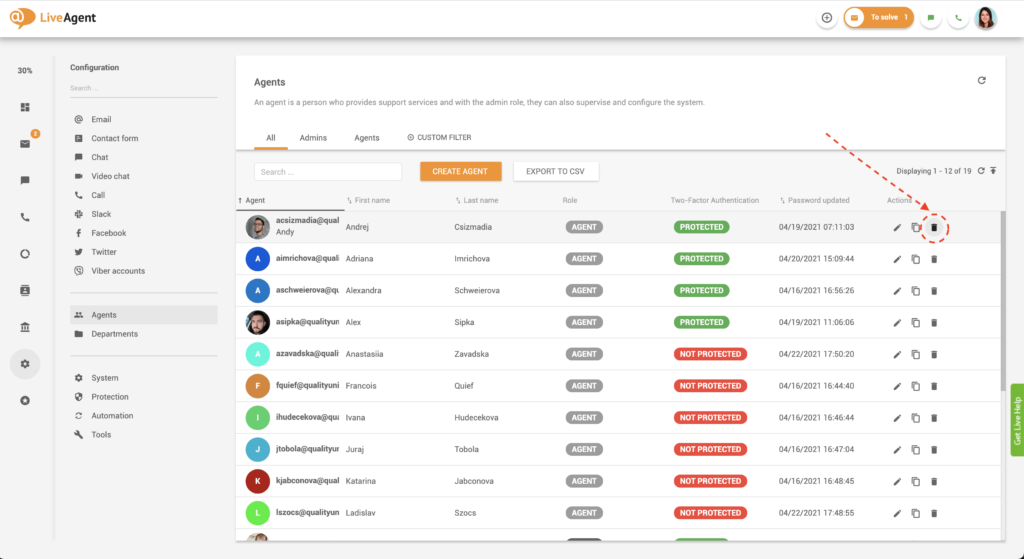 5. A confirmation message will pop up. Confirm your choice by clicking on the orange Delete agent button.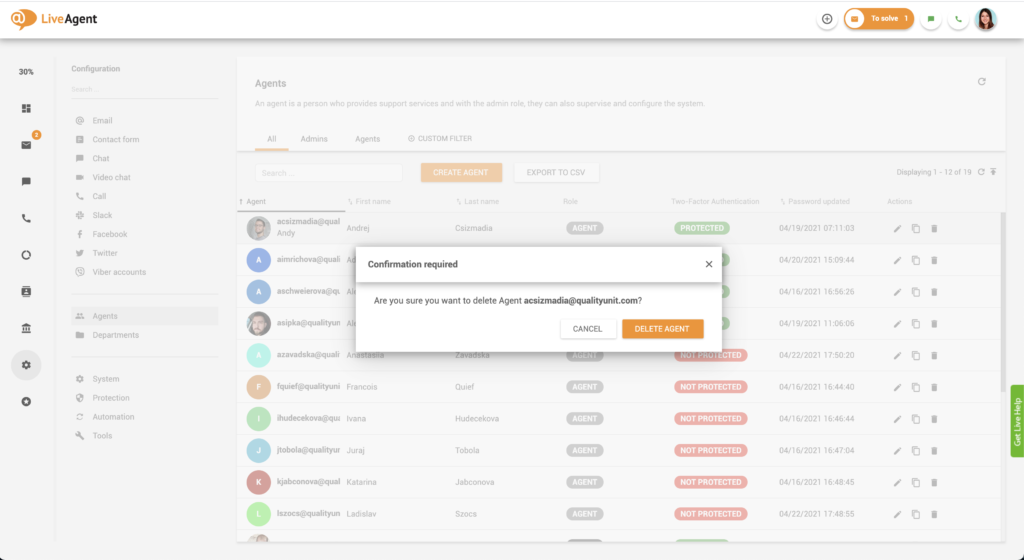 What can an agent do in LiveAgent?
Agents can take care of all the customer requests, answer chats, phone calls, and messages from all other channels that are connected with your help desk software. They also have the option to manage knowledge base articles.
They do not, however, have access to configuration options or reporting/analytics dashboards. Agents can only access their work reports.
What other user roles are there?
Admin – Admins can configure the system, view reports, and manage other users.
Owner – The owner is a particular type of administrator that, in addition to configuring settings, viewing reports, and managing users, can change/upgrade their LiveAgent subscription plan. They also have access to billing information and invoices.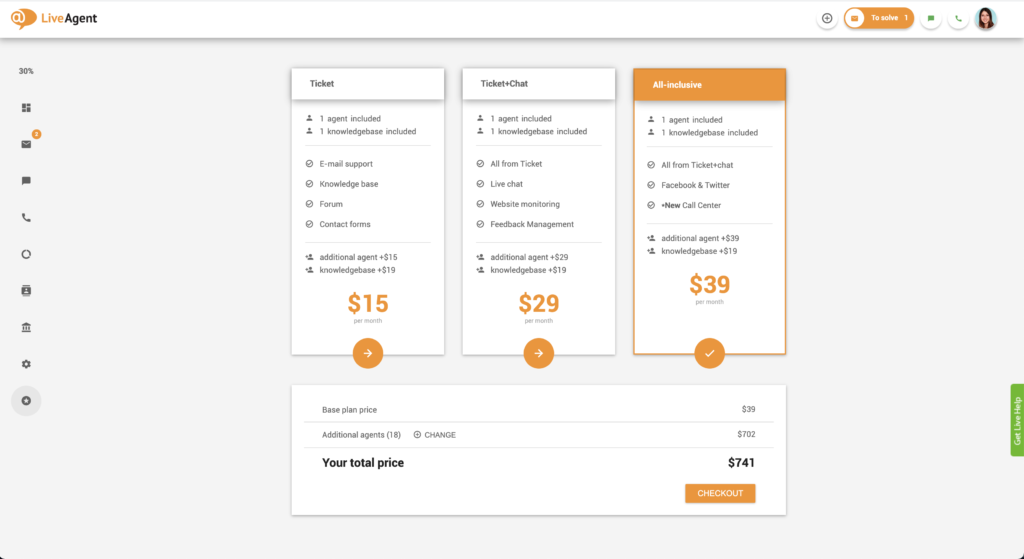 How to modify agent permissions
Log in to LiveAgent.
Click on Configuration.
Click on Agents.
Find the pencil/edit button on the right-hand side of the agent's name. Click the button.
Find the Role field. Select the role you want to give them.
Click on the orange Save button.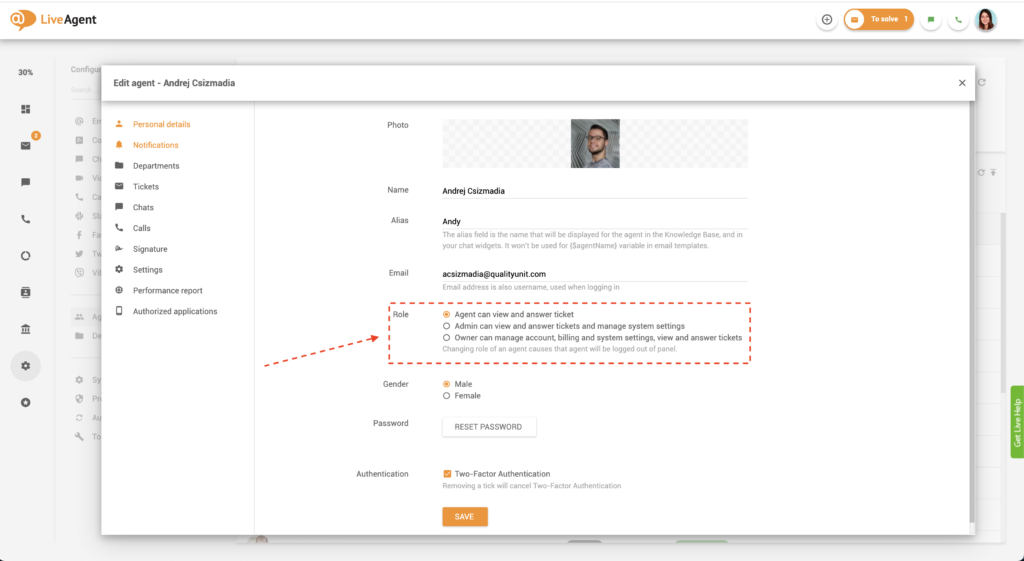 How can agents modify their agent profiles?
To edit their profile and preferences, agents simply need to click on their avatar/profile picture in the upper right-hand corner of the screen and click on Edit profile.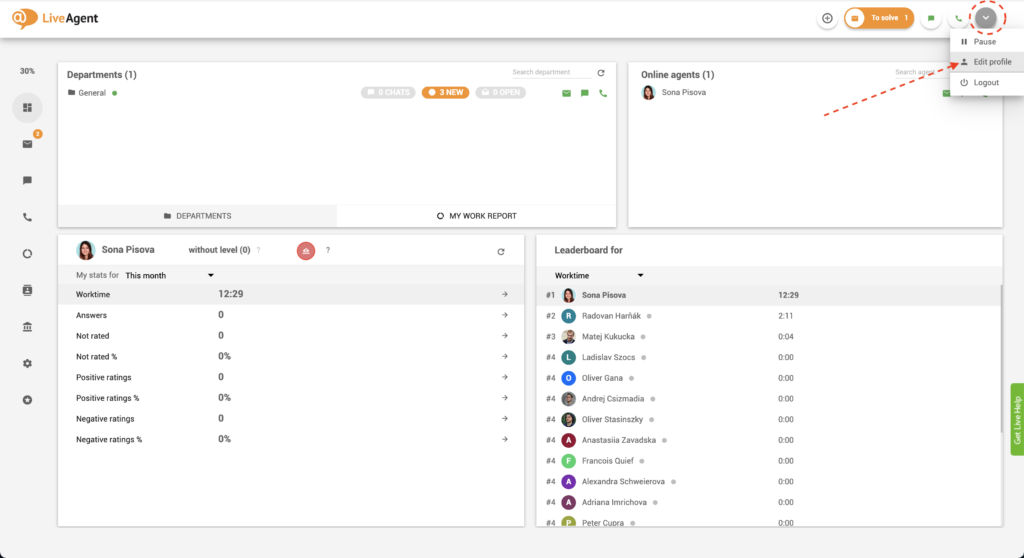 What can agents modify in their agent profile?
Personal details
Photo/avatar (profile picture)
Name
Alias
Gender
Password
2- Factor Authentication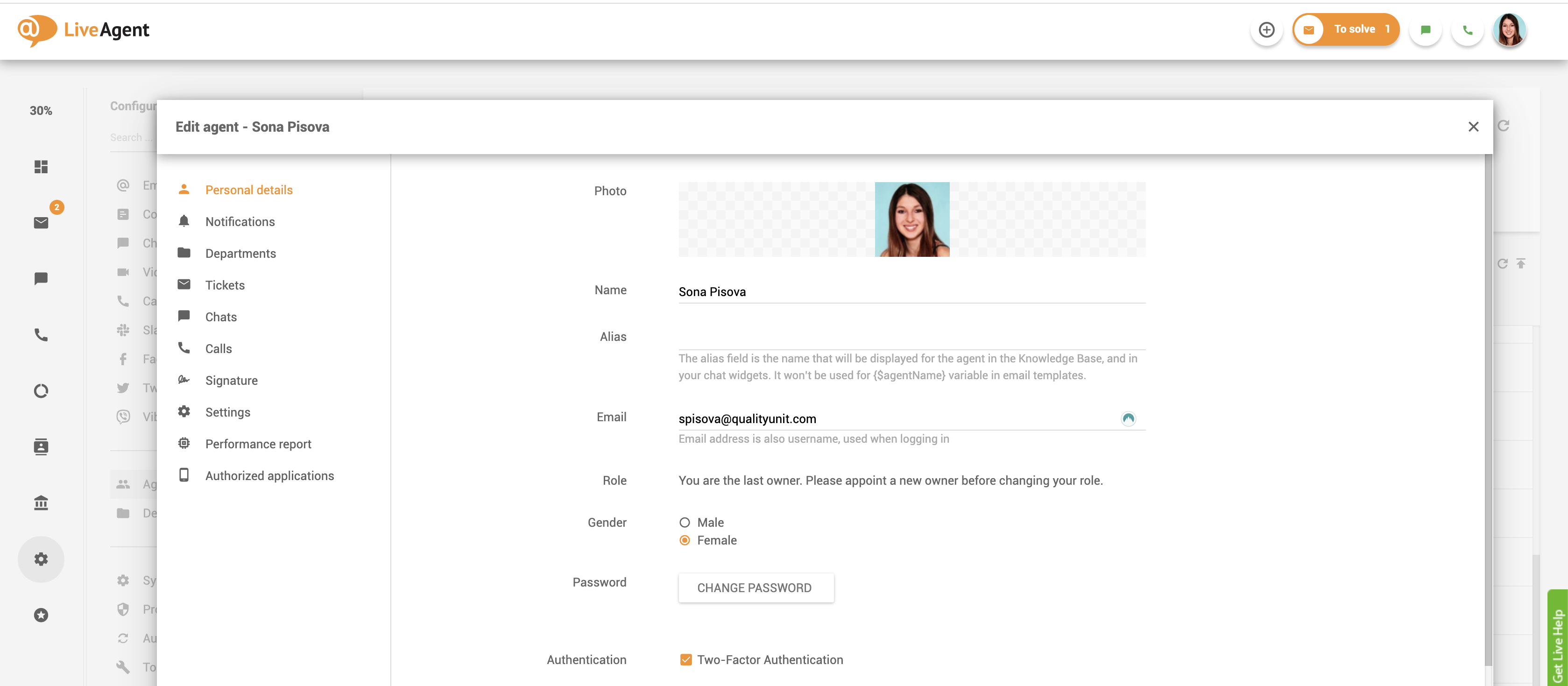 Notifications
Email notifications 
Slack notifications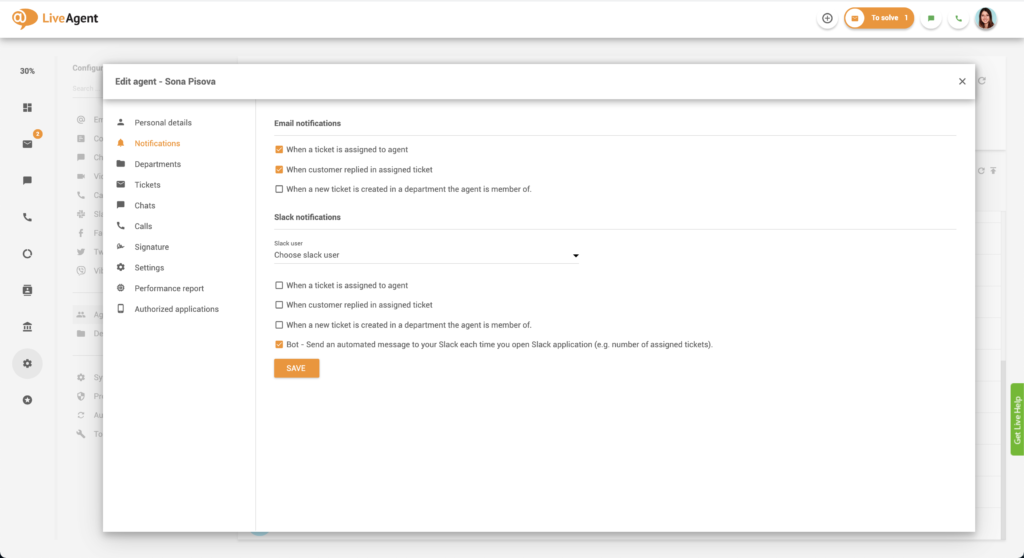 Tickets, chats, and calls
Departments from which you will receive tickets, chats, and calls
Call center devices
Call center extension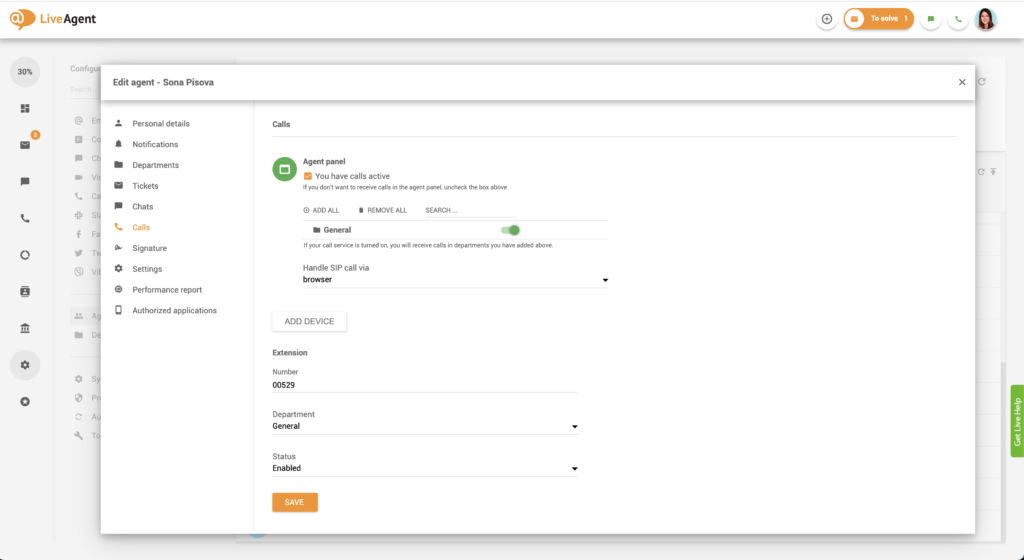 Signature
The signature that will be added at the end of all outgoing messages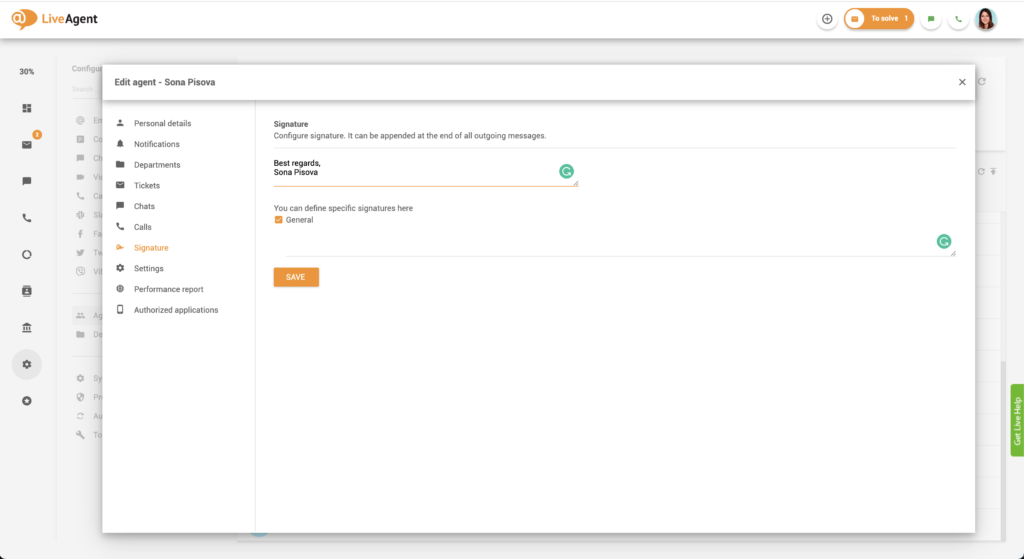 Settings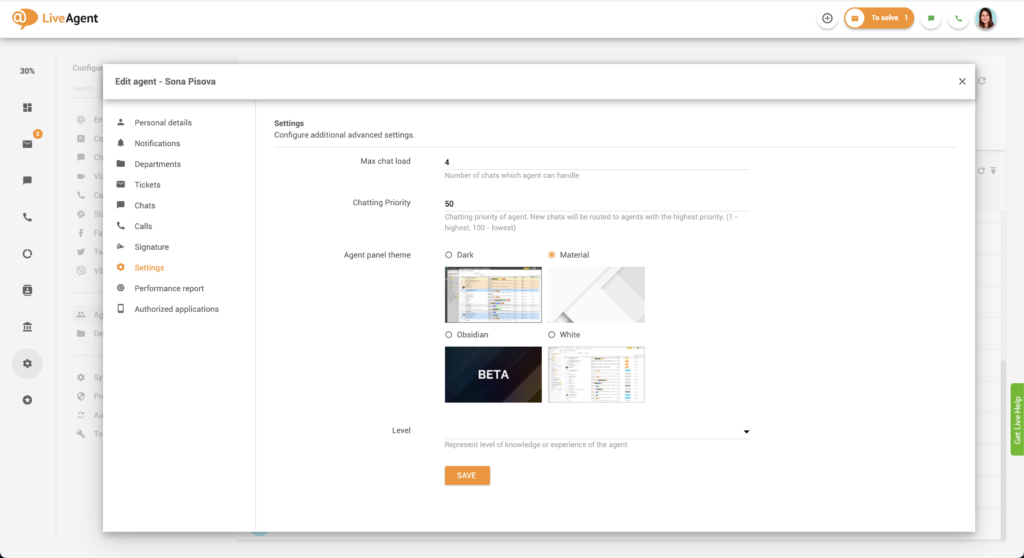 Sounds
Notification sounds for new calls, new chats, new messages, new system messages, and new tickets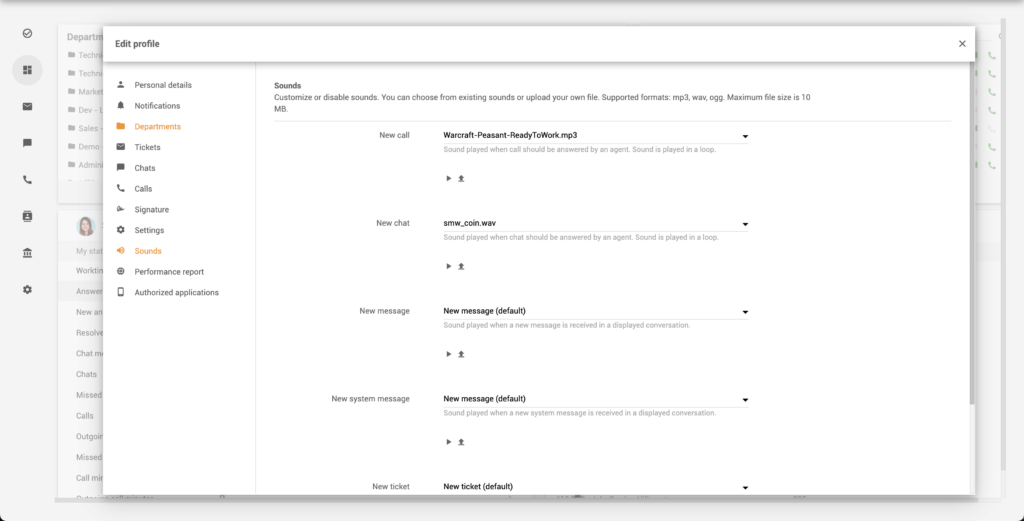 Performance report
Performance report values (You will be able to view your performance report by month, week, day, hour, etc.)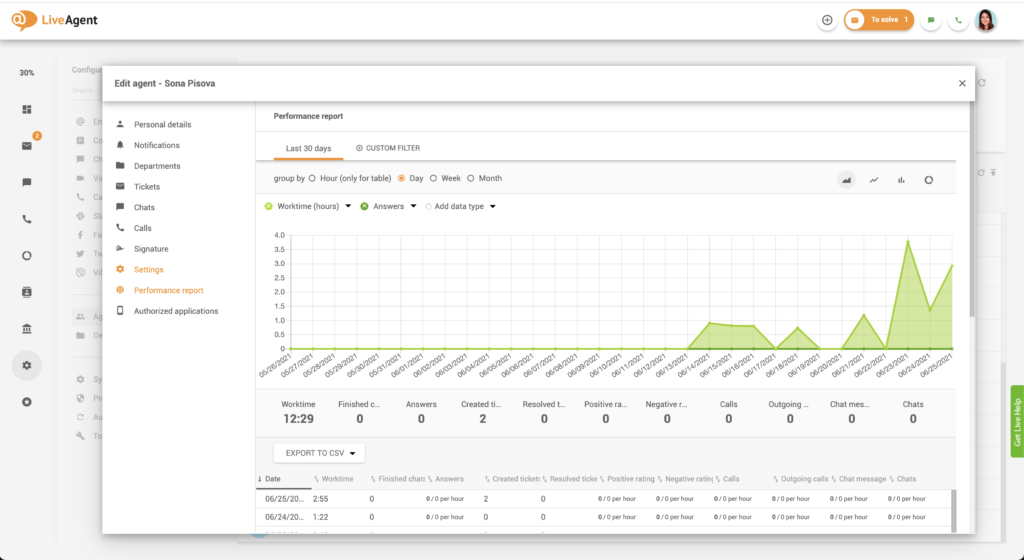 Why should I add agents to my account?
Unless you're a tiny business or a solopreneur, it's advisable to add agents to your help desk account so you can start answering customer emails, calls, and chats on time. Doing everything on your own can be overwhelming, especially if you have tons of tickets coming in every day.

Happy customers are the best customers
We offer concierge migration services from most of the popular help desk solutions.
What skills do I need to become a customer service agent?
Customer service agents need to be excellent written and verbal communicators. They need to have active listening skills, empathy, and thorough knowledge of your products and services. Successful support agents have to seamlessly navigate the company's IT ticketing software. In addition to that, they should be:
Analytical
Tech-savvy
Able to type fast and accurately (Feel free to try out our free typing test! Can you type as fast as a support agent? Try to reach 80 WPM)
Able to explain complicated concepts in easy to understand terms
Well versed in dealing with stressful situations
Know how to talk to control their emotions
Able to multi-task
Flexible in their work schedule
Speak more than one language (not required, but preferred)
LiveAgent Product Tour | Live Agent02:25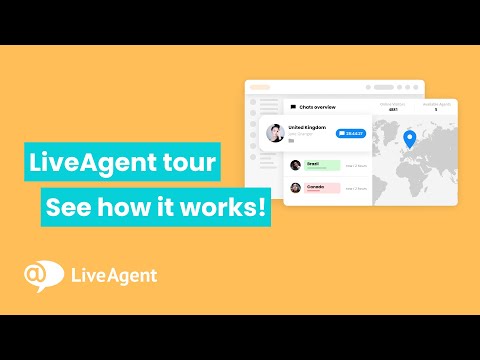 Live Agent
Knowledge base resources
To learn more about customer service agents and the skills they need to master, check out our knowledge base, blog, academy, and glossary.
Ready to increase your productivity with more agents?
Discover just how easy customer service can be with LiveAgent. Try our all-inclusive free 30-day trial today. No strings attached, no credit card required.
Enhance productivity, improve response times, and provide exceptional customer experiences.
Experience the power of efficient customer support with LiveAgent's robust agent features.