What is call routing?
Call routing, also known as Automated Call Distribution (ACD), is a feature that automatically distributes incoming calls of your customers to a specific agent, department, or a queue based on your preferred criteria inside of your cloud-based call center software.
Companies can gain complete control over the flow of the inbound calls by defining the conditions and choosing if they will be distributed randomly or assigned to an agent with the highest priority.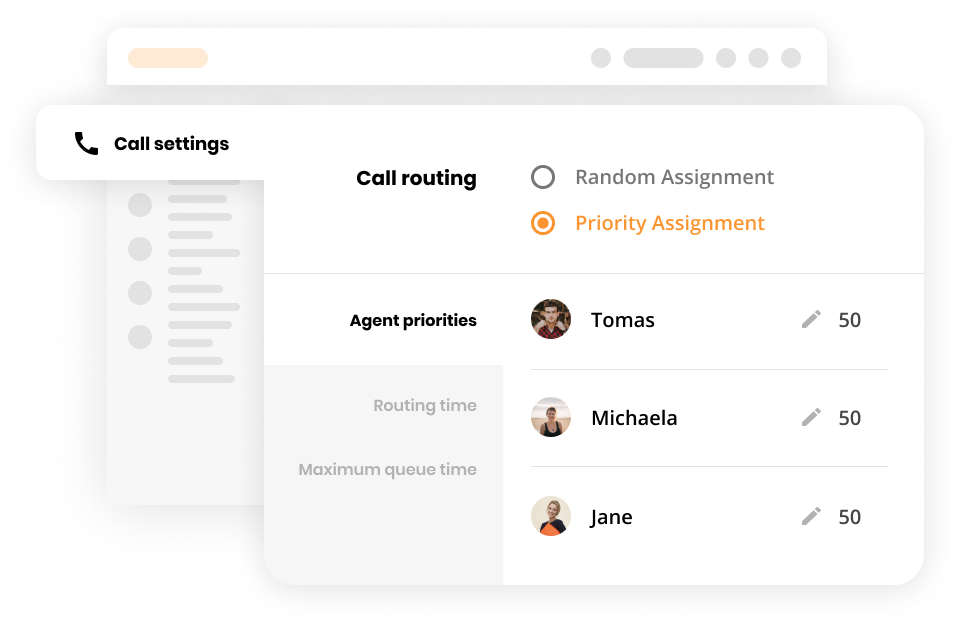 Who benefits from the call routing?
Businesses of all sizes that receive incoming calls regularly and want to provide the best customer service can enjoy the benefits of implementing call routing into their software for call centers.
Medium-sized businesses, large and enterprise companies can benefit from the priority assigned to make sure that skilled agents in the correct department handle all calls. In addition, deploying other features of the built-in call center, such as internal calls, IVR, or call transfers, can increase the benefits even better.
Small businesses, solopreneurs, and freelancers can take advantage of random assignment and other advanced call center features such as video chat or IVR.
How does call routing work?
Call routing, or automated call distribution, appears each time your customers initiate an inbound call. In the beginning, they hear an automatic welcoming message or a request to stay on the phone and wait until one of the agents is assigned. Then, if customers are already waiting in a queue, they hear the music and are asked to stay online. Finally, once the line is cleared, the call starts.
Call routing example:
As an example, let's say that John wants to inquire about an issue with an order he made earlier on your website. Thus, he calls your help desk number, selects the appropriate option within IVR, and the call routing feature transfers his call to the next available agent. Thanks to the call routing feature, John doesn't have to dial different numbers for different agents, and he doesn't have to wait in a long queue.
What are the core features of call routing? 
Random assignment
All new incoming calls from your customers will be assigned randomly to one of your available agents for a call. You can define the department where the calls should be routed in settings.
Routing time
It allows you to define the number of seconds after which the call is routed to another agent. Calls are routed to the random order of agents. Thus, you can improve the first call resolution by decreasing the wait time.
Priority assignment
The new call will automatically assign a free agent with the highest priority and longest time since the last call. Therefore, you can utilize the availability of your agents to the maximum.
Maximum queue time
Determine the maximum time limit an incoming call stays in a queue. After the defined time is up, the call will continue in an offline section of your IVR.
Business benefits of intelligent call routing
Increased customer satisfaction
Intelligent call routing can create a more personalized, efficient, and better customer experience. This results in increased happiness.
Reduced operational costs
Maximizing the potential of your support agents while lowering the idle time results in reduced operational costs.
Fast and accurate contact
Connecting the customer in a queue with the available agent as fast as possible can be handled in a matter of seconds.
What are other beneficial call center features? 
Interactive voice response
Automate your workflow by setting up your own Interactive Voice Response (IVR) in just 5 minutes. Create a unique IVR tree and provide an even better, more customized, and personalized customer experience. Interactive Voice Response is a great way to speed up your customer support and fasten the first call resolution of issues. Direct your customers to the correct department and agents by giving them options to describe their problems in advance briefly.
Unlimited voice recordings
LiveAgent provides you the opportunity to store all of your voice communication with customers for legal or support purposes. Play, download, or get back to them anytime during the whole duration of your account to serve even better customer support. We do not limit you on the amount or length of each of the voice recordings.
Take advantage of our versatility
Answer calls on the go with apps, or on the office with hardware phones. Try it today. No credit card required.
Frequently Asked Questions
What is the Call routing feature in LiveAgent?

The call routing feature in LiveAgent ensures that each customer gets to the correct department. Moreover, it can distribute calls by your company's priority. As a result, it automates and provides a quality customer experience.

How does the call routing work in LiveAgent?

LiveAgent offers different types of call routing since each company has different preferences. For instance, you can distribute calls randomly or based on your priority.

How can you benefit from using the Call routing feature in LiveAgent?

The feature evenly distributes calls, but it can also route calls to preferred devices. Thus, your customers can reach you even if you are on the go. Overall, call routing saves time, increases customer satisfaction, and promotes customer retention.