Are you tired of switching between interfaces to help your customers? Spending time searching between platforms can lower customer satisfaction and make your agents stressed out.
To provide exceptional customer service, you need to have the right tools for your agents. They are the first people the customers come into contact with. As a result, your agents create the brand image or, in other words, the customer perception of your company.
Your customer representatives have the power to either create long-lasting relationships or to lose customers to the competition.
LiveAgent is a complex help desk software that is user-friendly. It allows your agents to deal with all the customer inquiries from one place. The system has more than 170 features to help your agents provide a smooth CX. One of them is called Online visitors.
What are online visitors?
It is a section/feature of a LiveAgent where you can see all visitors online browsing your website on one screen. So, you can check what pages they are browsing and how much time they have spent there. Moreover, you can find out the visitors' referrers, an IP addresses, and countries to help prepare yourself before a Chat conversation.
A customer tracking program can be a valuable addition to your customer support toolkit, as it allows you to manage and track requests from these online web visitors. By understanding their behavior, you can provide a more personalized and efficient support experience.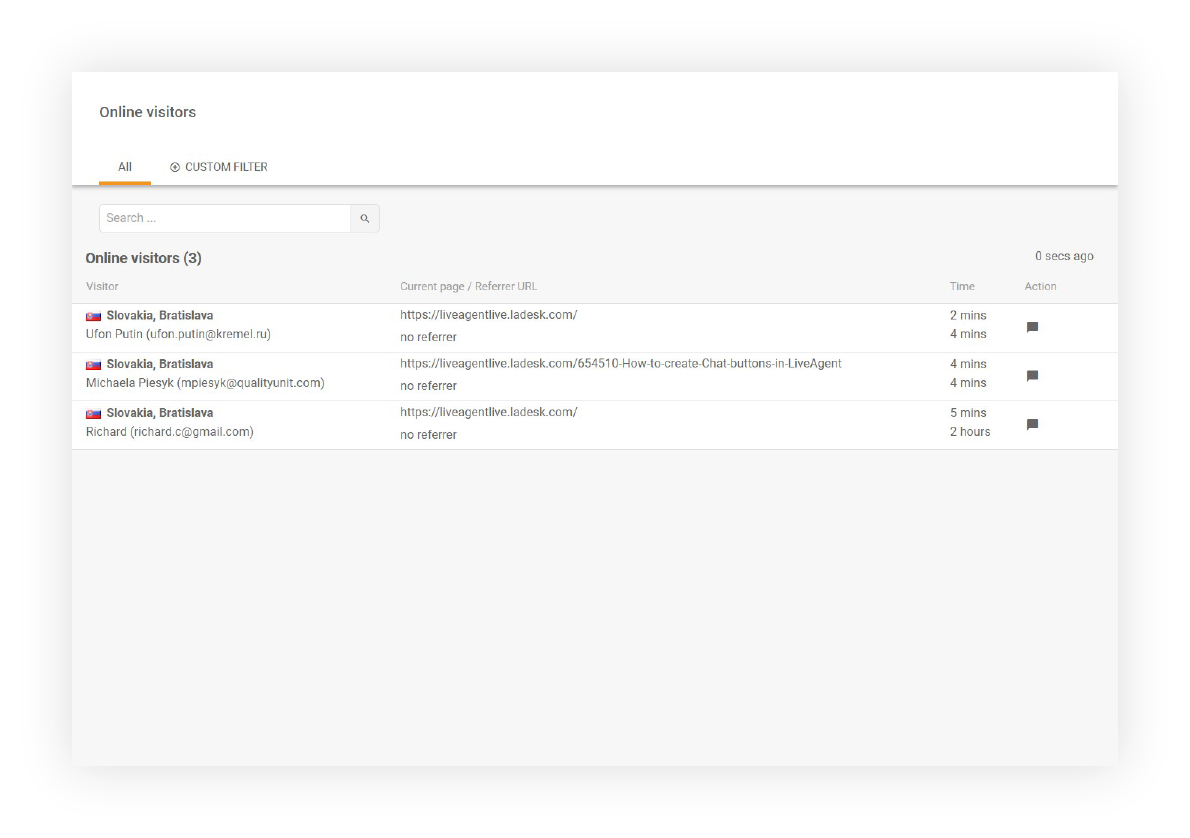 How can you utilize the online visitors' feature?
The Online visitors feature is somewhat similar to Google Analytics or other platforms that show you data about your website visitors. You do not need to switch platforms when you want to have a quick overview of your visitors online.
Moreover, the online visitors' section is a great source of information for your agents before agents start chatting with the customers. Since you can use proactive invitations in LiveAgent, you can leverage this information later or immediately in the conversation to provide the best possible CX.
What can you see in the online visitors' section? 
Visitor's country
Time
IP address
Visitor's actual site
Visitor's referrer
How can you invite the visitors to chat?
Your agents can manually invite them to chat by clicking on the Start Chat button. After that, you can choose the right chat window of an invitation from your dropdown list (chat invitation is displayed on the page the visitor is currently browsing). 
Benefits:
Overview of your current website traffic
Source of information
Better proactive chat approach
Improved customer satisfaction
Better agent workflow 
Ready to try LiveAgent?
Do not switch between interfaces. See how many visitors a website gets right inside LiveAgent. Try out one of our subscriptions for 30-days free of charge. No credit card details required!
Complimentary help desk chat features:
Chat-embedded tracking
If you would like to track all the chat information in Google Analytics to see the impact of the live chat on your website, we have a plugin that allows you to sync the chat information. 
Find out the LiveAgent information you can track in Google Analytics.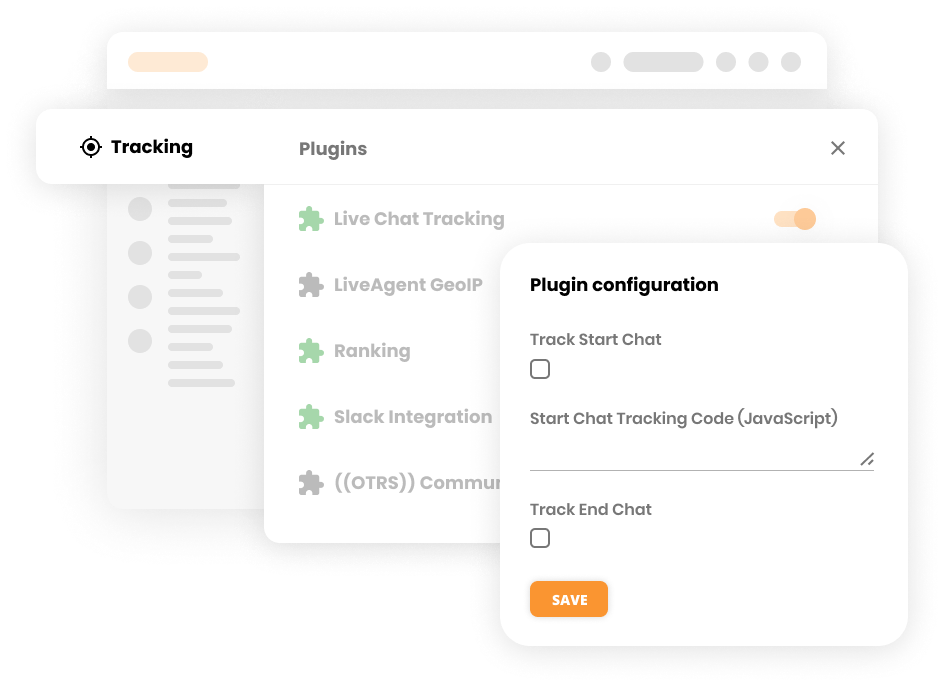 Chat distribution
Make sure your agents work effectively by setting up chat routing in LiveAgent. For instance, you can randomly assign agents or create an organized workflow. Thus, they can efficiently deal with customer chat inquires.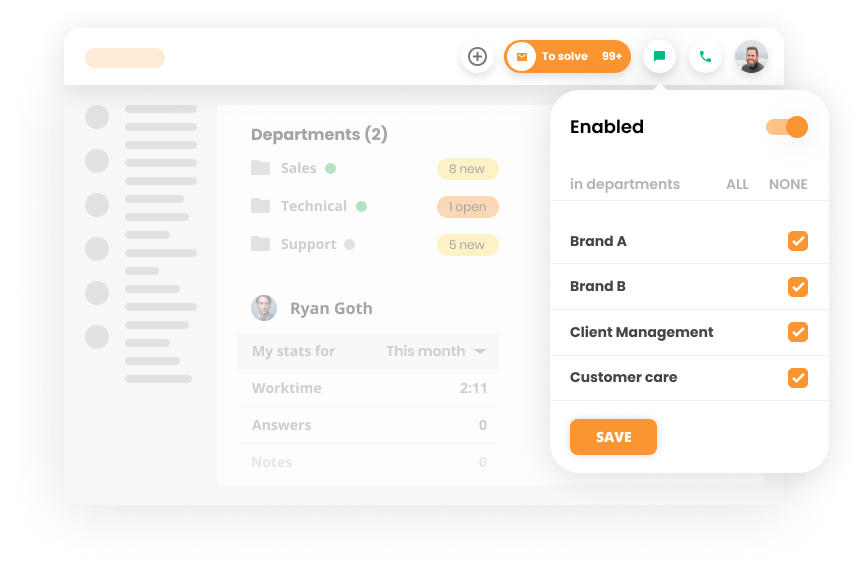 Learn more about Chat distribution options – LiveAgent.
Proactive chat invitations
This feature closely ties to Online visitors. It is an effective way to reach out to your visitors online and offer them help if needed.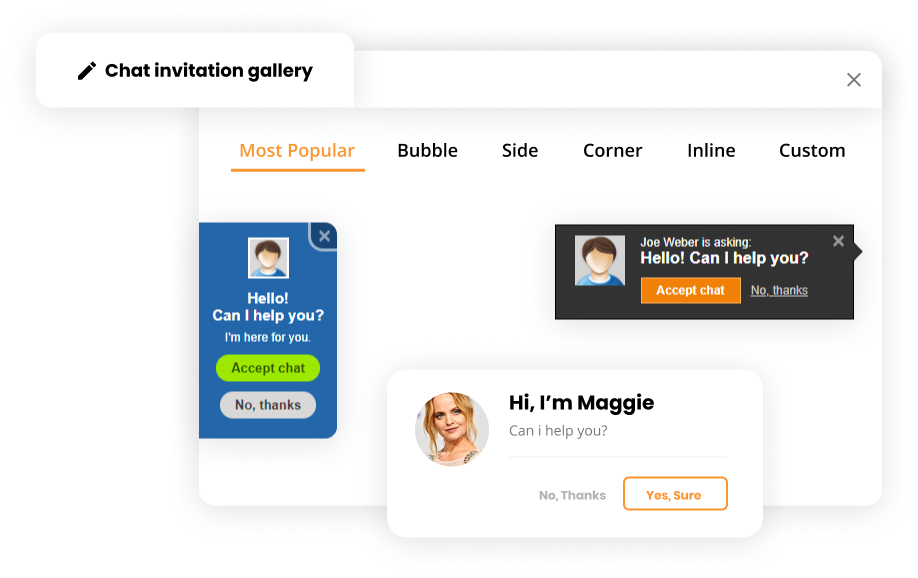 Learn more about LiveAgent – Proactive chat invitations.
Knowledge base resources
If you want to know more, read about How to create an online chat button.