Key takeaways
Pros
User-friendly interface
Customizable templates
Reliable customer support
Free plan available
Cons
Advanced editing options are difficult to figure out
You might require support with the implementation of advanced features
Knowledge base software by Freshdesk is a great option for all types of businesses. In case you've never used such software before, no worries. The user interface is very intuitive. Even less tech-savvy users can easily set everything up and start writing knowledge base articles in no time. I would even dare to say they can complete the process without reading the documentation.
Creating the articles themselves is also very simple. Besides basic functionalities like editing text and adding pictures and videos, Freshdesk offers a few pre-built templates to help you get started. You can also do some basic optimization for search engines directly in Freshdesk's software. With the free plan, you can give it a try and figure out whether this is the piece of software that will help you build your company's knowledge base.
Getting started with Freshdesk
Setting up your free account is a piece of cake and can be done in a matter of minutes. You can opt for this option or you can sign up for the free version of Freshdesk's software.
It's important to point out that I set everything up in Chrome, but Freshdesk also works in Safari, Edge, and Firefox.
After signing up, Freshdesk offers you an option to fill out some details about your business to better tailor the experience to you. However, you can skip this step if you don't wish to do that right away.
After email authentication, you just need to set up your account and you are ready to go. When you sign in, you are greeted with a dashboard with all the necessary information.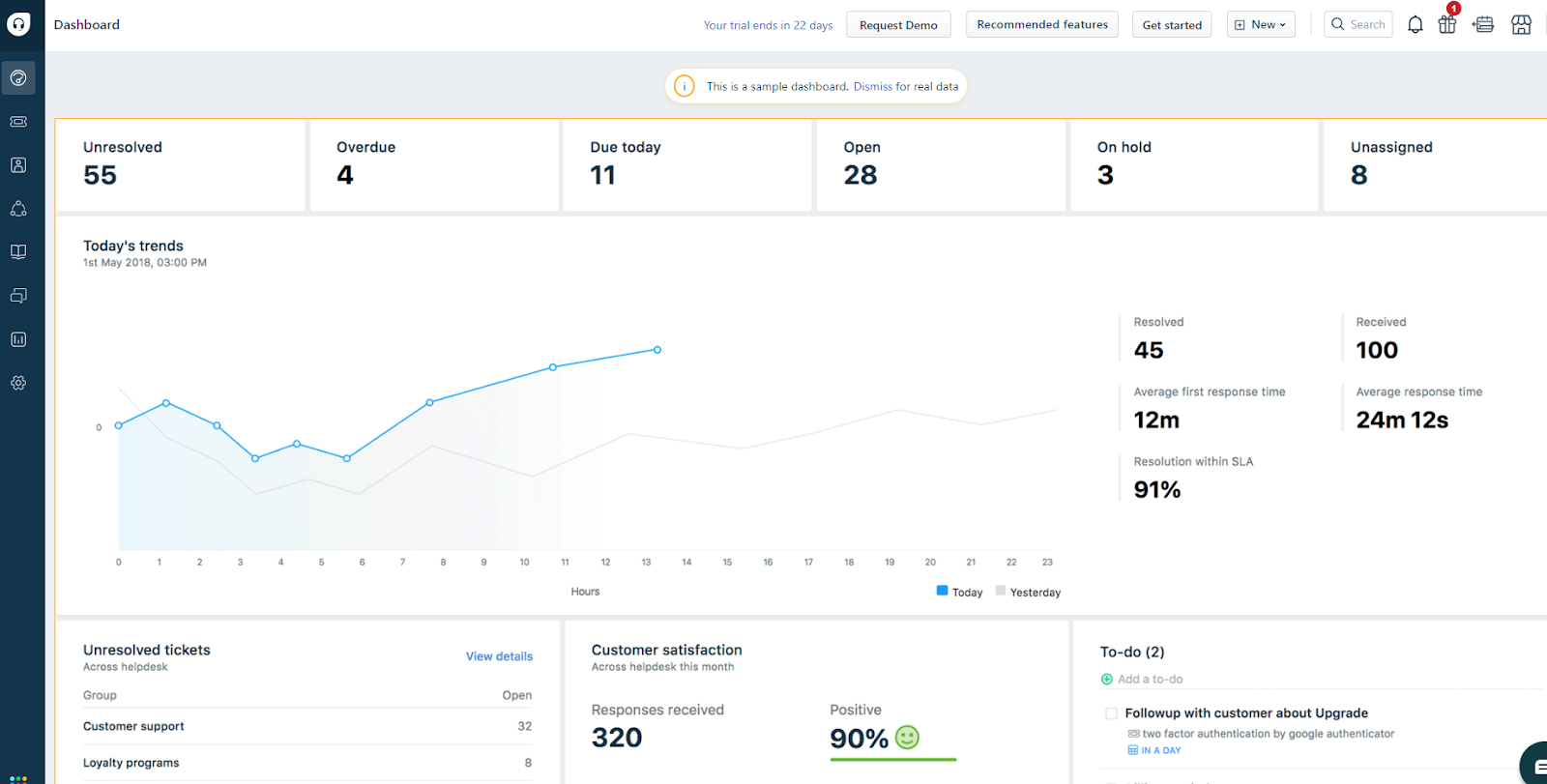 If you're just starting out, you can get sample data just to see how your dashboard will look once you start using the software. You can, of course, dismiss it and use real data instead.
To start creating your knowledge base, go to the left-side menu and click on Solutions and continue by clicking on Getting started.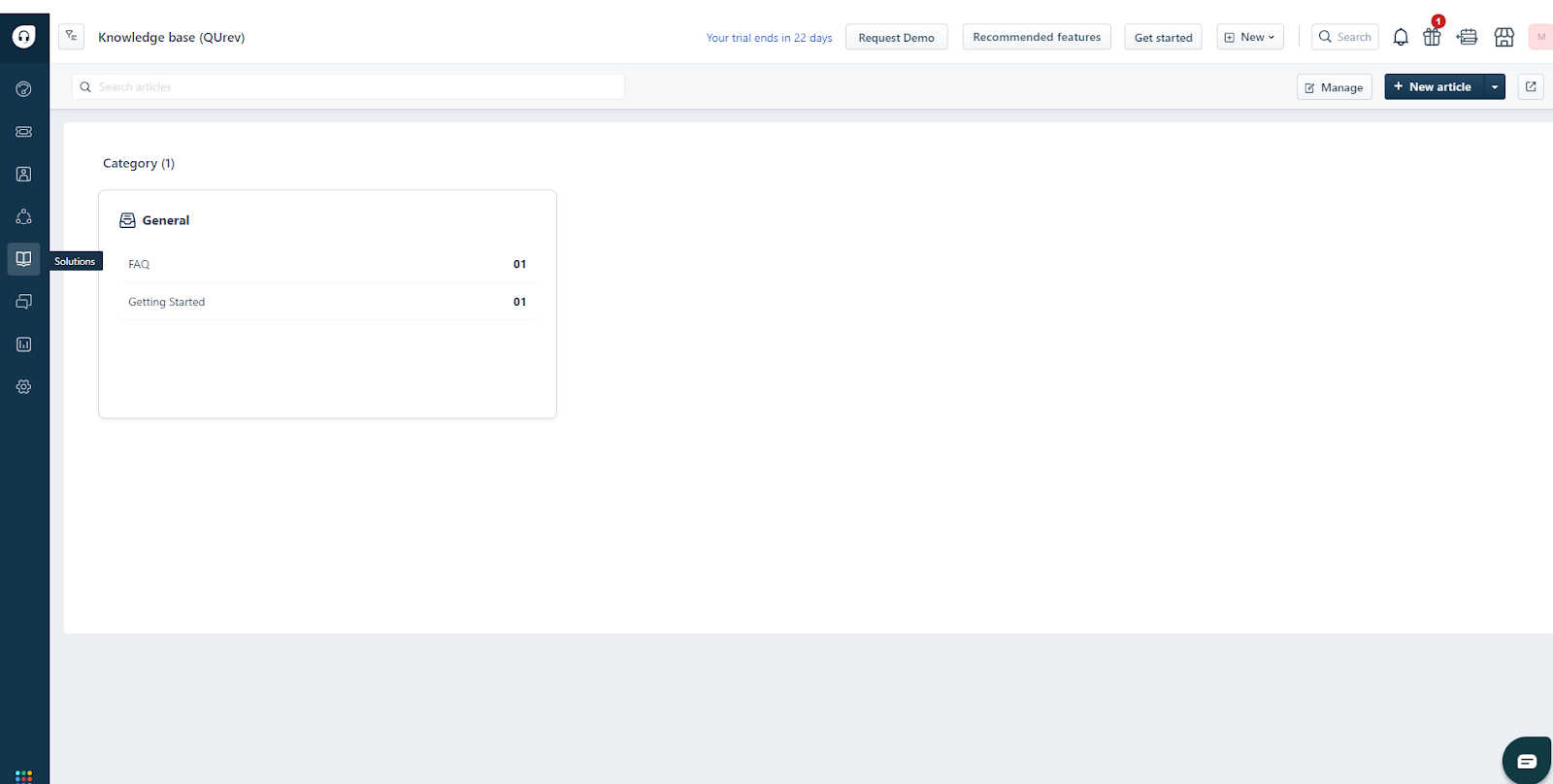 Here, you can edit existing folders, or create new ones. You have two folders to start with, but you can add more. Now, for the most important part, you can start writing knowledge base articles. To do that, hit the New article button in the top right corner.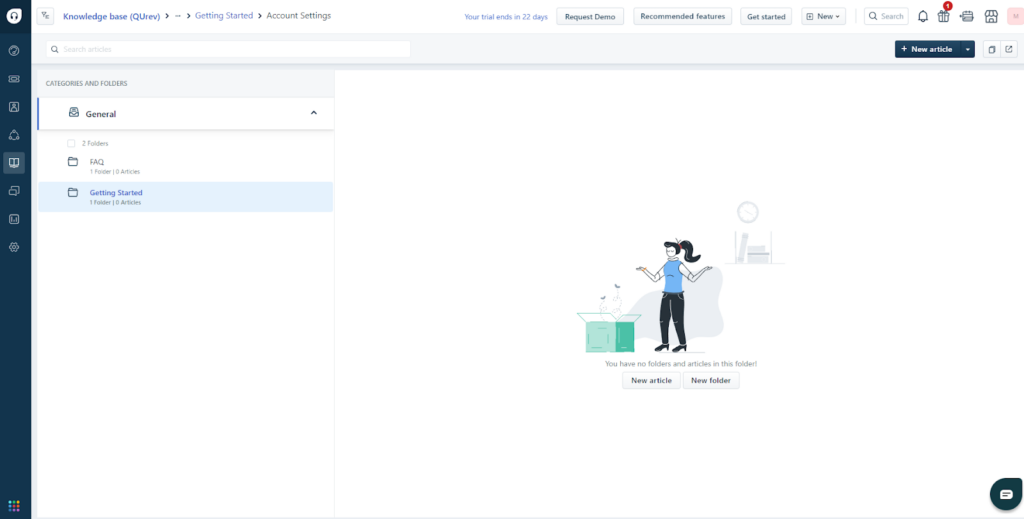 The Freshdesk interface does a good job of combining a lot into one view without being overcrowded. The software gives you the option to read more about other advanced features, however, you can dismiss it if you want.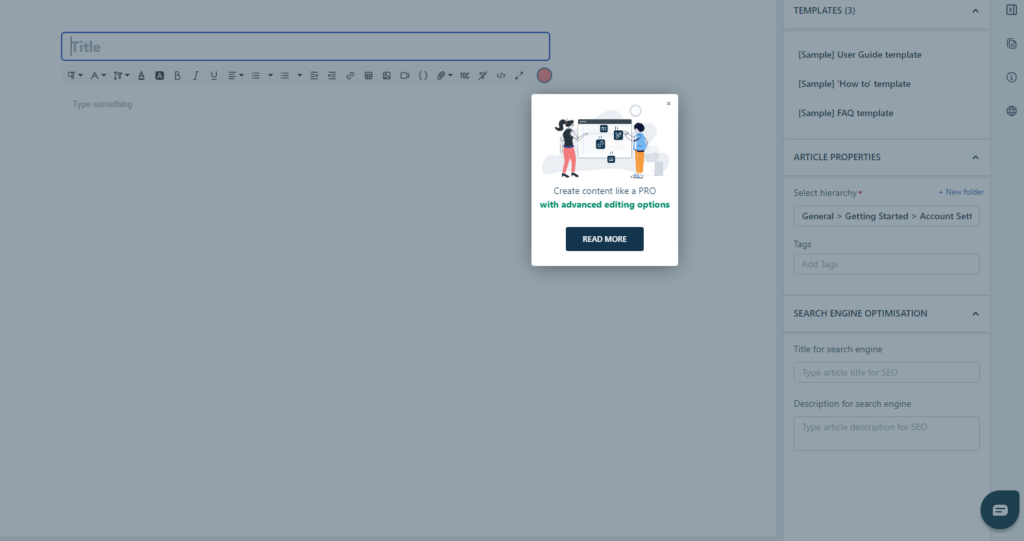 You can start writing your article from scratch, or you can choose from the pre-set templates like How-to's, FAQs, and User Guides. Once you've finished the article, you can either publish it or send it for review.
User experience and features
Setting up the Freshdesk knowledge base was incredibly easy. The software is very accessible and easy to navigate. You can create complex support articles and technical documentation, or write just a couple paragraphs of text with updates and news.
One thing that could be improved is advanced editing options. When you first open the text editor, you can read about them in the documentation. But if you close this suggestion, you will have to browse the support pages to find sufficient info on how to set them up.
However, to create knowledge base articles, Freshdesk provides all the things you need. From one convenient and user-friendly interface, you can use all the basic editing capabilities plus a Quick Insert button, which allows you to add videos, images, notes, other info, etc.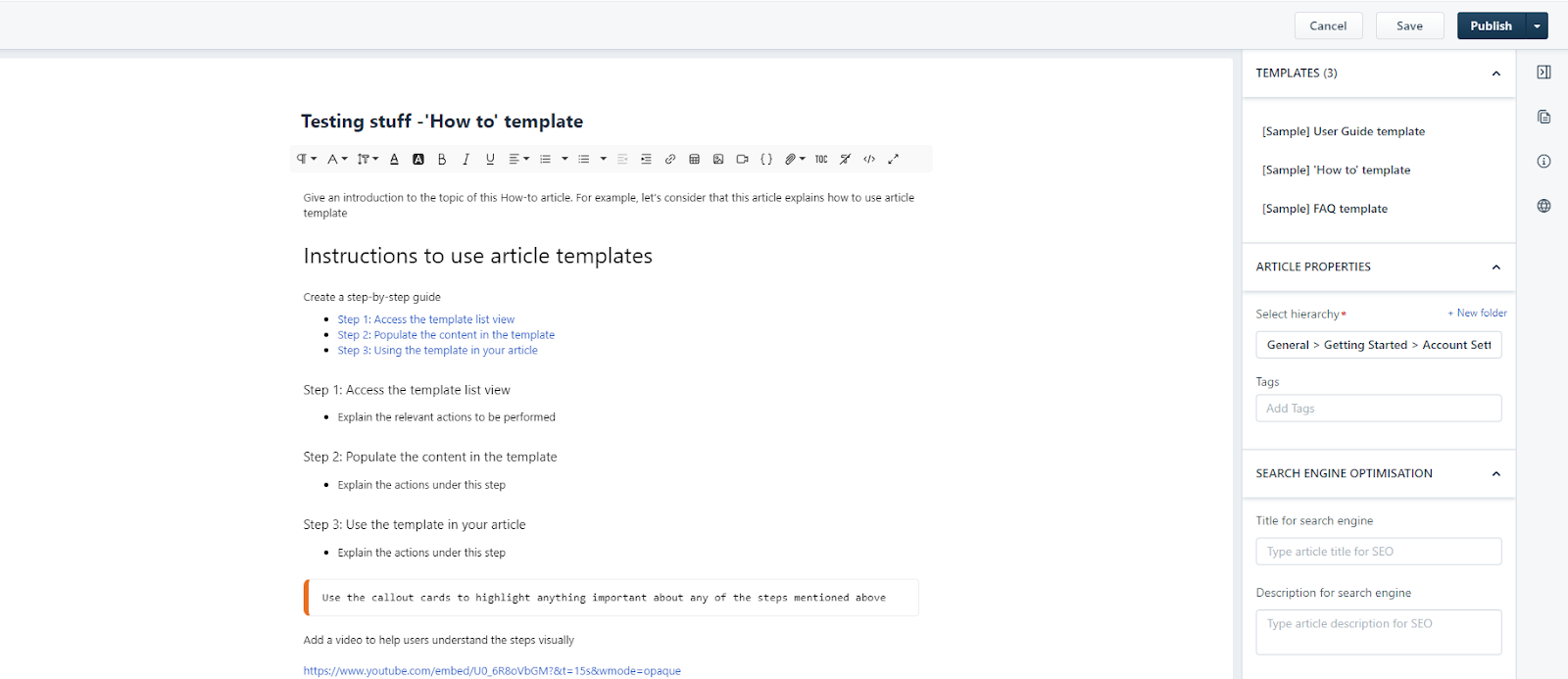 Something I found useful is the basic SEO in the right-side menu. Will it take care of all your SEO efforts? No. But it's a nicely integrated little tool to get you to get started with search engine optimization.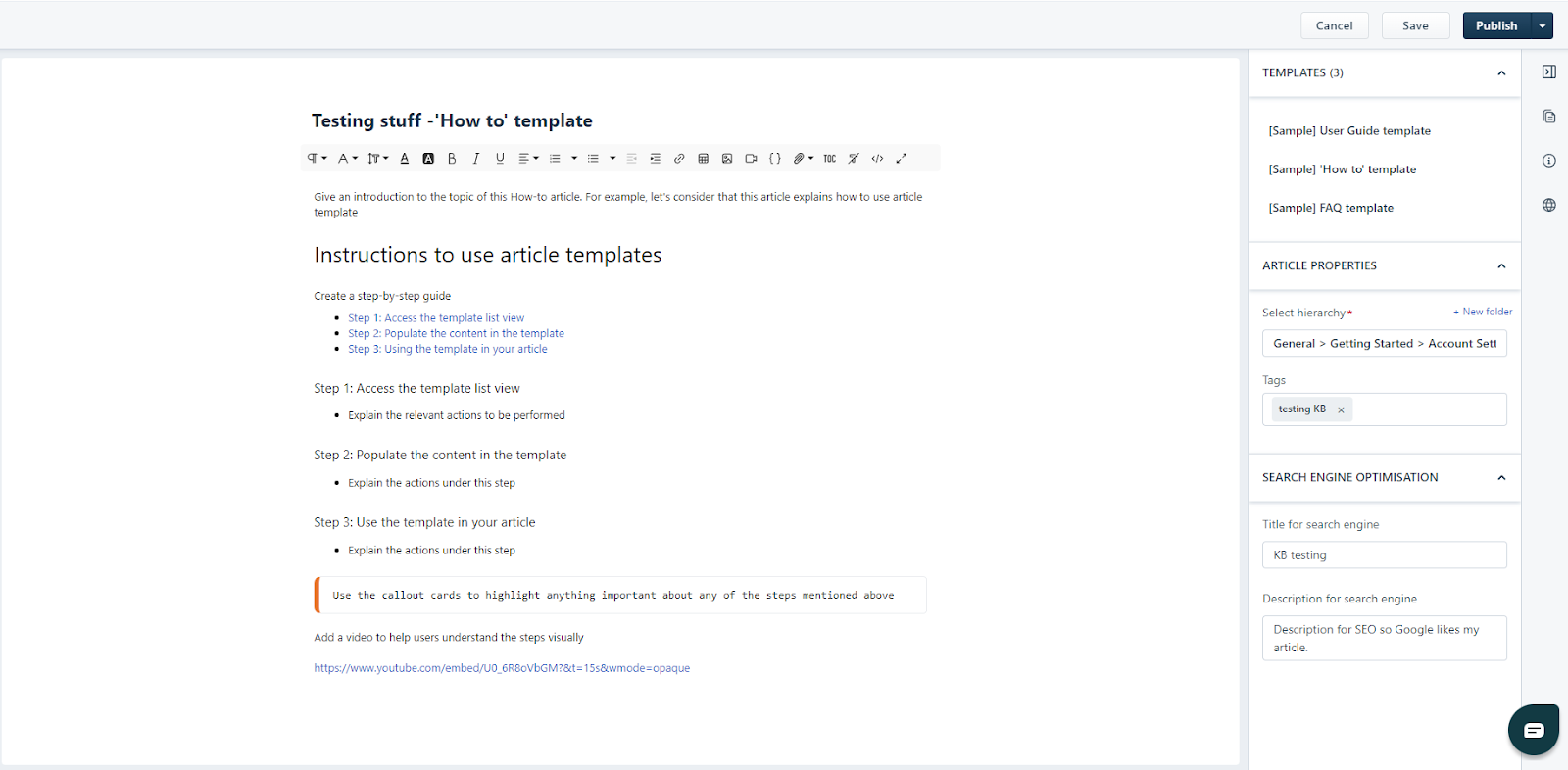 Pricing
Freshdesk uses a subscription-based pricing model. They offer three subscription packages. Each plan comes with more additional features, so you can scale up or down based on your needs.
Free
This is a free plan with basic features including a knowledge base, ticketing, analytics and reporting, social media integration, and 24/7 email support. With this subscription tier, you can have up to 10 agents.
Growth
You can purchase this package for €15 per agent per month billed annually, or for €18 per agent per month billed monthly. This tier offers everything from the Free option plus automation, 24/5 phone support, SLAs, 1000+ marketplace apps, custom SSL, and more.
Pro
The Pro plan costs €49 per agent per month billed annually, or €59 per agent per month billed monthly. This performance-oriented package includes all the features from the Growth plan, plus average handle time (AHT), custom apps, extendable API limits, customer satisfaction score (CSAT), customer segmentation, custom roles and reports, a multilingual knowledge base, multiple products, and others.
Enterprise
Freshdesk's most expensive Enterprise plan is available for €79 per agent per month billed annually, or €95 per agent per month billed monthly. In this package, you can utilize features and functionalities from previous tiers, plus additions like unlimited products, a sandbox, knowledge base approval workflow, bots, AI-powered social signals, IP range restrictions, and more.
Conclusion
Freshdesk provides user-friendly knowledge base software for free, which makes it accessible even to small businesses. The UI is easy to navigate and simple to work with. You don't have to worry about feeling overwhelmed with blocks of code, different variables, and confusing language. Freshdesk makes sure that customers with varying technical skill sets can effectively use the software to build a robust knowledge base full of tutorials, FAQs, and articles. Adding pictures, videos and other media files is very simple thanks to the Quick Insert button. The only minor inconvenience is the lack of advanced text editing. However, if you play around with the interface and read some of Freshdesk's documentation, you will not struggle for long to find everything you need to create amazing knowledge base articles for your customers.