There is nothing that can impact a brand's reputation as badly as poor customer service. Whether it is about lodging your issue several times or having to talk to multiple agents on the same issue or an incompetent bot giving irrelevant answers – poor customer service can be extremely frustrating.
Keeping your customers happy is not rocket science but a simple combination of the right kind of words, tone, and attitude. In this article, I will discuss 10 simple tips that you can follow religiously to ensure your customers are happy throughout their lifecycle.
10 best ways to boost customer happiness
A little extra help and good words can make your customers happy and vouch for your brand every single time. It is not hard to do, although many brands miss out on the small details. It is not always about 'resolving issues' when it comes to customer happiness. Long-term customers don't return to a brand only because it has resolved an issue quickly. It is deep-rooted in the connection a brand creates with its customers in every brand-customer interaction. Sometimes it is about the compassion a brand shows, something like Gaylord Opryland hotel did once.
A regular customer, Christina McMenemy, was fascinated by the room alarm clock's 'spa' sound every time she stayed at the resort. She tried finding the same kind of clock for three years but no alarm clock had the 'spa' sound. As she was almost about to give up her search, she tweeted to the hotel asking where she could find such a clock during one of her trips to the same hotel. The hotel graciously replied to her tweets.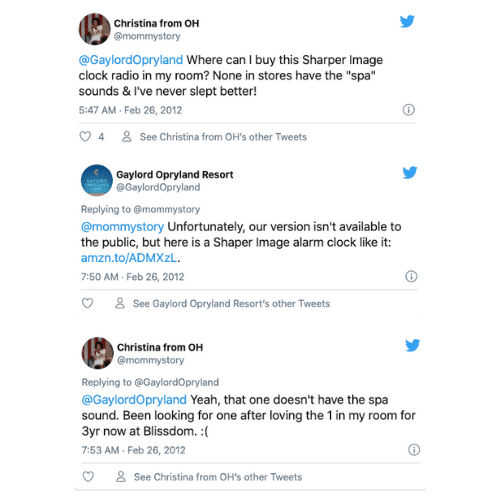 But that's not the story. When she came back to her room, she found not one but two alarm clocks with a personalized note for her: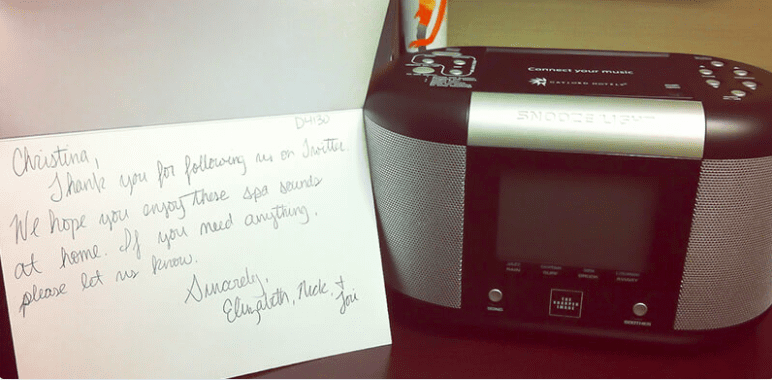 Opryland Hotel not just won a loyal customer but also of many others who subsequently heard the story.
You see, customer happiness is about kindness, compassion, and a willingness to ensure customers have an experience they'll always remember. Here are 10 amazing ways to do that.
1. Know your product inside-out
Johnny Schillereff, the founder of Element, used an amazing example of a mattress that he once bought but the issue was it did not have a handle on the side to carry it. Following this, he decoded that maybe the owner of the mattress company never had to carry one, and probably that's why that feature is missing. This is not only true for an entrepreneur but for everyone facing customers daily. If you don't know about your product, its utilities, its features, and it's lagging points, you can never guide a customer properly. To help your customers have a smooth experience with your brand, you must know everything that it does (and does not) offer.
2. Ensure quick response to all customer queries
There are multiple channels through which your customers can reach you – social media, website, email – to be precise. What they expect is a quick response. They can have questions about your product, have a complaint, or maybe need help setting up. Answering these queries is also a way to build relationships and gather customer insights. In the case of Twitter, you can assign those queries to your customer support team automatically by connecting your Twitter handle to a tool like Salesforce. Customers appreciate brands that respond quickly. According to the 2020 SproutSocial Index, around 40% of customers expect a brand to reply in an hour's time on social media platforms, while 79% expect a reply within 24 hours timeline. For instance, let's assume you have an eCommerce platform selling innovative gadgets. You keep getting multiple enquiries about product availability, pricing details, features of the gadgets, etc. To ensure quick response, you can integrate your eCommerce platform with a helpdesk software and automate the whole thing. If you run your store on Shopify, you can integrate Shopify with your live chat software to automate initial responses for all basic queries. This is exactly why we see support-specific social handles of so many brands.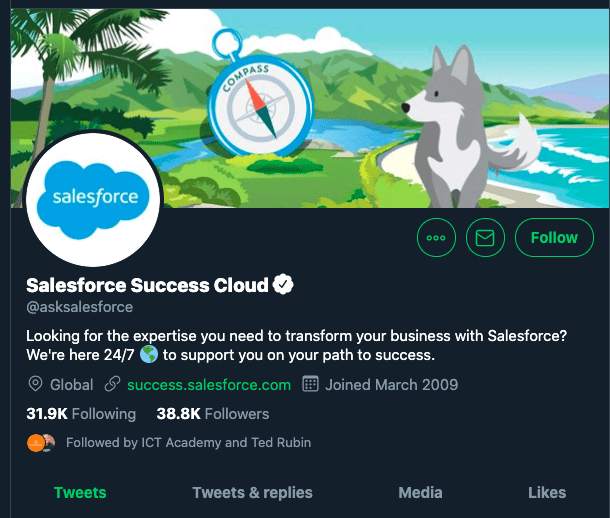 3. Teach customers how to solve issues
Today, customers are empowered. They'd prefer to resolve their issue on their own (with a little help) rather than raising a ticket or talking to a bot, unless necessary. As a brand, you can design strategies to empower your customers to solve their issues easily without waiting on a support person. This not only reduces brand-customer friction but also gives a sense of accomplishment to your customers. It is about knowing how to treat your customers. For instance, Spotify that pioneered 'streaming songs', treat their customers exclusively on social media. It has a dedicated support channel with specific instructions for any customer looking for help. Check their bio.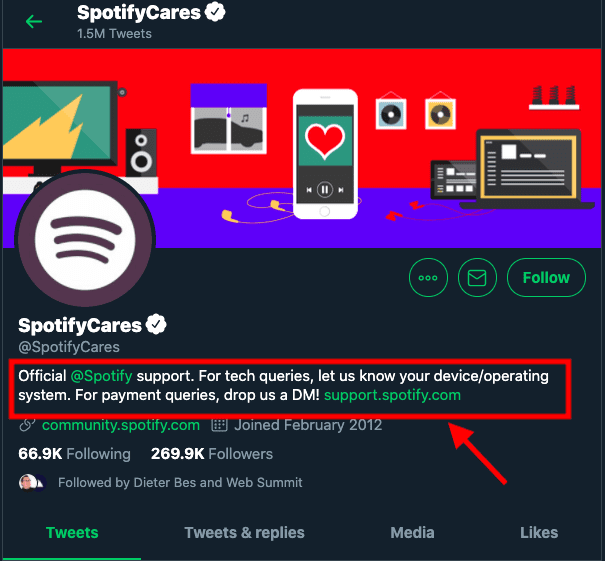 This specification makes it simpler for customers and speeds up the response time for the support team.
Another great way is to create an elaborate knowledge base that includes all customer-facing issues. That way, customers can simply type in keywords and get the help document required. For instance, if you are new to Automate.io, a third party no-coding integration platform, and need help with any issue for any particular app, you can quickly read their help document and get it done all by yourself.
4. Personalize interactions with your customers
Various customers have various queries and issues. It is on you to deliver customized and personalized interactions with each of your customers. For instance, the gesture by Opryland Hotel for its customer looking for a specific alarm clock is a classic example of personalized interaction. If I have to categorize, here are a few types of customers that you must prepare yourself for.
Impatient customer – Sometimes situations may turn against you which means a customer has to wait longer than usual. Your best bet is to apologize first and at best explain what caused the delay.
Indecisive customer – You may come across a customer who almost clicks the 'buy' button but then doesn't because they are not sure of the options. To help, you must try to verbalize their concern – what is holding them back, and then offer a better option that will work.
Vague customer – Don't fret if you come across a customer who knows what they want but not sure how to express that. This is a difficult situation but you must ask questions to get clarity. Questions like 'Sorry but we will need a few more details on this'. Ask specific questions, if needed.
Unhappy customer – When your customer is not pleased with your services or product, they will raise a red flag. Again, apologize for the situation and attempt to resolve the issue as fast as possible.
Unknown query – You may come across a customer query or issue that you don't know an answer for. The best option is to let the customer know that you will look into it, research and then get back, or transfer it to someone who is more capable of handling it.
5. Choose the right kind of words and tone
Language and tone play a pivotal role in customer service. Whether you are facing an angry customer or owning up a genuine mistake on your part, using the right words and in the right tone is your key to set things right!
For instance, Skyscanner, an online flight ticket booking platform, came under the radar for an honest mistake. Apparently, a Skyscanner user, James Lloyd pointed out a 47-year layover error in one of Skyscanner's Facebook posts.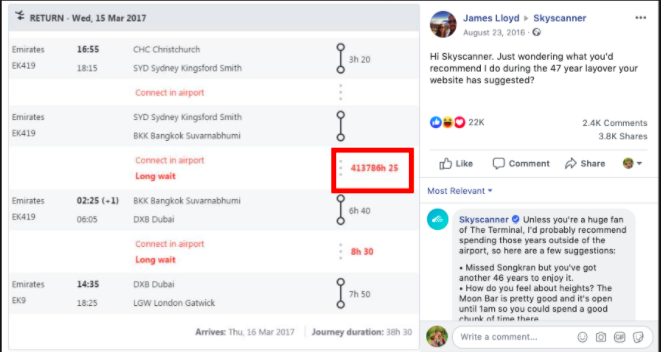 Instead of just writing it off, the social media manager, Jen, personally admitted the error but also offered some quick time-killing ideas.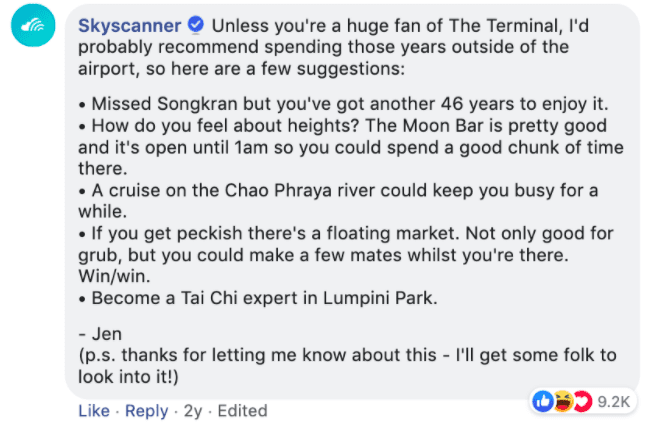 Jen was an instant social media sensation with her amazing (and hilarious) reply as well as admission to the mistake in-hand. So much so that another user admitted to trying Skyscanner just because of this. Once again, Jen didn't just let it be.

Humour is not bad when used in the right way. Thanks to social platforms, brands are now available 24/7 to interact with their customers. And they do it with a tinge of humour, a lot of love and empathy for their customers. Customer service is done right!
6. Speak your customers' language
There is no alternative to ensuring customer happiness other than speaking in your customers' language. By doing this, brands establish a connection with their customers. Here, brands are not marketing to other businesses or paying customers but to people – people with real emotions and sentiments. One brand that does this amazingly is Slack, a collaboration tool used by businesses across the globe. Apart from connecting team members virtually, Slack as a brand is very good at creating relationships with its customers. A whole organization may use Slack, but its message is never dedicated to the executives or decision-makers. It is for all those professionals using Slack on a daily basis. It speaks in a language that all professionals can relate to. They run a @SlackLoveTweets that amplifies the voice of all Slack users. Their blog has posts that focus on people using Slack. For instance, check this piece – Felling Video-Conference Fatigue? You're not alone. It has an empathetic tone that is so genuine, true, and relatable.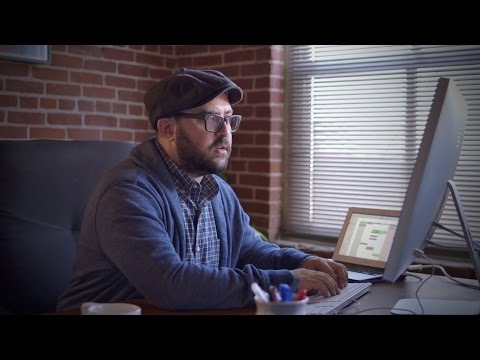 If you don't believe me, see this gem showing how Slack speaks for its users alike.
Slack is a classic example of speaking in their customers' language across all platforms – from social channels to blogs to website.
7. Be transparent with your customers
Transparency transcends into trust. Infact, reports state that 75% of customers pick a brand because the brand is transparent. It may be done either by looping in your customer into an email thread to show how the issue is being resolved step-by-step or by running ad campaigns that speak volumes about a brand's authenticity. From owning up to a mistake as Jen from Skyscanner did to apologizing for an inconvenience, being transparent about the whole situation helps in earning your customers' trust.
When brands give a genuine explanation and apologize, it wins users emotionally. When I had requested to join CoMention, a community for writers, I had to wait for more than the said 24 hours to get it approved from moderators. CoMention had the courtesy to raise this in their email and also apologize for the same. This email was enough to win my trust back.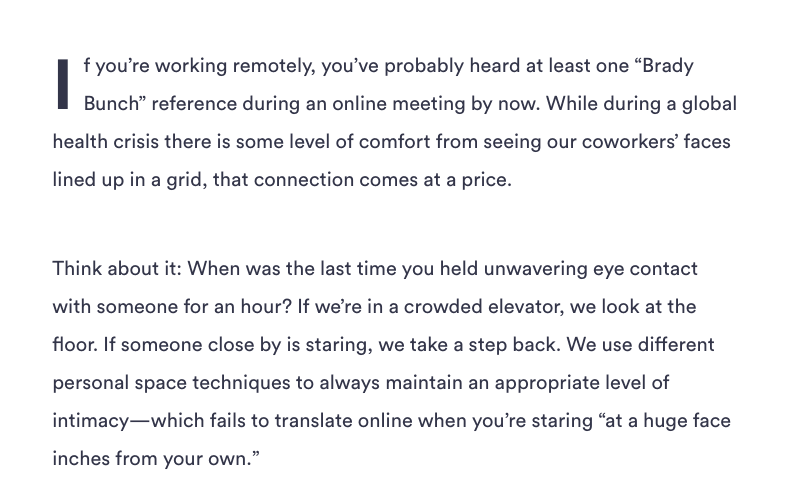 8. Go an extra mile for your customers
Delighting your customers is your queue to ensure customer happiness. A little bit of extra effort can not just put a broad smile on your customer's face but also make way for positive word of mouth and a loyal customer for a lifetime.
Often brands come across requests or complaints that are out of the box. Nevertheless, they comply with the requests in their unique ways, never disappointing their loyal customers. Samsung did the same when a 26-year-old loyal fan asked for a free Samsung Galaxy S III by bribing the company with a picture of a dragon that he drew. Samsung posted an honest reply about the consequences of giving away a free Samsung device and a consolation in the form of a picture of Shane Kangaroo.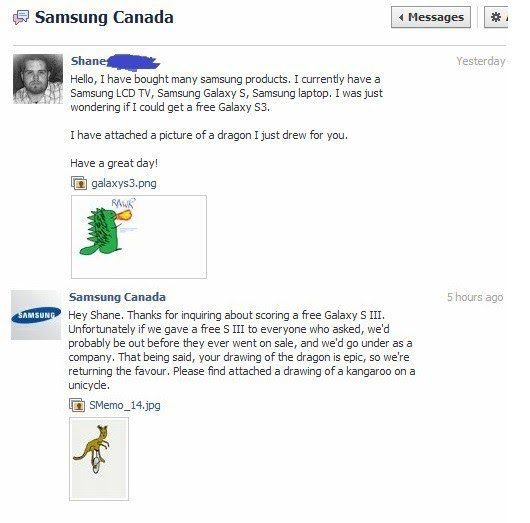 Samsung could have avoided the message but that's not what good customer service teams do! They went a little extra in their effort to explain why a free giveaway was not possible and lauded the efforts the user took to draw a dragon for them. #Epic.
Making it easier for clients to see your work or products is another powerful way to go the extra miles for your clients. Rather than sending a catalog in PDF via email (it's so easy to lose and inconvenient), how about creating a branded website with a product reel? It's easier than it seems – for example, you can even create a personalized encrypted catalogue using a digital asset management platform.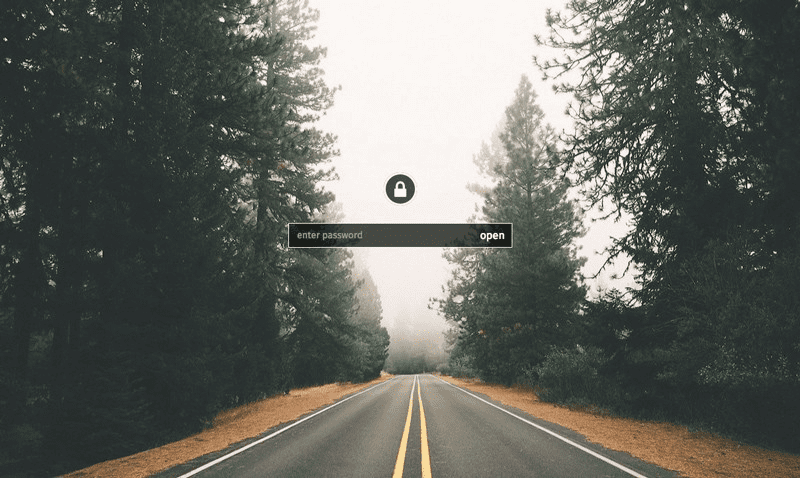 9. Step into your customers' shoes
Your customers' demands are evolving. They have a gamut of resources to consume information. Feeding them any random information will only turn them against you. When dealing with a customer query or feedback, try to think from the customer's point of view.
Often, what may seem easy for you to grasp may be extremely challenging for your customer. Stepping into your customer's shoes helps you understand what your customer wants, why, and how. When you step into your customer's shoes, you understand the why behind their decisions – be it to purchase your product or to sign up or to unsubscribe or to raise a red flag.
When Netflix faced flake because of its change in pricing plans instead of offering a separate DVD-shipment service, Qwikster triggered a wave of unhappiness among its users. Netflix customers felt disrespected which the brand was quick to take notice of. Stepping into their customers' shoes, Netflix realized how bad the idea of separate billing systems was. Netflix ditched Qwikster and bounced back to its transparent billing tiers, but had to suffer a loss of 800,000 loyal members and a dip in the stock price. CEO Reed Hastings went on to apologize for the same, putting Netflix back in the game.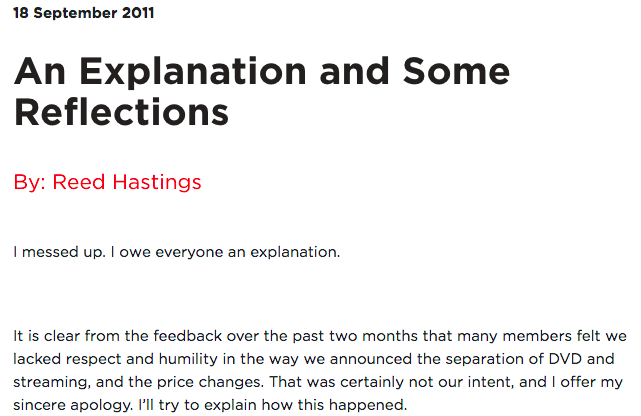 10. Make them feel important
Give your customers a sense of importance. When a brand values a customer, the customer automatically sticks with the brand in good and bad. Loyalty doesn't happen in a day's time but when it does, it increases a customer's chance to purchase by 5 times. It takes efforts to establish a sense of trust and importance that pulls a customer towards a brand. From listening to your customers and acting on their feedback instantly, putting in place a well-designed customer loyalty program, to sending some extra love – put your customers on the highest pedestal, just like Spotify did after solving an issue for one of its customers.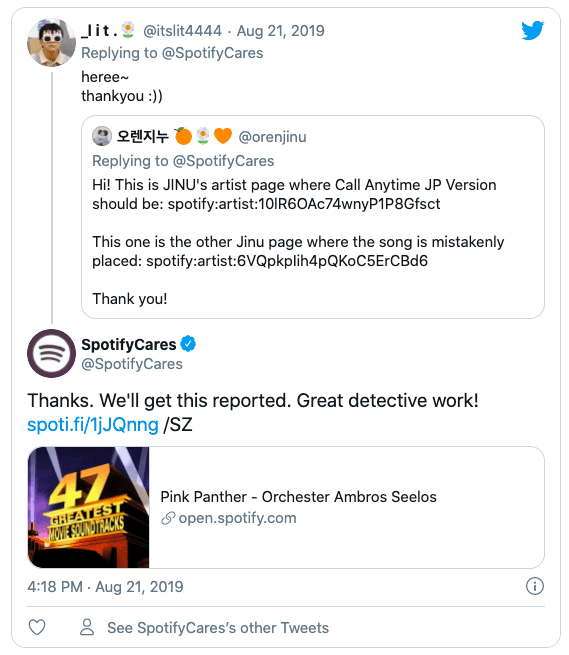 Spotify was quick to take note when a Spotify customer pointed out how a song is mistakenly placed. After solving the issue, it went ahead and shared Pink Panther's Orchester Ambros Seelos as a thank you. What better way to make a music lover feel good than with the music itself?
In conclusion
Your customers want you to listen and be proactive. Incorporate these two golden rules in your customer happiness team's strategy and see how your customers want to come back organically – not because you pursued but because you made them fall in love with your brand. Customer happiness is a lot more emotional than people care to admit. We live in a world of instant gratification; so be compassionate and build a unique customer experience with these 10 commandments.
Boost happiness with a customer portal
Empower your customers to solve problems on their own. Not only will you increase their satisfaction by providing instant problem resolution, but you'll also decrease ticket loads.