Key takeaways
Pros
Robust with a variety of features
User-friendly knowledge base editor
Many additional apps to choose from
Cons
Additional costs because of extra upgrades
Higher price
Support can be difficult to communicate with
Getting started with Zendesk Suite
Creating a free trial account was very simple. I filled out my details and after confirming my email, I was good to go. Upon signing in, I was greeted by an experience configuration screen.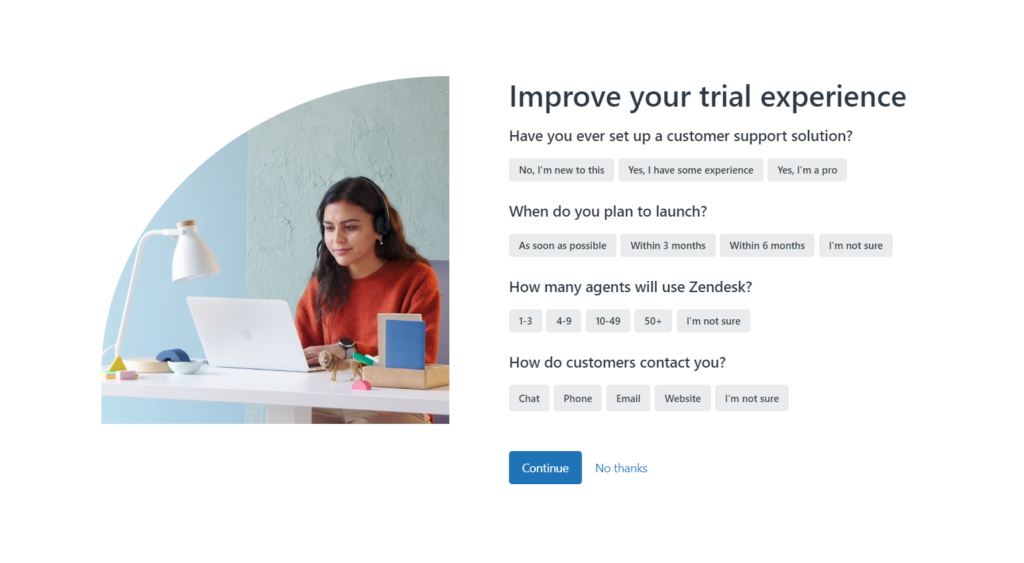 After I chose to skip it, I was able to access my account. When you sign in, you can either have a look at the Get started board or your Dashboard displaying a quick overview of your account's activity.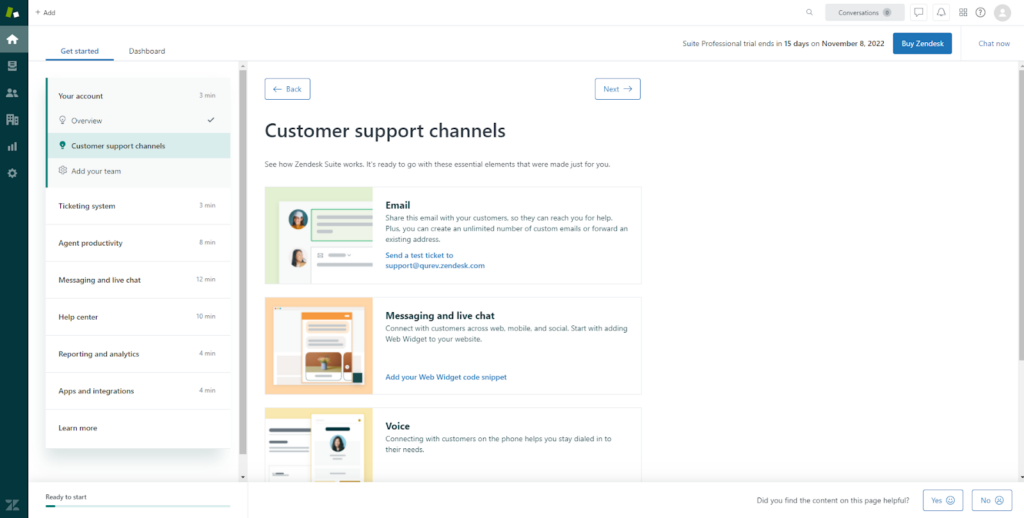 Once I had a quick look around, I wanted to start testing the knowledge base software. And that's where the trouble started.
First, I didn't know where to find the tab that would take me to some kind of article editor. The + Add button in the top left corner lets you choose from either a ticket, user, organization, or search.
So I decided it was time to have a look at support documentation. Finding support articles was very easy, however, they didn't help me much. Don't get me wrong, they provided how-to's and tutorials. The only issue was that they pointed me toward the + Add button. Figuring out it must have been a different button from the one I used, I tried to find it in the user interface.
Lo and behold, I wasn't successful. So I looked closer at a tiny screenshot in the support article. The background color was different from the one in my UI. Aha! I got it, I just have to find the right interface. So, with that in mind, I looked at the right-corner icon with a drop-down menu with all the available interfaces.
It was a step in the right direction, but my trouble wasn't over. I clicked on them all and after signing up for a new product that wasn't previously included in my free trial, I gave up and wrote to support.
After being greeted by a fairly helpful chatbot, I was told to wait a moment for a sales representative to contact me. I didn't wait long and someone with a human-sounding name appeared. Satisfied that my questions would be answered, I started chatting. Except, after a few messages I started suspecting the sales representative wasn't exactly human. A little frustrating back-and-forth ensued.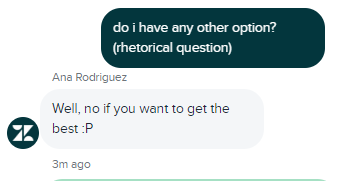 However, after some time, I got an answer to my question, how to write a knowledge base article. Mind you, it was an answer, not the answer. The support told me about the Knowledge Capture app. Unwilling to dig for more information from the bot, I headed to the support documentation again to find out how to install and use the app. With the help of some how-to's, I managed to install the app without any problems.
Except, that didn't really help as the app lets you only create knowledge base articles from tickets you've received. Don't get me wrong, it's a great thing and can be very useful in many instances. However, it still wasn't what I was looking for.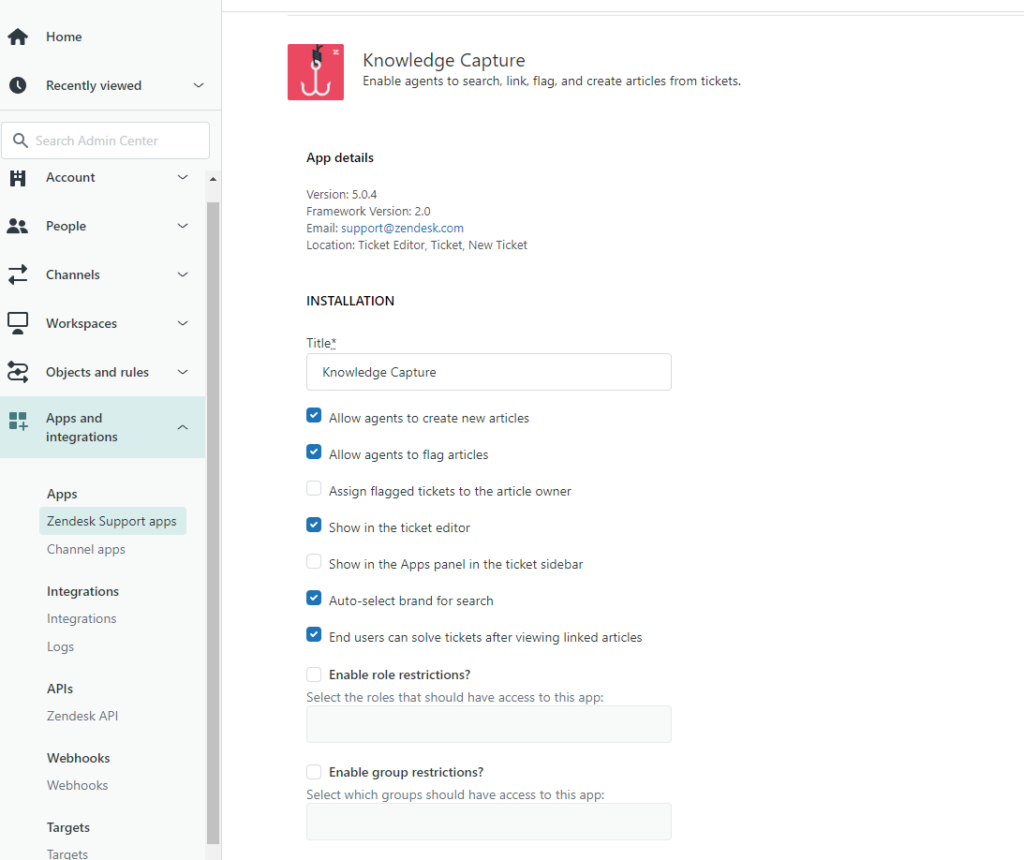 So, I was back to clicking on virtually everything I could find. And finally, I stumbled upon the right interface with the capabilities I needed!
In the Guide interface, there is another + Add button. By clicking on it you can choose if you want to write an article, or create a section, category, community post, or community topic.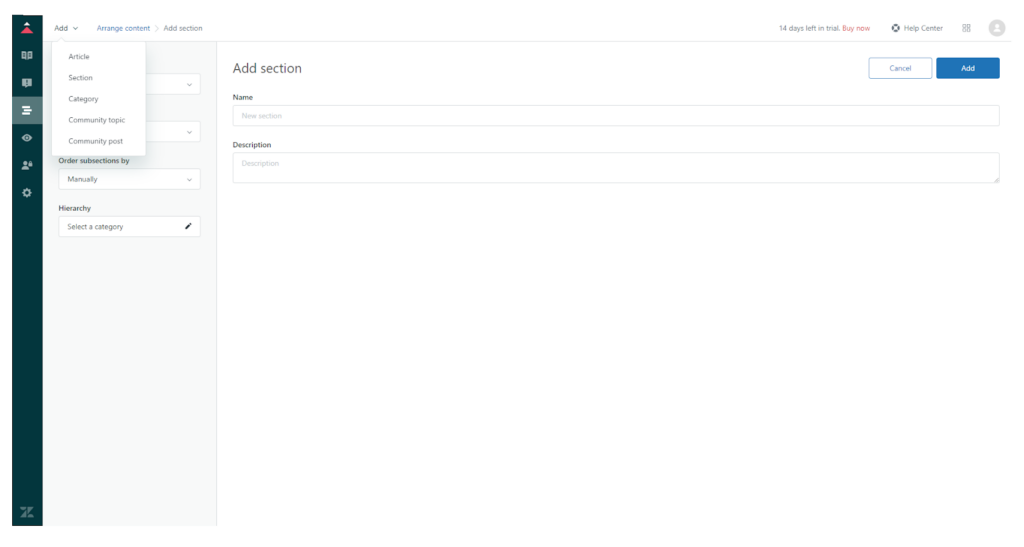 After clicking on the Article option from the drop-down menu, I was taken to a text editor.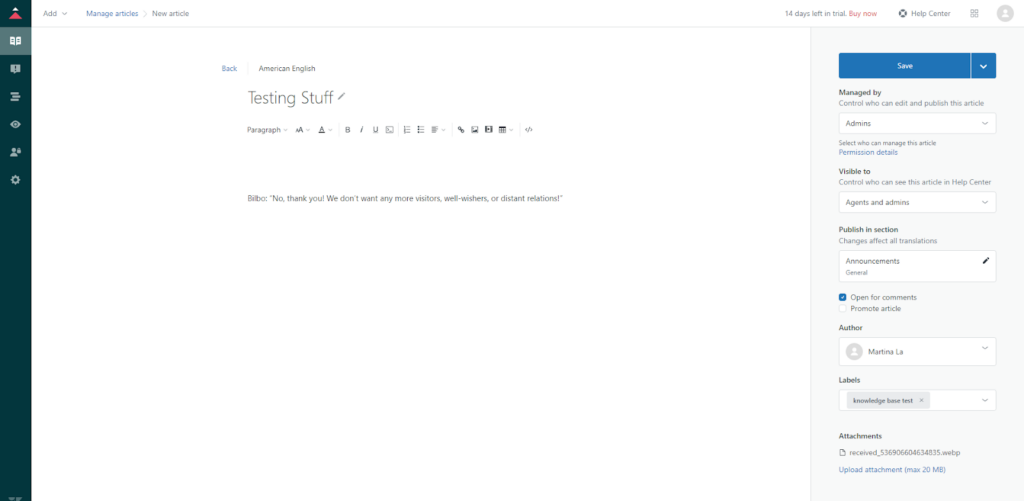 And to be honest, after all that, it seemed a little bare-bones to me. You can edit content, add labels, categorize it, and upload images and other media. When you're done, you can either save or directly publish the article. All of that is great and useful, but it still felt a little disappointing, especially after all it took to even find it.
After looking around for more editing options, I stumbled upon some paid upgrades.

User experience and features
First and foremost, Zendesk is quite inclusive of the most common browsers. I used Google Chrome, but you should be able to make it work also on Firefox, Safari, and Microsoft Edge.
Zendesk Suite's knowledge base software has all the basic features you need to write knowledge base articles, community posts, etc. Using my free trial account, I was able to do all I needed to successfully write and publish a knowledge base article.
I had some issues navigating the robust site with its many interfaces, tabs, and features. I read through support articles and although they were accessible and easy to find, I can't say they helped me much. Not to disregard Zendesk's support portal as a whole, however, the articles talking about the knowledge base software weren't sufficient enough for me as a new user.
Another thing I need to mention is my quest to figure out which pricing plans include knowledge base software and which don't. I read through the entirety of Zendesk's pricing page and although I had an idea, I wanted to confirm it just to be sure. Therefore, I again wrote to support.
I've already mentioned my mild frustration with the chatbot. But after at least a 30-minute conversation trying to convince it to answer my question, I was ready to give up.
Despite communicating with it exclusively in English, the chatbot even tried approaching me in different languages.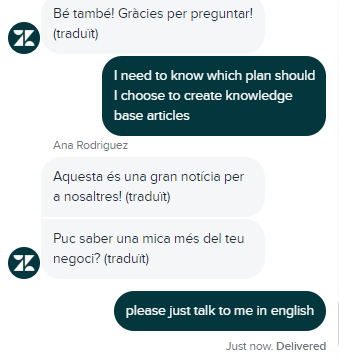 My support interaction also had some light-hearted moments, even though at the time, I wasn't sure whether I should laugh. I guess you can decide for yourself.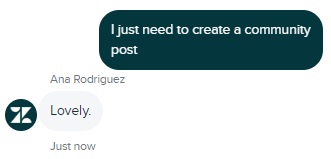 However, in the end, I got the answer I needed.
Pricing
Suite Growth
Zendesk's most affordable package that includes knowledge base software is the Suite Growth. For €79 per agent per month billed annually, you can create knowledge base articles with the help of AI. Other features included in this tier are ticketing software, multichannel customer support software, a self-service customer portal, reporting and analytics, and more.
Suite Professional
At €99 per agent per month billed annually, this pricing tier includes all the features from lower tiers with some additions like integrated community forums, advanced voice capabilities, HIPAA compliance, data location options, and others.
Conclusion
To summarize my experience with Zendesk Suite's knowledge base software, I would have to say it was functional although a little underwhelming. The signup process was quick and easy and some of the surface-level functionalities were very accessible. However, when you need to delve deeper into the software, that's when it becomes confusing.
Zendesk Suite's article editor provides all the basic functions you need to write knowledge base articles. However, once you want more advanced options, you need to pay extra for upgrades. Also, Remember that Zendesk Suite has a limit of 40,000 articles altogether.
I think the Knowledge Capture app, which lets you convert tickets into knowledge base articles, can be useful for many help desks. This app is available in the Suit Growth pricing plan, so you can give it a try.
All in all, Zendesk Suite has a lot of potential with heaps of great products and functionalities. However, it needs more fine-tuning when it comes to user experience, which means that if you're looking for a solution that offers more advanced functionalities, you may want to consider exploring another Zendesk alternative.