Key takeaways
Pros
Great article editor
Easy to use interface
Easy navigation
Cheap with a free option
Getting started with Guru
Guru offers a free trial for those who want to first try it out. You can enroll with a simple registration form that requires minimum information, making the process less complicated. Once you create your account, you will receive an email with a link to confirm your registration. Once confirmed, you can fill in your company information and decide what will be the main objective of your use of the Guru application. Another step invites you to choose a department and your role within the company. In the last step, you can choose to opt for a demo call or decline it.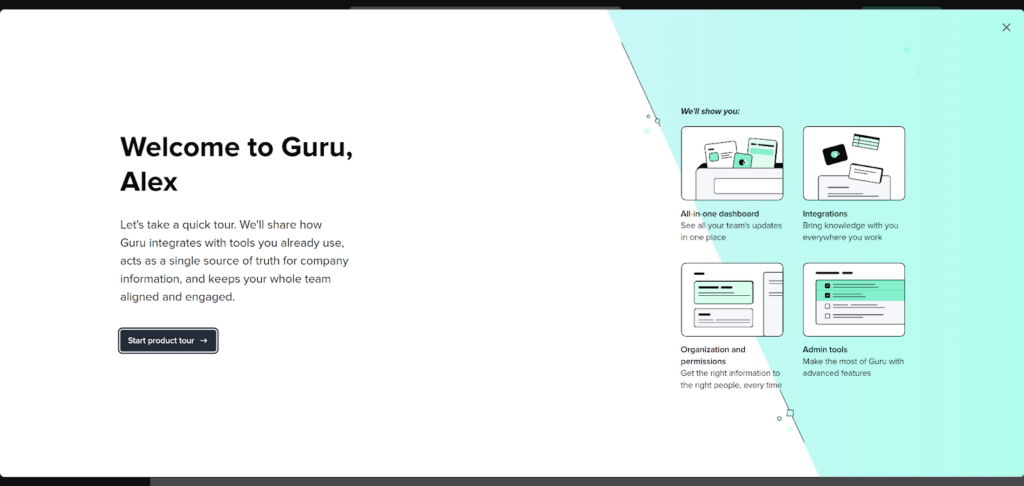 Once you're finished with all the steps, you can either start the product tour or skip this step entirely. The guide is pretty well-made and it shows you your new dashboard, Guru integrations, and a few other things to help you get started. Once you have finished with it, you can start taking a look at the user interface, which is designed just as well as the "Get Started" guide. Guru provides helpful tooltips all throughout the interface. You can click on them if you want to learn more about specific functionalities.
The interface is a mix of black and white, with black giving emphasis on navigation options, while white is reserved for the workspace. The contrast creates a good user experience with easy navigation. There are not that many menu options, which is great because it makes the workflow a lot easier, at least from my point of view. The main menu is placed on the left side, with no other menu options available elsewhere, making the navigation even simpler. Once you click on any menu option, you will be taken to the respective section of the Guru app. Finding the option to write articles is very easy since Guru doesn't offer other communication tools, and you can consider it a dedicated knowledge base application.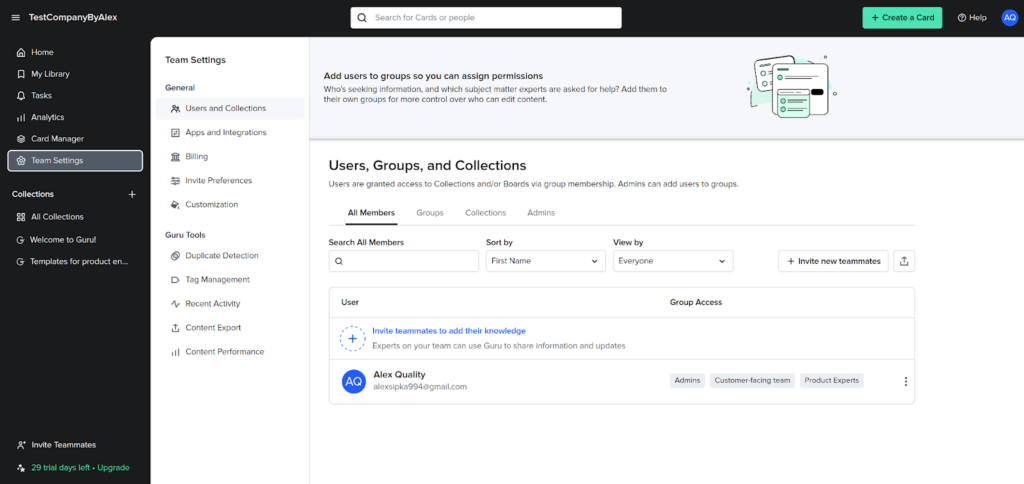 The menu options include the home screen, library, tasks, analytics, card manager, team settings, and collections. If you want to access settings, you can click on your profile icon in the top right corner and adjust your Guru experience if you want to. The interface also provides handy cards, which usually contain details about latest updates to Guru or useful guides that explain certain functionalities.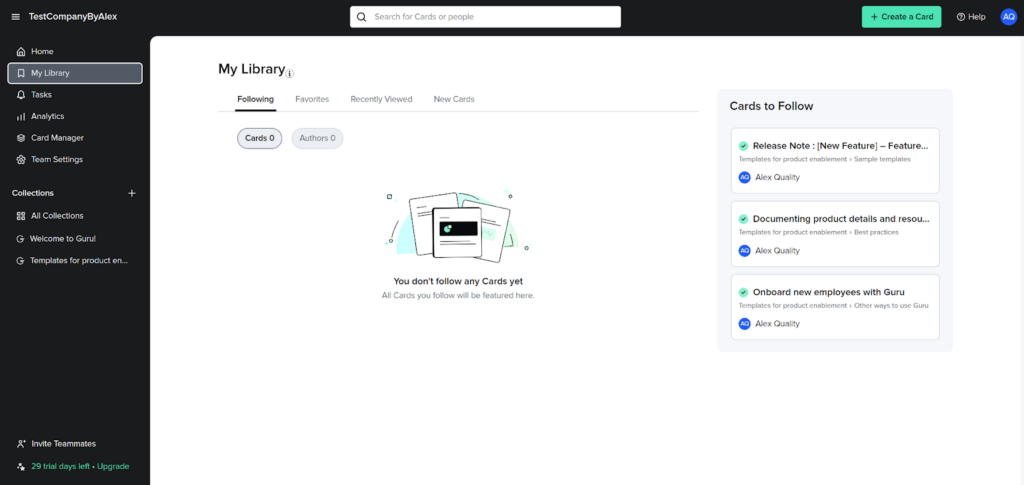 User experience and features
Once you click on the "Create a card" option in the top right corner, you will have two options to start writing your first article. You can either start writing a new card completely from scratch or create a template. There is also an option to find inspiration for creating your cards or templates by visiting the Guru community. I tested both options – creating a new card and creating a template, and they work pretty much the same with some minor differences.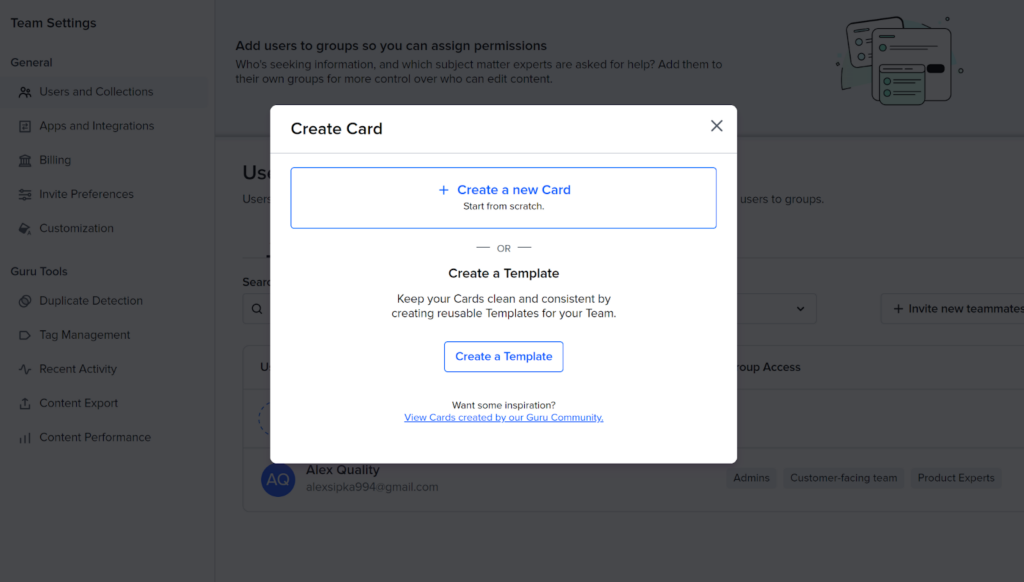 Once you click on either of the two options, you will be taken to the Guru article editor. It looks very pleasant, with a large focus on the blank writing section and a non-intrusive toolbar placed at the top of the interface. The text formatting options are pretty great, there're not too many or too few of them, creating a nice balance. The text editor also supports keyboard shortcuts as well, and you can summon a smaller toolbar with the same options when you highlight a piece of text.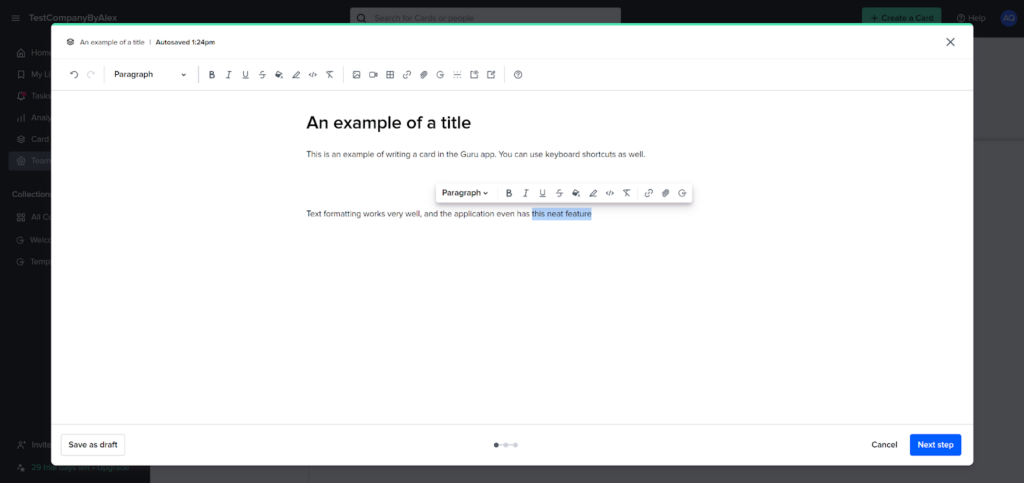 Other features include classics, such as attachments and media – pictures, videos, links, and pieces of code. You can also go deeper and customize your articles with markdowns, text colors, iframes, highlights, lists and more. Overall, the options are very good, and they offer great customization capabilities. If you decide to use Guru, you shouldn't have any trouble creating creating engaging and informative articles.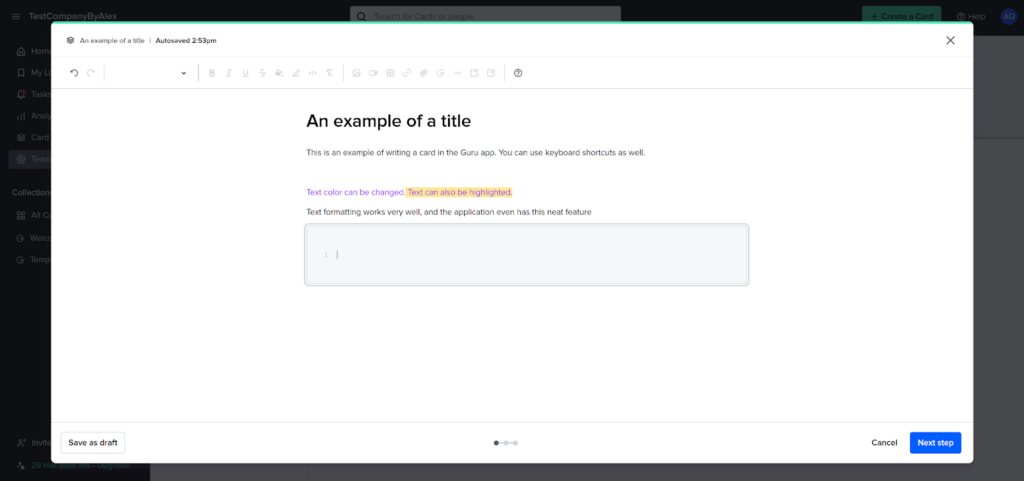 Once you're done writing, you can proceed to the next step, which allows you to choose collection settings. You can use categorizing and tags to save your article where it belongs, add boards and tags, as well as choose the collection where the article will be saved. The last steps are verification settings and access. You can set a verifier and a verification interval for the article. It's a pretty useful feature that should help you keep your content updated.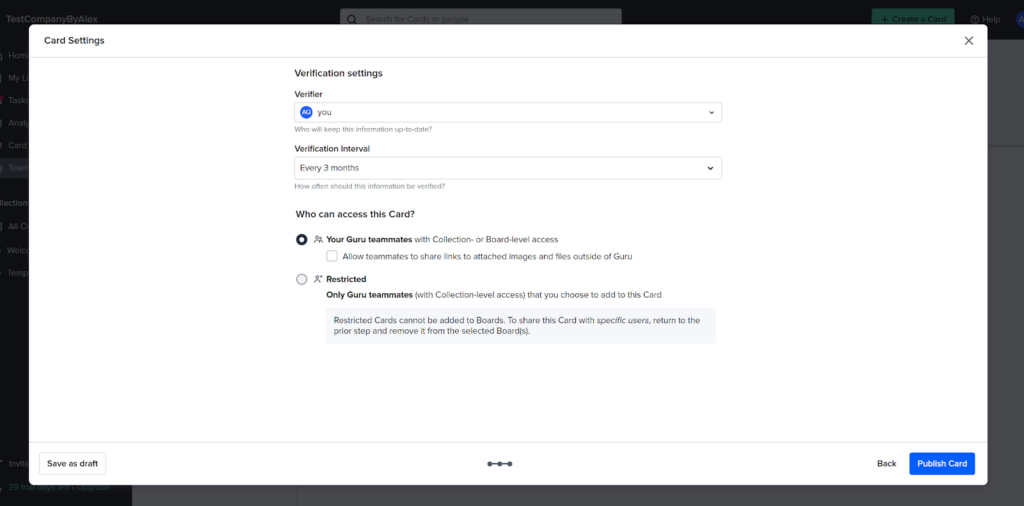 You can find your finished articles in the Collections menu. All collections you create are nicely categorized for easy searches. You can edit your articles at any time and easily copy a link to any of your articles. Overall, Guru knowledge base software offers amazing functionality and superb ease of use.
Guru knowledge base software pricing
Guru offers three pricing plans, with one of them splitting into two options based on the number of users. Each plan focuses on a different target group and offers a different set of features. In general, the plans seem to be very affordable. Let's take a look at each of them and see what you can get for your money.
Free/Starter
This plan can be yours for free if you don't exceed the limit of three users. If you need more than three users, the plan costs either $6 per month per user monthly, or $5 per month per user annually. Top features include a browser extension, Slack & Microsoft Teams apps, scheduled content verification, and many others.
Builder
The Builder plan will cost you $12 per month per user monthly, or $10 per month per user annually. It offers everything from the Free/Starter plan, and adds advanced permissions, announcements, analytics, duplicate content detection, automated in-context knowledge, custom branding, and many other features.
Enterprise
The Enterprise plan doesn't have any specific pricing information and it requires you to contact sales for customized pricing. This plan offers flexibility, so I assume you can hand-pick your features from the entire feature set. This plan can also include AI-powered content suggestions, premium support, and designated CSM and implementation services.
Conclusion
Guru offers a very well-rounded knowledge base functionality with a great and very useful set of features. The entire application provides a great working environment composed of an intuitive, visually appealing user interface, as well as easy to use navigation options. It also provides a very good article editor with plenty of text formatting options and additional features. The pricing is also more than fair for what you get, and you can always expand your feature set if you need to. Overall, Guru is a great knowledge base software that won't let you down.