Key takeaways
Pros
Great interface with easy navigation
Great article editor
Great price
Cons
Very basic knowledge base features
A slightly illogical button placement in the knowledge base
Getting started with Deskero
Deskero is a cloud-based customer service management solution that can be used as a knowledge base software. Besides knowledge base, Deskero focuses on multi-channel support, social media customer service, and live chat customer service. While live chat seems to be the most promoted feature, we're going to take a look at the Deskero knowledge base features in this review.
Deskero is one of the solutions that doesn't force you to do a demo; you can just get started with a free trial without the need for any credit card information. It's also very fast, so you can register and enter your new dashboard in a couple of minutes. Deskero helps you get set up with a short but very useful guide at the beginning of your journey. When you're done, you will be in the main dashboard and you can start exploring it.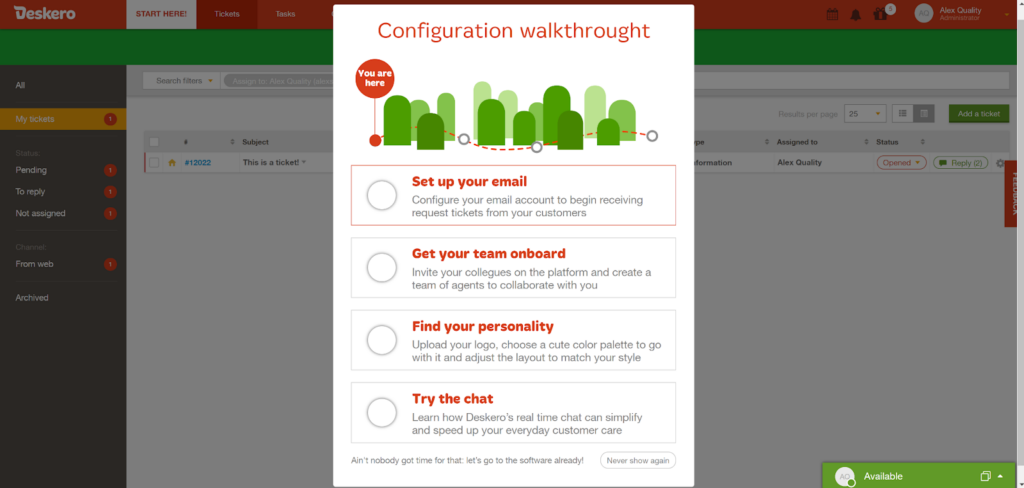 The interface has an interesting choice for a color scheme, and I think that some people just might not like it at all. This is, however, a simple matter of preference and taste, so to each their own. Regardless of this, the interface is very well designed and it looks easy to navigate under any circumstances, which is the most important part. There is absolutely nothing missing and you can clearly see each tool right from the beginning, so any workflow should be a piece of cake. This interface can compete with the best solutions.
The upper part of the interface shows a simple menu bar that can take you to various tools and sections of Deskero. There are tickets, tasks, customers, analytics, chat, settings, and the knowledge base. That means you don't have to do any tedious searches around the entire software to find it, which is always appreciated, even though it should be a standard thing. Each section of this menu selection is accompanied by a secondary menu bar on the left side which allows you to perform actions and go to sub-sections. Once you click on the knowledge base option, you will be taken to a fresh, empty knowledge base with a simple interface.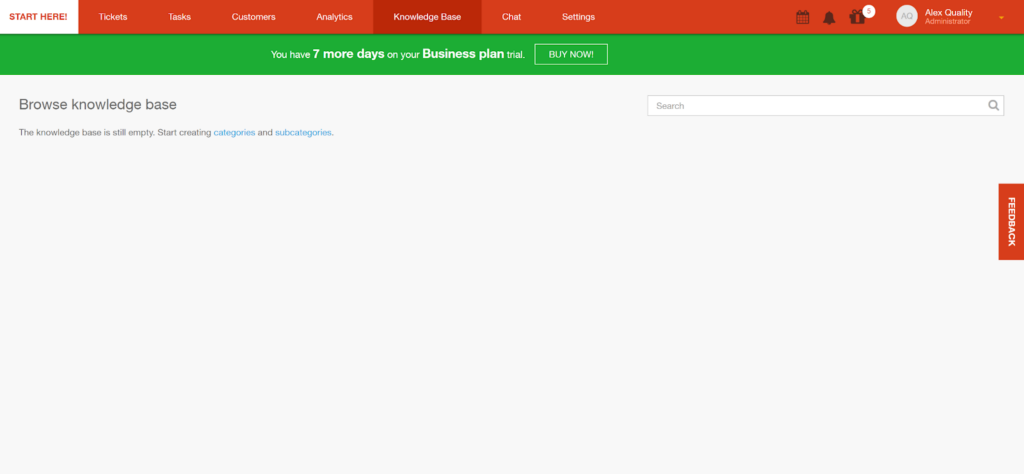 User experience and features
The interface will invite you to create categories and subcategories first, which reveals that Deskero offers some good organizing options for your articles. When you're creating new categories, you can choose the name of the category and visibility options – you're allowed to choose if a category is going to be visible internally by agents, externally by customers, visible by agents and customers, or visible by certain agent groups only.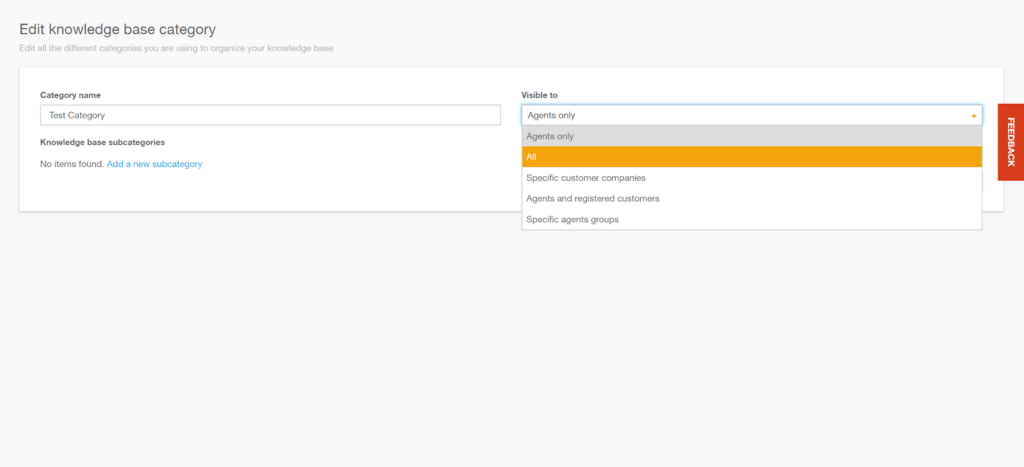 Here is where you find the first problem with the Deskero interface. Finding the option to create a new article is not an obvious task, as there is no visible button available anywhere. I couldn't even enter the article category, and the only option forward was to create yet another category (or subcategory). It took me a minute to realize that the option to create an article is in the left menu bar under the option "Solutions", and that's where you can create a new Solution (Article). While this isn't the worst navigation, it certainly isn't the best either, since most knowledge base software include an obviously placed button for creating articles.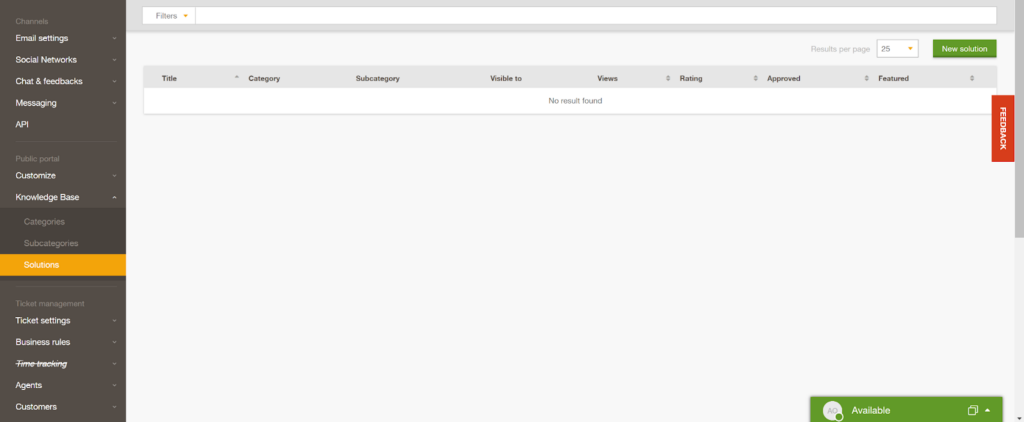 Once you click on the "New solution" button, you can start writing in the article editor. I'm pleased to say that the article editor is extremely well designed. Like every good article editor, the Deskero article editor brings the focus to the writing, instead of taking it elsewhere. Fields for titles, abstract, and the article body are wide and take the majority of space. There are no distracting elements present and you can focus on writing.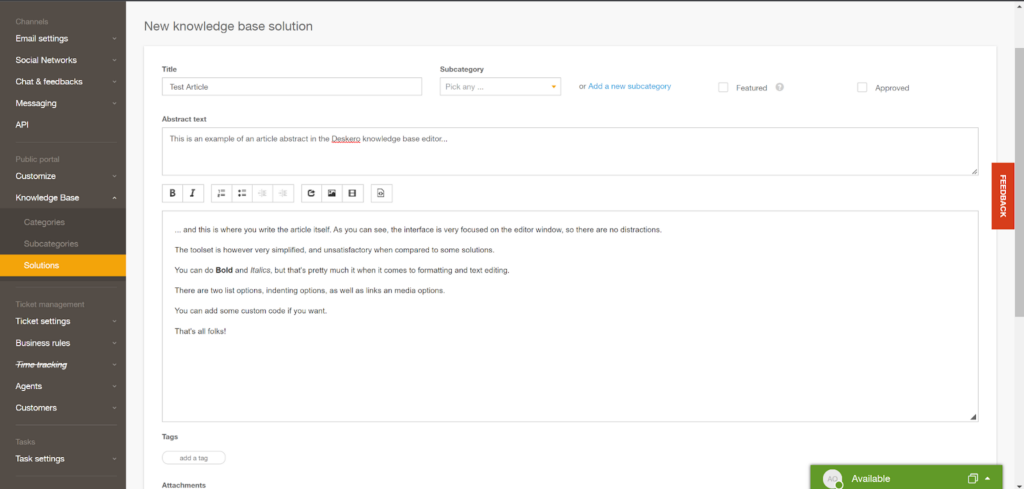 However, the editor has a huge problem with lack of features. The text editing toolset is one of the simplest I've ever seen, as it only offers the most basic editing functions. You still can use them to write good articles with some creative use, but Deskero could use an update that would add more text functionality into the system. You can do basic stuff like using bold and italics. Unfortunately, there are no other options such as text alignment, header options, font size options, and other mildly important things that should be a standard in every text editor.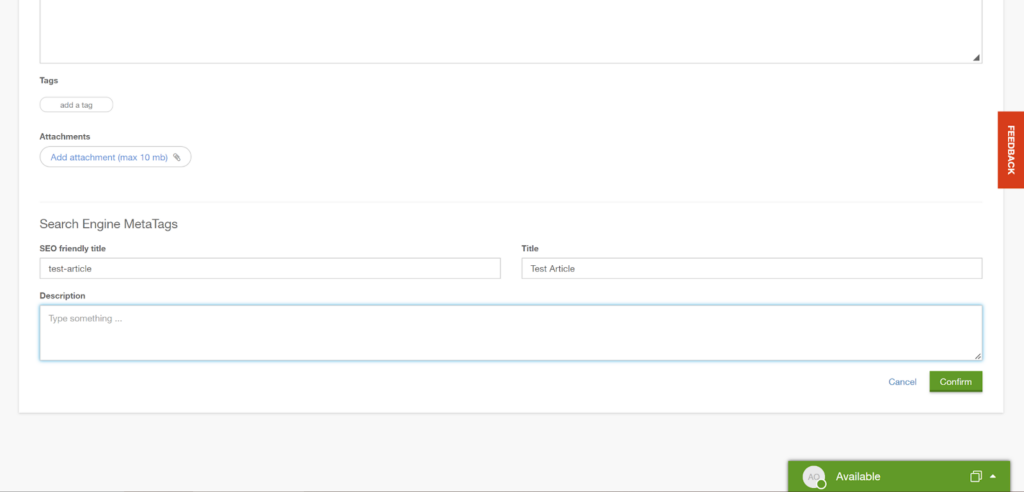 You, however, have the options for adding your own code, links, images and videos so you can get creative and try to customize your articles as much as you can with these options. At the bottom of the article editor, you can also find options for tags and search engine optimization.
Pricing
The pricing can be also quite disappointing, considering how poorly equipped the knowledge base in Deskero is overall. However, each plan offers other communication tools, so the price is not only for the knowledge base feature, implying that Deskero can be a pretty good deal. It offers three plans, and each of them offer the full set of communication tools. The limitations come from elsewhere.
Grow
The Grow plan costs $12 per month per user with the monthly pricing, or $9 per month per user with annual pricing. It's focused on providing the essential help desk features. Main highlights include social network ticketing, assignment automation, a live chat, desktop notifications, and full APIs.
Business
The Business plan costs $30 per month per user with the monthly pricing, or $25 per month per user with the annual plan. The main highlights include a complete multi-channel toolset, ticket assignment rules, chat and feedback widget, service level agreements, and scenarios which are basically automations.
Premium
The Premium plan costs $120 per month per user with the monthly pricing, or $90 per month per user with the annual pricing. This is the most expensive plan and it offers multi-brand management, time tracking, extended business & logic rules, free internal agents, and extra support & customization.
Conclusion
Deskero has a lot to offer for a very low price, however, there are some essential features missing and that's a pity. It's an overall easy-to-use and well-designed piece of help desk software that surely makes a lot of clients happy. While the knowledge base is not exactly useless and working with it is a pleasure, there isn't much room for customization of your articles. The price tag could make up for it, if they added just a little more for the knowledge base into their deal.